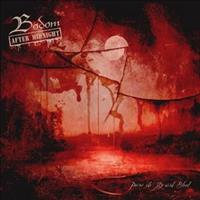 Boodom After Midnight založil Alexi Laiho v r. 2020 po konci Children of Boodom. Bohužiaľ ako vieme, zomrel pomerne skoro. No v apríli 2021 Napalm Records vydali ich trojskladbové EP Paint The Sky With Blood, ktoré malo byť akousi ochutnávkou z chystaného debutového albumu. Jednou z piesni je cover Dissection – Where Dead Angels Lie.
Mohol to byť skvelý začiatok novej skvelej éry, ale môžeme to brať aspoň ako prejav uznania skvelému muzikantovi a zároveň poctu samotnému žánru. Paint the Sky with Blood je šialeným útokom na ušné bubienky.
Zúrivá gitara, dunivé bubny a samozrejme silný hlas Laiho. Pripomína to trochu Children of Boodom, ale zároveň počujete, že je niečím iná, plná nových nápadov. Nestihnete ani vydýchnuť z jednej bomby a už je tu Payback's a Bitch a nakoniec zaujímavý cover na záver.
Na takej malej ploche kapela predvádza svoju kvalitu a fanúšik má chuť si trhať vlasy, že viac toho už nebude. Uvažujem, kam by sa mohol žáner posunúť, keby Alexi nezomrel. A mám vtieravý pocit, že to mohlo byť skvelé.
Lineup:
Alexi Laiho – spev, gitary
Daniel Freyberg – gitary, doprovodný vokál
Mitja Toivonen – basa, doprovodný vokál
Waltteri Väyrynen – bicie
Hostia:
Tracklist:
Paint the Sky with Blood
Payback's a Bitch
Where Dead Angels Lie (Dissection cover)
Rok vydania: 2021
Vydavateľstvo: Napalm Records
Youtube ukážka:
Linky:
https://www.facebook.com/bodomaftermidnightofficial/
https://bodomaftermidnight.bandcamp.com/
https://www.instagram.com/bodomaftermidnightofficial/
Hodnotenie: 5/6