Satyricon ohlásili spoluprácu s múzeom E. Muncha
27.5.2021
V nórskom múzeu E. Muncha v Osle sa čoskoro začne zaujímavá výstava – Satyricon & Munch, ktorá skúma prienik black metalu a vizuálneho umenia. Za doprovodu hudby Satyricon si tu môžete prezerať obrazy E. Muncha.
Satyricon od jesene 2018 pracovali na vytvorení hudby, ktorej hlavným cieľom je vytvoriť symbiózu s umením E. Muncha. Samotná výstava bude otvorená 26.3. Po nej vyjde nový album, ktorý sa bude volať rovnako ako výstava – Satyricon & Munch.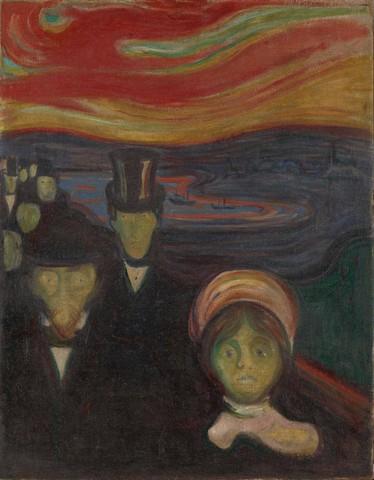 Edvard Munch: Anxiety, 1894
Foto: © Munchmuseet
,,Túto výstavu považujeme za najväčšiu výzvu v našej kariére. Niektoré obrazy od E. Muncha patria medzi najikonickejšie na svete. Počas svojej kariéry ukázal veľký kus odvahy a slobody, s ktorou sme sa ako umelci stotožnili…" – povedali Satyricon.
Linky:
http://www.satyricon.no/
https://www.facebook.com/SatyriconOfficial/
https://www.instagram.com/satyriconofficial/
https://www.youtube.com/channel/UCRpIGIdtRHHCmxkK4k7ylaw/
Zdroj: Napalm Records
Serious Black – rozchod s Urban Breedom
26.5.2021
Členovia superbandu Serious Black usilovne pracujú na novom albume. Bohužiaľ ten už bude bez speváka Urbana Breeda (ex Bloodbound).
Na svojom osobnom facebook profile ohlásil odchod.
,,Chcel by som sa poďakovať všetkým, ktorí ma podporovali počas pôsobenia v kapele Serious Black. Už sa so mnou nepočíta. Určite som tomu rozhodnutiu dopomohol svojou frustráciou a sklamaním z toho, ako som si myslel, že bolo s mojím materiálom zaobchádzané počas neskoršej fázy produkcie, čo by sa ukázalo behom turné a po ňom.Môžem povedať len to, že ma to mrzí. Ďakujem ešte raz. Dúfam, že sa v budúcnosti uvidíme."
Linky:
https://www.serious-black.com/
https://www.facebook.com/seriousblackofficial/
Zdroj: https://www.facebook.com/Urban.breed, Foto: gp photography, Foto: https://lnk.sk/w047/
Tuomas Holopainen – black metalový projekt
26.5.2021
Tuomas Holopainen je známy ako klávesák a leader symphonic metalových Nightwish. No v minulosti bol súčasťou aj black metalového projektu Darkwoods My Betrothed. Dané zoskupenie je striedavo aktívne od roku 1994.
Do konca roka vydajú novinku Angel Of Carnage Unleashed. Posledný album Witch-Hunts vydali ešte v 1998-mom.
Linky:
https://darkwoodsmybetrothed.com/
https://www.facebook.com/DarkwoodsMyBetrothed/
https://www.instagram.com/darkwoodsmybetrothed/
https://darkwoodsmybetrothed.bandcamp.com/
Zdroj: https://lnk.sk/kswb/
Destruction – chystaný živák
26.5.2021
Legendárni thrasheri Destruction ohlásili prvotinu pod vydavateľstvom Napalm Records. Zatiaľ to bude živák Live Attack. Skladby boli natočené boli v švajčiarskom Parttelne 1. januára 2020.
Tracklist:
Born To Perish
Death Trap
Nailed To The Cross
Armageddonizer
Tormentor
Rotten
Mad Butcher
Reject Emotions
Thrash Till Death
Betrayal
Sign Of Fear
Damir's Shred
Inspired By Death
Release From Agony
Life Without Sense
Antichrist
Invincible Force
Under Attack
Bestial Invasion
The Butcher Strikes Back
Curse The Gods
Total Desaster
Živák vyjde v týchto formátoch:
Linky:
https://www.destruction.de/
https://www.facebook.com/destruction/
https://www.instagram.com/destruction_official/
Zdroj: https://lnk.sk/fa09/, Foto: Line Hammett