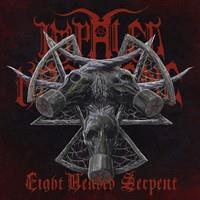 Fanúšikom extrémneho metalu netreba fínskych humoristov Impaled Nazarene predstavovať. Začali s black metalom a neskôr absorbovali industriálne, crustové, punkové, thrash metalové, death metalové, grind coreové vplyvy. Tento rok vydali novinku Eight Headed Serpent.
Ale jedno je isté. I.N. od famózneho debutu Tol Cormpt Norz Norz Norz… nikdy nezneli rovnako. V určitom bode ich kariéry v kapele pôsobil aj Taneli Jarva zo Sentenced, alebo nedávno zosnulý Alexi Laiho (Children Of Bodom, Sinergy).
Novinka znie špinavšie ako predchodcovia a mierne naznačuje návrat ku crustovému obdobiu fenomenálnych platní Latex Cult a Rapture. Je však zabalená do black metalovejšieho kabáta. Aspoň čo sa týka vynikajúcich bicích Reima Kelokoskiho.
Kapela sa vždy vyznačovala originálnymi melódiami gitár a nie je tomu inak ani na tomto albume. Práve tieto melodické perly patria medzi moje najobľúbenejšie. Sú to Eight Headed Serpent, The Noncorformist, Apocalypse Pervertor. Texty sú opäť provokatívne a o fenomenálnom vresku majstra šéfa Miku Lutinnena sa asi ani netreba vyjadrovať.
Albumy Impaled Nazarene sú pre mňa vždy sviatkom a myslím, že nie len pre mňa. Kapela jasne dokazuje, že nepatrí do starého železa a hlavne, že im ide o niečo v black metale nevídané – zábavu.
Lineup:
Slutti666 – spev
Tomi UG Ullgren – gitary
Arc v 666 – basa
Repe Misanthrope – bicie
Tracklist:
Goat of Mendes
Eight Headed Serpent
Shock and Awe
The Nonconformists
Octagon Order
Metastasizing and Changing Threat
Debauchery and Decay
Human Cesspool
Apocalypse Pervertor
Triumphant Return of the Antichrist
Unholy Necromancy
Mutilation of the Nazarene Whore
Foucault Pendulum
Rok vydania: 2021
Vydavateľstvo: Osmose Productions
Youtube ukážka:
Linky:
https://www.facebook.com/ImpaledNazareneOfficial/
https://www.instagram.com/impalednazareneband/
https://www.youtube.com/user/campnazarene/
Hodnotenie: 6/6