Richie Faulkner, gitarista Judas Priest, mal 26. septembra vážny zdravotný problém. Počas vystúpenia na festivale Louder Than Life utrpel aneuryzmu a úplnú disekciu aorty.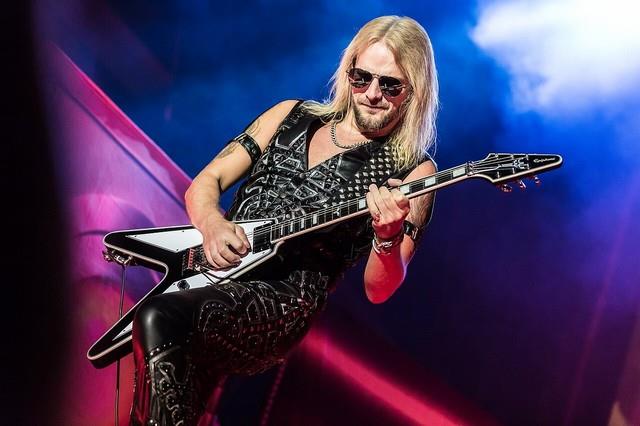 Deň potom ,,Judáši" oznámili, že odkladajú zvyšok amerického turné, aby sa Richie mohol vyliečiť. Deň na to jeho priateľka, Mariah Lynch (dcéra ex gitaristu kapely Dokken Georga Lyncha) uviedla, že Richie je po operácii srdca, je stabilný a odpočíva.
Dnes kapela zverejnila nové správy – Richieho vlastné slová:
Maniaci…
Vždy som bol vďačný za príležitosti, ktoré som dostal a vždy som sa považoval za najšťastnejšieho muža na svete. Hrať svoju obľúbenú hudbu so svojou obľúbenou kapelou pre najobľúbenejších ľudí z celého sveta.
Dnes už vám to môžem napísať –  je to najväčší dar zo všetkých…
Keď sledujem zábery z festivalu Louder Than Life v Lousville (Kentucky – USA), vidím v tvári zmätok a úzkosť, ktorú som cítil pri hraní Painkiller, keď mi praskla aorta a krv sa mi začala vylievať do hrudnej dutiny. Mal som to, čo môj lekár nazval aneuryzma aorty a kompletná aortálnu disekciu.
Podľa toho, čo mi povedal môj chirurg, ľudia s týmto problémom sa zvyčajne do nemocnice nedostanú živí.
Rýchlo ma odviezli do blízkeho Rudd Heart & Lung Center a podrobil som sa 10,5 hodinovej núdzovej operácii srdca. Päť častí môjho hrudníka bolo nahradených mechanickými komponentmi. Doslova teraz som ,,made of metal".
Mohlo sa to všetko skončiť aj ináč. V ten večer sme mali len hodinu, kvôli vystúpeniu Metallicy po nás a mne vŕtalo v hlave. ,,Keby to bol celý set, hral by som až do úplného kolapsu? Keby sa to nestalo v tak nesmierne adrenalínovej situácii, bolo by moje telo schopné pokračovať, kým by sa dostalo do nemocnice?
Úžasné centrum Rudd Heart & Lung Center bolo vzdialené 4 míle (necelých 7 km) od miesta konania. Tieto veci nás privádzajú do šialenstva, ale ja som našťastie stále živý. Bez ohľadu na okolnosti, teraz už viem že pri sledovaní týchto záberov vidím umierajúceho muža…
Bol som hlboko dojatý z reakcii priateľov, rodiny, mojej úžasnej kapely, spolupracovníkov a manažmentu a neposlednom rade aj vás, keď ste mi počas minulého týždňa posielali videá plné lásky a podpory. Všetkým vám ďakujem a akonáhle budem môcť znovu fungovať, budete prví, ktorí sa to dozvedia. Keď sa vrátime na pódia, dostanete to najlepšie z nás.
Jedna z posledných vecí:
Toto ma totálne prekvapilo. V minulosti som nemal žiadne problémy so srdcom, žiadne upchaté cievy, cholesterol. Nič! Toto mohol byť pre mňa úplný koniec. Ak máte možnosť absolvovať vyšetrenie, urobte to kvôli mne.
Veľa lásky a čoskoro sa uvidíme.
Zdroj: https://lnk.sk/fg35, Foto: Stefan Bollmann, Wikimedia