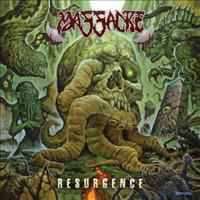 Legenda zo starej floridskej školy smrti Massacre sa po siedmich rokoch vracia na scénu s novým albumom Resurgence.
Vznikla v Tampe a jej zakladajúci členovia sa neskôr vyznamenali v kultoch Death, Obituary a Six Feet Under.
Všetko sa to začalo v roku 1984 a z pôvodnej zostavy je v kapele už len spevák Kam Lee. Jeho hlas je stále strašidelný a dokáže nepripravených riadne vydesiť.
Hoci patria medzi samotných stvoriteľov death metalu, dokázali priviesť na svet svoj dlho odkladaný úchvatný debut From Beyond až v roku 1991. Ich kariéra akosi nenabrala správny smer.
Kam Lee si tentokrát pozval na pomoc niekoľko významných európskych hráčskych svalov, aby spoločne oživili túto zatuchnutú floridskú ohavnosť. Resurgence je očakávaným duchovným nástupcom From Beyond a prináša death metal mŕtvejší než disco.
Je to hrubý výlet po línii spomienok, plný lovecraftovských chápadiel. Extrémne tvrdé riffy a rytmy brúsia okolitý priestor až tak, že budete dezorientovaní a pustíte si tento štyridsať minútový masaker ešte raz, aby vám definitívne poškodil mozgový kmeň.
Je to drsný milostný pomer so skutočnou smrťou.
Lineup:
Kam Lee – spev
Jonny Pettersson – gitary, klávesy, doprovodné vokály
Scott Fairfax – gitary
Rogga Johansson – gitary
Mike Borders – basa
Brynjar Helgetun – bicie
Hostia
Marc Grewe – spev (track 5)
Dave Ingram – spev (track 6)
Pete Slate – gitarové sólo (track 8)
Tracklist:
Eldritch Prophecy
Ruins of R'Lyeh
Innsmouth Strain
Whisperer in Darkness
Book of the Dead
Into the Far-Off Void
Servants of Discord
Fate of the Elder Gods
Spawn of the Succubus
Return of the Corpse Grinder
Rok vydania: 2021
Vydavateľstvo: Nuclear Blast
Youtube ukážka:
Linky:
http://www.massacremetal.com/
https://www.facebook.com/Massacrefloridal/
https://www.instagram.com/massacre_band_official/
https://massacre3.bandcamp.com/
Hodnotenie: 5,5/6