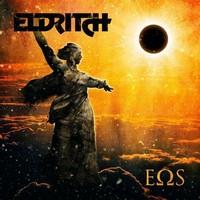 19. Novebra nebo chcete-li listopadu vychází u Scarlet Records nové, dvanácté album prog metalových Eldritch s názvem EOS. 
Nikdy jsem této škatulce hudby nepropadl úplně na max, ale vždy si rád poslechnu zajímavé album i z tohoto ranku. A tahle deska tedy pro mě zajímavá je.
Jsou alba, která normální člověk ani nepobere a množství tónů a techniky se přehoupne do jedné velké nudy. U Eldritch právě tento pocit vůbec nemám.
První tóny zní, jako by začínalo nějaké nové album Pražského výběru, ale po chvilce i tady nakonec jede vlak po progmetalových kolejích.
Je to samozřejmě album pro lidi, kteří mají rádi hodně vysokou úroveň hráčského umění na všech postech v kapele. Střídají se kytarová sóla s klávesovými, a technické složitější pasáže se střídají s melodičtějšími a snáze uchopitelnými.
Co považuji za veliké plus alba je to, že se vše výše jmenované střídá ve skladbách VČAS !!! Udržuje vás to tak ve střehu a ty složitější pasáže Eldritch odehrají dřív, než vás do nich stihnou zamotat. Hned poté je další pasáž, kterou si s nimi klidně zazpíváte.
Uslyšíte tu momenty typu Dream Theatre, ale také třeba Annihilator a na druhé straně se koření trochou samplovaných zvuků.
Těch je nejvíce v baladě I Can't Believe It, která je téměř čistý pop. Další vyjímkou je cover Runaway od Bon Jovi. Nevím proč tato písnička na albu je. Je to úplná zbytečnost a desce to v ničem nepomáhá.
Jinak vás ale čeká výborná deska a ukázka špičkového umu. Jo, a taky to má super zvuk. Koukněte na klipovku The Cry of a Nation. Tam uslyšíte většinu toho, co vás na albu čeká.
Lineup:
Terence Holler – spev
Eugene Simone – gitary
Rudj Ginanneschi – gitary
Oleg Smirnoff – klávesy
Dario Lastrucci – basa
Raffahell Dridge – bicie
Tracklist:
Dead Blossom
Failure of Faith
The Cry of a Nation
Circles
No Obscurity
Sunken Dreams
Fear Me
I Can't Believe It
The Awful Closure
EOS
Runaway (Bon Jovi cover)
Rok vydania: 2021
Vydavateľstvo: Scarlet Records
Youtube ukážka:
Linky:
http://www.eldritchweb.com/
https://www.facebook.com/Eldritchband/
https://www.youtube.com/user/Eldritchband/
Hodnotenie: 5/6