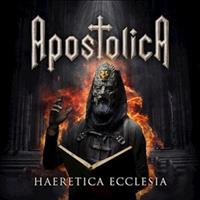 Scarlet Records vydávají v poslední době zajímavá alba. U skupiny Apostolica ale nevím, co si myslet. Už to jméno..??! No, ale nejen to.
Rád bych se mýlil, ale prostě mi to nejde pod vousy. Hledám v tom to nejdůležitější, ale nejde mi to. Na albu určitě pracoval tým lidí různých profesí. Ti odvedli velmi dobře, ba skvěle svou spráci. Celá produkce je precizní a dotažená do detailu. Zvuk, aranže, kapela hraje jak z partesu, grafika, masky, kostýmy. Vše kolem této desky je vysoce precizní. Závidím.
Jenže to nejdůležitější, písničky se srdcem tu neslyším. Je to super produkt, ale i veliká bublina, která je ze své podstaty uvnitř prázdná. Bohužel.
Ozzy, Dio, Scorpions, Accept, Metallica, King Diamond a třeba Helloween. Ti všichni se stali hvězdami a jedna věc je spojuje. Poznáte je a nespletete se. Proč teď chce tolik lidí znít, jako někdo někdo jiný a tím si sám škodit mi není jasné.
Celé je to totiž výcuc toho, co před nimi udělali Sabaton a Powerwolf. Tady máte tyto dvě kapely v jednom a jen se změnila image. Tentokrát se skupina skrývá v maskách kacířů a i sestava je domnívám se jen v přezdívkách.
Problém je to, že se mi ani po několikátém poslechu nepodařilo vzpomenout na nějakou skladbu či melodii pár minut po přehrání. Vše je bombastické, ale nic po tom nezůstane.
Nejlepší mi příjdou Come With Us a potom Famine, a to proto, že tam slyším náznak zpěvu, který by se mi tak líbil, místo toho uměle přikřáplého, který tu je jinak snad všude a i to je myslím jeden z důvodů, proč mi vše splývá a netuším, kolikátá skladba hraje.
Mrzí mě to a je mi až líto, že nepíšu nic hezčího. Už kvůli té precizní práci všech zůčastněných. Nemohu se ale bohužel zbavit dojmu, že nejde o nic jiného, než snahu vydělat peníze na něčem, co se osvědčilo jinde. Když to prodají oni, tak my taky. Jenže ono to nefunguje. Radši si poslechnu dva originály, než jeden klon.
Pokud vám to nevadí, fajn. Rád bych pracoval s tím produkčním týmem, tomu všechna čest, ale na něčem, co bude mít srdce. Slabinou jsou bohužel písničky samotné a ta epičnost to nedožene. Sorry jako. 🙂
Lineup:
Ezekiel – spev
Isaia – gitary
Jonas – basa
Malachia – bicie
Tracklist:
Sanctus Spiritus
The Sword of Sorrow
Come With Us
Thanatos
Pollution Is My Name
No More Place in Hell
The Doom
Famine
The Dusk is Coming
Redemption
Rok vydania: 2021
Vydavateľstvo: Scarlet Records
Youtube ukážka:
Linky:
http://apostolicaband.com/
https://www.facebook.com/Apostolicaband
Hodnotenie: 3/6