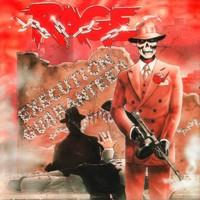 Rage na tretej platni Execution Guaranteed poriadne pritvrdili. Ako by to nestačilo, zobrali do zostavy jednu z najväčších hviezd heavy metalovej gitary tej doby v Nemecku.
Nakrátko k nim zavítal Rudy Graf z Warlocku. No po turné ho žiaľ vyhodili z rovnakého dôvodu ako predtým Warlock. Alkohol. No to čo spolu spravili ostáva navždy.
Album otvára delostreľba kopákov v Down By Law. Poviem vám, že som z nich doteraz vystrelený. Táto vec patrí medzi moje najobľúbenejšie skladby od tejto bandy.
Zvuk oproti predchodcovi možno ani nie je lepší, ale rozhodne čistejší. V tvrdej a temnej Execution Guaranteed sa ozvú aj klávesy.
Celkom priblblý ružovo červený obal však skrýva album plný hitov a agresívnych vypaľovačiek. Hneď tretia v poradí Before The Storm patrí medzi najmelodickejšie skladby tejto nahrávky. A to neubrali z tempa ani za mak.
Moja najobľúbenejšia songa je temná Deadly Error, začínajúca akustickou gitarou a s prapodivnými sci-fi zvukmi v refréne.
Dodnes si pamätám ako medzi metalistami v bratislavskej Petržalke začiatkom 90-tok rokov refrén tejto pecky zľudovel. Ak by ste dostali zle načapované pivo, tak by ste výčapníkovi zaspievali Deadly Error.
Vďaka tejto nahrávke sa Rage vo východnej Európe stali extrémne populárni. Rovnako ako Running Wild a Helloween. Nikdy a nikde nemalo toto zoskupenie takú popularitu ako koncom osemdesiatych a začiatkom deväťdesiatych rokoch vo východnom socialistickom bloku.
Žiaľ tento masterpiece bol posledným počinom pre dvoch zakladajúcich členov Jorga Michaela a Jochen Schrodera (R.I.P.), ktorý pred pár mesiacmi zomrel.
Lineup:
Peter "Peavy" Wagner – spev, basa, akustické gitary
Jochen Schröder – gitary
Rudy Graf – gitary
Jörg Michael – bicie
Tracklist:
Down by Law
Execution Guaranteed
Before the Storm (The Secret Affair)
Streetwolf
Deadly Error
Hatred
Grapes of Wrath (instrumental)
Mental Decay
When You're Dead
Rok vydania: 1987
Vydavateľstvo: Noise Records
Youtube ukážka:
Linky:
http://www.rage-official.com/
https://www.facebook.com/RageOfficialBand
https://www.facebook.com/Peavy-Wagner-101631338638748/
https://www.instagram.com/RageOfficialBand/
https://www.youtube.com/channel/UC_ETohsfT1X0H1pbWdFxq3w
Hodnotenie: 6/6