FALLEN SANCTUARY, feat. members of Serenity & Temperance, Releases Music Video For Album Title Track Of Upcoming Debut!
29. April 2022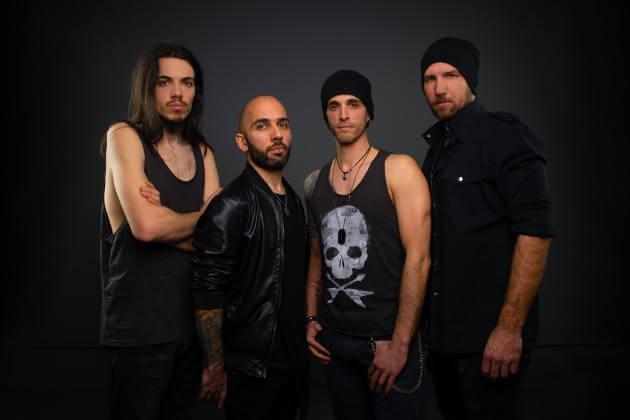 June 24, 2022 will see new melodic power metal force, FALLEN SANCTUARY, featuring Georg Neuhauser (Serenity) and Temperance guitarist Marco Pastorino, release their first full-length album, entitled Terranova, through AFM Records.
After the previously-released, first epic single "Broken Dreams", today the four-piece has shared a music video for the album title track of their upcoming debut!
Says Marco about the song: 
"Terranova was one of the first tracks we wrote for our debut album and we immediately agreed – this is melodic metal like we love it!"
Vocalist Georg adds: 
"I really love Terranova – fast, melodic and with dramatic lyrics about drug addiction. It simply reminds me of one of my favourite albums: "Silence" by Sonata Arctica."
Neuhauser and Pastorino became friends in 2018 during a joint tour and soon realised that they pretty much share musical idols and tastes.
Neuhauser reveals:
"Marco and I often got talking at night on the tour bus to the next show with Serenity and Temperance. It was amazing that we have so many favourite bands in common. And since we also get along really well on a personal level and live only a four-hour drive apart, we came up with the idea of releasing an album together some day."
Tracklist:
Terranova
Now and Forever
Broken Dreams
Rise Against the World
To the Top
Destiny
I Can't Stay
Trail of Destruction
No Rebirth
Bound to Our Legacy
Wait For Me
Now and Forever (instrumental)
Rise Against the World (instrumental)
To the Top (instrumental)
The first single:
Broken Dreams: https://youtu.be/CqcD-fra9Mo
Links:
https://www.facebook.com/FallenSanctuaryMetal/
https://www.instagram.com/fallensanctuary/
https://www.afm-records.de/
Source of Information: Mona Miluski – ALL NOIR, Photo: Claudia Chiodi
Downset return with powerful socio-political album 'Maintain', on June 10th
29. April 2022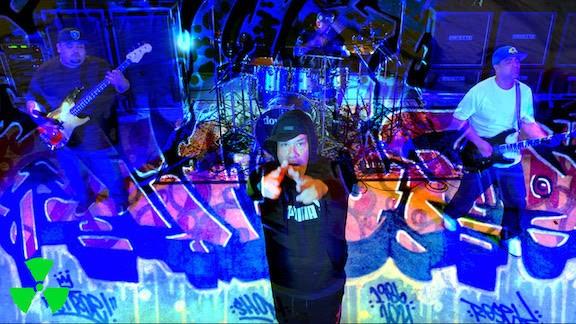 Los Angeles' groundbreaking rap/hardcore pioneers, DOWNSET., will make their long-awaited return this spring for the release of their first album in 8 years, "Maintain," that's due out June 10th from Nuclear Blast.
On their 6th album, the band draws inspiration from their early hardcore and hiphop roots while reigniting their passion for the streets and fury for the current societal and political injustices.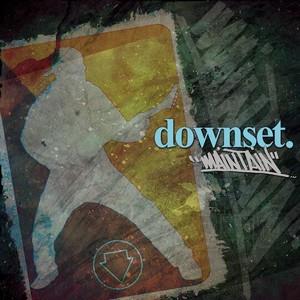 Tracklist:
Maintain
Blackest of Days
New Respect
Won't Forget
Wreck It
On Lock (Only the Defest)
The Place To Be
Your Power
Positive Mind
Hear Me Now
Deeper
The band has revealed full details of "Maintain," as well as the record's first single "The Place To Be,"
Commenting on the new single's origin of sound, guitarist Rogelio Lozano states:
"This was one of the first tracks written with the new members Bobby Ponte and Philip Gonzales. With Nick Jett (TERROR) engineering and co-producing, our first objective was to try and revisit the original DOWNSET sound of the first ever recorded demos. To try and recreate the tone, we first unwound our guitars and basses back to drop "C," and then created heavy rhythmic beats and riffs to facilitate a platform for Rey Oropeza's Hard Rap flows."
Lozano adds about the lyrical content:
"The lyrics to this song combine several subjects into one song and at the end all tying in together. Represent yourself with class, responsibility and courage. Setting a good example for our youth is my interpretation of the message."
Links:
https://www.facebook.com/DownsetLA/
https://www.instagram.com/DownsetOfficial/
Source of Information: NUCLEAR BLAST Leoni Dowidat
GLORYHAMMER Releases New Single "Fly Away" + Official Video
28. April 2022
Power metal warriors GLORYHAMMER have lifted the starlit sky to unveil a new digital single, "Fly Away". After releasing the chart-topping Legends From Beyond The Galactic Terrorvortex (DE #6, CH #8, AT #16, SC #25) and performing at all major metal festivals, the unit sets off for another ride to traverse the universe.
The song kicks in with a captivating storyline, sparkling keys and fast-driven guitars, granting a glimpse of everything that is to explore within this interstellar powerhouse!
The band comments: 
"Mighty warriors of the galaxy! We are thrilled to present to you the next exciting chapter in the eternal saga of Gloryhammer, with our new song "Fly Away". Prepare to join us once more in fighting the dark forces of Zargothrax… for the eternal glory of Dundee!"
Links:
https://gloryhammer.com/
https://www.facebook.com/gloryhammer/
https://www.instagram.com/gloryhammerofficial/
https://gloryhammer.bandcamp.com/
Source of Information: Napalm Records Press
Legendary Death Metal Supergroup BLOODBATH Signs Worldwide Contract with Napalm Records!
26. April 2022
Napalm Records is massively proud to join forces with legendary all-star death metal onslaught BLOODBATH! The band has signed a worldwide record deal with the leading rock and metal label.
Formed in 1998 to spread their ruthless old-school death metal in the likes of early Entombed spliced with hints of US-style death metal, BLOODBATH released their first three-track EP, entitled Breeding Death, in 1999, followed by the critically acclaimed first full-length, the brutal Resurrection Through Carnage, in 2002.
With their fifth record, The Arrow of Satan Is Drawn (2018), the band currently consisting of Nick Holmes (vocals), Jonas Renkse (bass), Anders Nyström (guitars), Tomas Åkvik (guitars) and Martin 'Axe' Axenrot (drums) conjured their latest relentless storm of chaos, driven by explosive death, thrash and black metal and hailed by fans and critics alike.
Teaming up with Napalm Records, BLOODBATH is now more than ready to take the band to the next level.
Make sure to stay tuned for more exciting news coming soon!
BLOODBATH on the signing:
"Just as we're about to enter our next exciting chapter of BLOODBATH, we're pleased to say that the band is in the good hands of a new label. By joining forces with the mighty Napalm Records, BLOODBATH will proudly make sure our old school death metal continues to pummel onwards and upwards. Let the Napalm rain!"
Sebastian Muench, Napalm Records A&R, adds:
"BLOODBATH could be simply described as a super-group and the title would be 100% correct. However the essence of BLOODBATH lies in their endless talent to create death metal magic. Death metal as pure and wonderful as very few bands are capable of. BLOODBATH, we are absolutely proud and honored to welcome you to the Napalm family!" 
Links:
https://www.bloodbath.biz/
https://www.facebook.com/bloodbathband/
https://www.instagram.com/officialbloodbath/
https://twitter.com/BloodbathBand/
Source of Information: Napalm Records Press, Photo: Ester Segarra