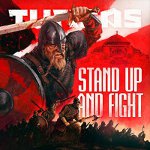 Fínska metalová formácia Turisas, ktorá vystúpi aj na tohtoročnom Brutal Assaulte, vydala svoj tretí štúdiový album Stand Up and Fight a keďže moje ucho je predsa len najviac stavané na folkové a melodické veci, na tento album som sa vcelku tešil.
Album obsahuje deväť skladieb z dielne Turisas a dve cover verzie skladieb legiend – Jethro Tull a Black Sabbath. Album otvára skladba The March Of The Varangian Guard, ktorá je veľmi slušným otvárakom. Po zaujímavom intre, do ktorého sa zapojili všetky inštrumenty spomenuté pri zostave kapely začína Mathias zľahka, takmer recitovane, no po pár sekundách sa k nemu pridávajú ďalšie vokály a skladba naberá na obrátkach. Tu sa dá hovoriť o folk metale len s menším sebazaprením, ale všetko má svoj čas. Skladba je napriek tomu výborne vyvážená, aj keď skôr pripomína hymnický power metal. Hymnickosť naberá pravý význam slova až v ďalšej skladbe Take The Day. Úvod opäť podobný tomu z prvej skladby, ale nastupuje skorší rozbeh a keď gitary udrú do plných, Matthiasov melodický spev sa mení na to pravé orechové. K tomu sa opäť pridávajú zborové vokály a skladba znie ako výzva do boja. K pravému folk metalu sa dostávame až v tretej skladbe Hunting Pirates, kde je opäť mix všetkých inštrumentov, ktorým však tempo diktujú gitary a bicie. Bol som milo prekvapený z umného využitia perkusií, ktoré sú väčšinou nenápadné, ale na tomto albume v nejednej skladbe zohrávajú dôležitú rolu. Stand Up And Fight sa už približuje k tancovačkám a lá Korpiklaani a navyše má to čo snáď každá skladba na tomto albume – chytľavý refrén. Turisas si zjavne ako obľubený hudobný nástroj vybrali trubku, ktorá obstaráva hlavnú rolu vo Venetoi! – Prasinoi!, ktorá je z dvoch tretín inštrumentálna. Tejto skladbe síce chýba refrén ako taký, ale objavuje sa tu iný zaujímavý prvok – Matthias vynecháva melodický spev a aj keď sa k mikrofónu dostal iba na pár sekúnd, rozbalil svoj chraplák naplno. V kombinácii s trubkami to vyznieva naozaj veľmi dobre. Aj keď je album rôznorodý, viaceré skladby majú rovnaký koncept – pomalší úvod a prvá sloha, za ktorou nastupuje refrén, ktorý vás väčšinou strhne už na prvé počutie. Tak je tomu aj v rovnomennej skladbe Stand Up And Fight, ktorá je ďalšou hymnickou výzvou do boja. V Stand Up And Fight sa opäť strieda melodický hlas s parádnymi riffmi a úderným súbojom Matthiasa so zbormi. The Great Escape je opäť jedinečnou zmesou viacerých rytmov. Po zaujímavom gitarovom intre sa nachvíľu Matthias opäť prejaví svojim chraplákom, no potom tempo mierne ustane, skladba naberie "veselý" nádych. Opäť je tu súboj Matthiasa so zborovými vokálmi, ktorý mi pripomína hádku trollov v nejakom zabudnutom lese. Aby toho nebolo málo, na záver si to rozdajú spoločne v niekoľkých slohách a cítiť opäť silnú hymnickosť. Ak sa k slovu dostanú gitarové sóla ako je to aj v prípade Fear The Fear. To je veľmi zaujímavý zážitok, pretože sóla sú vždy doplnené aj ďalším hudobným nástrojom, v tomto prípade klávesami. Zo skladieb ako je táto ide pravý folkový nádych. Piesne sú väčšinou svižné a majú okolo štyroch minút. No nájdu sa aj dlhšie ako práve Fear The Fear alebo End Of An Empire. Muzikanti dokážu poslucháča udržať vo vytržení aj v sedem minútovej skladbe a keď sa k vyburcovanému Matthiasovi v End Of An Empire na pár sekúnd pridal príjemný ženský symfonický vokál, doslova mi prebehol mráz po chrbte. To čo predviedla celá kapela v tejto skladbe je pre mňa úchvatné majstrovstvo a kým som sa dostal na koniec albumu, End Of An Empire som si musel pustiť niekoľko krát po sebe. Ako keby operný spev na záver to všetko zaklincoval, no aby ste z toho náhodou nedostali infarkt, nasleduje pomalá The Bosphorus Freezes Over, ktorá dáva na známosť, že boj je na konci. Na albume sa ešte nechádzajú dva podarené cover verzie . Mna hlavne zaujal cover piesne Supernaut od Black Sabbathu. Chlapci z tejto piesne spravili pieseň, ktorá sa dokonale hodí na folkmetalové podium ! Pri počúvani tohto coveru som si v mysli predstavil húf ožratých metlákov pod pódiom, s pivom v ruke ako zborovo hulákaju lajlalalaj lajlaj 😉  Tento albuj je povinnosťou nielen pre folk metalových fanúšikov ale pre celý metalový svet.
Lineup:
Mathias "Warlord" Nygard – vokály, perkusie
Jussi Wickstrom – gitara
Hannes "Hanus" Horma – basgitara
Tuomas "Tude" Lehtonen – bicie
Olli Vänskä – viola
Netta Skog – akordeón
Tracklist:
The March Of The Varangian Guard (3:51)
Take The Day! (5:26)
Hunting Pirates (3:44)
Venetoi! – Prasinoi! (3:49)
Stand Up And Fight (5:28)
The Grand Escape (4:52)
Fear The Fear (6:14)
End Of An Empire (7:17)
The Bosphorus Freezes Over (5:38)
Hodnotenie : 5,5/6
Páčil sa ti tento článok?