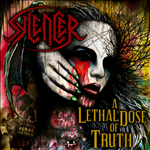 Sylencer je pomerne mladý projekt chicagského hudobníka Markusom Johansonom, ktorému sekunduje jeho parák Johnny Rox, obsluhujúci basgitaru. Podľa oficiálnych informácii vznikli tento rok a stihli nahrať aj svoj prvý album v štýle heavy/thrash metalu, ktorý vydali vo vlastnom nezávislom vydavateľstve Sylencer Records (aj keď v Európe sa toho zhostila iná firma).
Keďže riadnymi členmi tohto projektu sú len dvaja ľudia, tak albumu sa zúčastnilo pomerne veľa hostí, napríklad  Jodran Rudes (Dream Theatre), Rob Caggiano (Anthrax), výborný bicman Gene Hoglan (ex Death, ex Testament), Roland Grapow (Masterplan) a mnoho ďalších…
Prvé čo ma prekvapilo na tomto albume, bola jeho pomerne veľká minutáž (predsa s minutážou 1:15 som sa v tomto štýle už dlho nestretol). To by samozrejme nemusel byť problém, keby sa pánom muzikantom podarilo do toho času vtesnať skladby, ktoré nebudú nudiť ani minútu. Bohužiaľ treba povedať, že daná výzva sa im celkom nepodarila a celkový výsledný dojem je pomerne rozpačitý. Gitarová sekcia sa síce celkom snaží, čoho dôkazom je napríklad pekný gitarový motív hneď v skladbe číslo dva Eternal, alebo pekná inštrumentálka Scream At The Stars (hlavné gitary tu má na starosti "maestro" Roland Grapow), ktorú by som si dovolil označiť za vrchol albumu. Ale hlas speváka mi k týmto skladbám navyše nepasuje a v niektorých momentoch nie je jasné, či tam počujete vyššie zmieneného Markusa Johansona alebo pána Jamesa Hetfielda, s istej kapely, ktorú netreba menovať 🙂
Myslím, žeby nejaký inší hlas dodal celkovému albumu ten správny šmrnc. Záver albumu je poňatý pomerne uletene a to skladbou Get it Up, ktorá sa od zbytku albumu odlišuje až glam metalovým soundom a spevom speváka kapely Zimmers Hole, ktorý si hovorí The Heathen.
Takže myslím, že sa jedná o projekt, ktorý má podľa mňa budúcnosť. Po istých zmenách (ustálenie zostavy, výmena speváka) si myslím, že nás páni zásobia o niečo lepšími albumami. Zatiaľ moje hodnotenie je len priemer.
Lineup:
Markus Johansson – spev, gitary
Johnny Rox – basa
Hostia:
Michael Angelo Batio – Gitary (MAB)
Metal Mike Chlasciak – Gitary (Rob Halford)
Steve DiGiorgio – Basa (Sadus)
Roland Grapow – Gitary (Masterplan)
The Heathen – Spev (Zimmers Hole)
Christian Lasegue – Gitary (ex Jag Panzer)
Marco Minnemann – Bicie (Necrophagist, Paul Gilbert, Kreator)
Sean Reinert – Bicie (Cynic, Death)
Steve Smyth – Gitary (Forbidden, Testament, Nevermore)
Larry Tarnowski – Gitary (Iced Earth)
Emil Werstler – Gitary (Dååth, Chimaira, Levi/Werstler)
Tracklist:
Day by Day
Eternal
88 Reasons to Hate
Shock and Awe
Permanent Heartbreak
Dead to Your World
Scream at the Stars
Sinners in the Hands of an Angry God
The End of the Nightmare
Rise and Die
Afflicted
Evilution
Asche zu Asche
Wired in the Blood
Acquiesce
Get It Up
Hodnotenie: 3