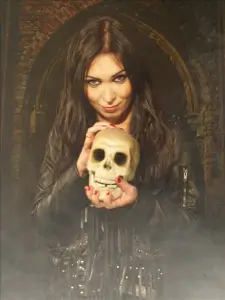 I bring to you interview with singer, one of the great heavy metal bands of our time Crystal Viper from Poland. We spoke about things like lost album, summer season and other. Have a great reading experience.
Hello Marta, how are you?
Marta: I'm doing well, thank you! There's a lot of work all the time – I write new songs for our next album, I'm preparing myself for live shows with Jack Starr's Burning Starr, because next year I play guitar with them on their European shows, and I'm working on the new Thunderball Clothing collection, as for I started my own clothing line three months ago. So, no chances to get bored.
Recently I discovered your band. I have to say, that is one of the best heavy metal bands, which I've ever heard. Could you tell me something about you, for people, who never heard of you?
Marta: Thank you so much, it's great to hear such great words. Well, we are Crystal Viper, we are fromPoland, and we are four heavy metal maniacs with the following sonic weapons in our hands: Andy on guitar, Tom on bass guitar, Golem on drums, and me – Marta Gabriel – on vocals and guitar.
I see that you played at many big festivals this summer. How do you rate this season?
Marta: Yeah, it was fantastic! We visited a lot of great places, such asSlovakia,Denmark,CzechRepublic,Switzerland,Spain,Malorca,Germany, everywhere we met great people, and sometimes it was possible for us to see some very cool places. This was a very good year for us, but of course we want more!
Did you experience something funny during the festival?
Marta: It was quite funny inDenmark, as the festival was on the sea side. We played our live show with a flock of seagulls above our heads. Luckily none of them shitted on our heads.
This year you've been playing also in Slovakia. How was it?
Marta: It was our first time inSlovakia. Festival took place in a beautiful location, everything was organized perfectly. People inSlovakia are totally crazy metalheads, it was fantastic to play for you guys, and I hope to return toSlovakia soon! I remember at the back of the stage, behind us, there was a huge led screen, it looked truly terrific.
You released a new album Crimen Expecta in April. How do you look at it after several months?
Marta: I still like listening to this album very much, and while we play live or rehearse together, songs from "Crimen Excepta" are my favorite ones. I mean, I like our previous albums, but from the bottom of my heart, "Crimen Excepta" is my favorite Crystal Viper album.
Could you tell me something about main idea of it's lyrics?
Marta: I'm interested in history. I've always been very interested in holy inquisition issues, and inspired by it, and by books like "The Name Of The Rose", "Malleus Malleficarum" and many more – I decided to mix facts with fiction, and to write a concept album around these subjects… It's a serious subject; lyrics are very emotional, brutal and cruel as the mankind's history is… I think that these lyrics will intrigue people, who would like to know the story, and who are familiar with holy inquisition in general. "Crimen Excepta" seems to be a story about witches, but it concerns almost all of holy inquisition's aspects, and can be interpreted as a story about tolerance and human cruelty. Main topic is of course the holy inquisition, but there's also something behind the curtain – intolerance. Holy inquisition exists now only on the pages of history, but intolerance is timeless. We meet with it almost every day. It's also about killing in the name of nothing, or in the name of God, because of illiteracy: people who had something important to say, scientists, explorers, they were also sentenced to death or prison just because they said something that wasn't right with the holy bible, like for example that the Earth is round, and revolves around the Sun – it was a heresy back then. Whole concept is a damn serious thing… I would like people to know more about it.
And what about text of "Medicus Animarum" for example? (My favorite song)
Marta: It's a part of the story. This song is about a torturer, what he thinks about during killing people, why he's doing this, what kind of heartless monster he is. "Medicus Animarum" means in Latin "doctor of the souls", and this is how church used to call torturers they were hiring. Very cruel and dramatic song. And true.
I see that your album contains a cover from band Vader, "Tyrani Pekiel". Whose idea was it?
Marta: When we were thinking about bonus track for the limited edition of the album, we decided to choose something unusual, something that people don't expect. We don't know any other Heavy Metal band that recorded Death Metal song, looks like we were the first… I'm also a huge fan of Death and Black Metal, I really like Vader and "Tyrani Piekiel" is my favorite Vader song. You need to know we recorded also one more cover song during this recording session, we covered "Night Of The Demon" from the NWoBHM heroes Demon, and this song ended up on the limited vinyl edition of "Crimen Excepta".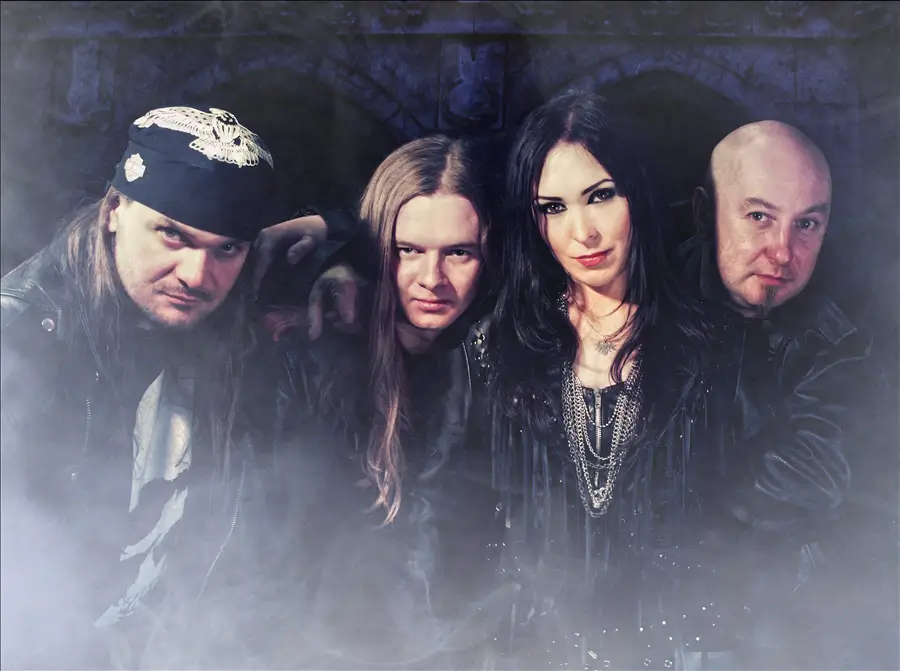 What are the hobbies and interest of members of Crystal Viper in everyday life?
Marta: Well, each of us has normal day jobs, so I would say that music is our biggest hobby. Of course we put in Crystal Viper a lot of hard work and energy, but playing, composing songs, meeting with each other is something that makes our lives worth living. But except music? Well, Golem goes to theater (playhouse), and likes traveling. Andy plays his guitar all the time, so I believe it's the only Andy's hobby. Michael likes fantasy board games, goes to the cinema quite often… And me? I design and sew clothes, for my own clothing line Thunderball Clothing, I also like to travel, I read a lot.
Could you tell me something more about Polish metal scene? (Concerts, fans, Media's interest)
Marta: Heavy Metal scene isn't maybe that bad as in the past years, but it's still like nothing in comparition to countries fromWestern Europe. But you know what is worst? When you want to go out, to see a good live show, there's nowhere to go, unless you wanna see band playing in a pub without stage and lights, between tables, surrounded only by the smoke of cigarettes … Even if some promoter takes a risk and organizes something, ticket sales are so small, that he loses a lot of money, and doesn't want to organize another shows, so it's worse and worse. It's sad and kind of depressing here, most people prefer to stay at home and watch YouTube than go out watch real bands.
And what about other Polish heavy metal bands? Of course, we got bands like Vader, Behemoth, Pathfinder at the one side but what about the other.
Marta: Well, I'm sure there are some bands, but I think in most cases there are underground bands, who keep on releasing some demos and so on. I'm a huge fan of Vader, and I'm very happy we were able to invite Peter to appear on our album, he is a great guy. I also respect Behemoth very much – other bands I could recommend are Azarath, Throneum, Bloodthirst, Hell-Born is also really great.
I've heard that many of Polish metal bands (for Behemoth example) have problems with Catholic Church, which has very strong position in your country. Did you experience something similar?
Marta: We are little lucky, as we are not a very known band here in Poland, but even if something happens, we don't give a shit what others think and talk about us. Behemoth is a huge band here, so they attract attention of the media, and especially of a people, whose only hobby is to get on others nerves, and to throw shit on others. In my opinion, most important is to do what you think is right, and what you want to do. What Catholics are doing here, is simply a piece of crap, which is not even worth to talk about.
You usually play many gigs in Europe. Are there any plans to play abroad (for example Japan, America…)?
Marta: We would love to play outsideEurope, of course. But for now we have no shows booked inJapan orAmerica, but I hope we will have a possibility to spread there our music in the future. Hope our booking agency is already working on it – as the truth us we have a lot of friends and fans in Japan, United States, Canada, and of course South America.
Marta, you always play on guitar and also you are a lead singer. Isn't it difficult to handle it?
Marta: I actually play guitar in Crystal Viper for only for three years. Of course I was playing guitar before, I was composing and arranging songs on guitar, but I didn't play in the band. At the beginning it was very hard for me to play and sing along at the same time, and it took for me a while to learn how to do this, I spent a lot of time practicing.
Have you ever thought about engagement of the second guitarist?
Marta: Crystal Viper has always been a 4 piece band, we used to hire live guitarists, so the live line up was 5 persons, but since I play guitar, you have the same 4 persons both on stage and in the studio.
After few years you made Born Again project. How does it look now?
Marta: Born Again is on hold in this moment, as each of us had to focus on our main bands. I think that Born Again will come back one day, but I don't know when right now.
What about your metal beginnings? Was it like, you know "I'm gonna be a heavy metal musician" and not give a damn about what the others think about it or something like that?
Marta: Probably I was born this way, because when I was a 6 year old kid, I told my parents that I want to be a musician. So one year later I became a pupil in music school, in piano class. Later, when I was teenager, I discovered metal music, and started playing and singing in bands, and that was something great and important for me! Now I also sing and I play guitar and bass guitar. It's a beautiful and great thing to be a musician, you learn every day, you live and develop your skills for your whole life, and it's very inspiring.
What is your opinion about the future of European metal scene?
Marta: I believe it will be stronger, bigger, and more popular. Metal rules, doesn't it!?
OK, thank you for interview, I wish you and your band good luck and please let some message for Slovak "Metal Nation".
Marta: Thank you too! Metallic regards to all the metal maniacs from Slovakia! We are Metal Nation!
Photo – Gabriel Management
Youtube sample:
Linky:
http://www.crystalviper.com/
https://www.facebook.com/crystalviperofficial/
https://www.instagram.com/crystalviperofficial/
https://www.youtube.com/crystalviperofficial/
Thank you  for help with the article: Buco, Kissacka 🙂