Ísť na Sweet po šiesty krát je istota vynikajúceho zážitku. Je isté, že dostanete dávku toľkých hitov, že si hlasivky vykričíte a na druhý deň nebudete môcť ísť ani nakúpiť. 😉 Pre mňa to malo, ale aj o mnoho osobnejší rozmer. Môj otec je tým asi najvernejším fanúškom Sweet čo táto legenda má.
On vlastní také suveníry čo snáď ani samotný Andy v živote nevidel. Pre môjho tatina je Sweet tá jediná kapela. Takže moja výchova bola hodne Sweetovská a aj napriek tomu, že nie sú moja najobľúbenejšia skupina, ovládam každú jednu pesničky čo kedy nahrali od predu aj od zadu,
No a práve včerajší koncert bol paradoxne prvý krát čo sa môj ocko na koncert dostal. Už na obed som sa vybrala z Viedne do Trenčína pre rodiča a potom naspať. Vďaka novinárskej akreditácii som sa dostala na skvelé miesta na balkóne a neskorej sprostredkovala pre otca stretnutie a fotografiu s Andy Scottom. Otec bol dojatý a daroval Andymu vlastnoručne robené tričko "Give Us A Wink".
Vďaka dlhšej večeri sme prišli na predkaleplu Seargant Steel až keď už si balili aparáty. Podľa môjho kamaráta boli veľmi dobrý. Technici prestavovali celý stage. Nové bicie, kulisy a do zadu obrovské logo Sweet.
Zotmelo sa a asi 1000 prítomných fanúšikov začalo netrpezlivo očakávať príchod glam rockovej legendy.
Začiatok
Kapela vyskočila na pódium za tónov skladby New York Groove od Hello. Všetci usmiati podávali fantastické výkony. Andy Scott zo svojou už dnes typickou červenou Fenderou hral ako skutočný gitarový Boh a svoju legendárnu fistulu nešetril ani sekundu.
O sólový spev sa delili basgitarista Pete Lincoln s navrátilcom Tony O´Harom ktorý hral ešte na gitaru a klávesy. Ďalší navrátilec Bruce Brisland hral fantasticky a bol neuveriteľne zábavný pri komunikácii s publikom.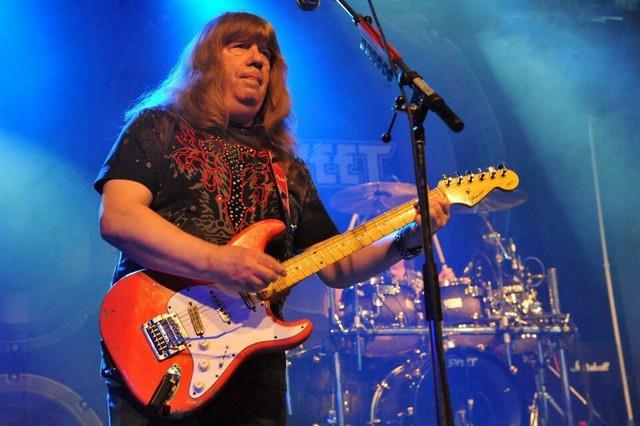 New York Connection
Koncert bol v rámci turné k albumu prevzatých pesničiek "New York Connection". Čiže zaznelo úvodná NY Groove, potom Gold on the Ceiling od Black Keys, New York Connection čo je jedno staré béčko od Sweet z dôb Desolation Boulevard, Shapes of Thing od Yardbirds, You Spin Me Right Now od Dead or Alive a môj osobný favorit Blitzkrieg Bop od Ramones.
Okrem toho sa hrali samé Sweeťácke klasiky ako napríklad Hell Raiser, Turn It Down, The Six Teens, AC-DC, Teenage Rampage, Love Is Like Oxygene s úžasným gitarovým sólom kde ostal Andy sám na pódiu, Into The Night s bubeníckym sólom, Blockbuster, Action a Ballroom Blitz.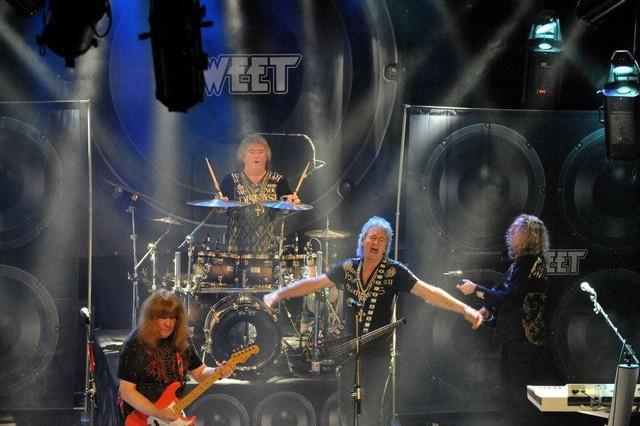 Prekvapenia
Došlo aj na dve prekvapenia. V rámci Fox On The Run došlo na medley skladieb z obdobia od roku 1985, keď Andy spolu s pôvodným bubeníkom Steve Tuckerom obnovili Sweet. Počuli sme ukážky z heavy rockových skvostov Shot Down In Flames, Do It All Oer Again a Do As I Say a potom sa vrátili k záverečným refrénom Fox On The Run.
Podobný prístup zopakovali pri metalovej speedovke Set Me Free kde zazneli skladby Sweet z osemdesiatych rokov z prvých troch albumov bez Briana Connollyho, ktoré spieval povodne basgitarista Steve Priest. V rámci tohoto mixu zazneli krátke ukážky z Identity Crises, Hold Me a Sixties Man, potom sa skladba vrátila k pôvodnej téme Set Me Free.
Koncert Sweet bol tento rok zatiaľ jednoznačne najlepší čo som videla.