Adam Bomb je skutočne prototyp ťažko pracujúcej rockovej hviezdy. Začínal v 80-tych rokoch, keď ako 16 ročný komponoval pesničky s KISS na album Creatures Of The Night, stál pri vzniku progresívnej hviezdy Queensrÿche, hral v úspešnej kapele TKO. Ako sólový umelec mal dva hair metalové hity na MTV. Dodnes neprestal nahrávať fantastické glam rockové platne. Toto CV by už samé o sebe stačilo na to, aby vás dotiahlo 13.5.2013 do klubu BRITISH ROCK STARS (Ba). Nebude chýbať tradičná predkapela  Janesession.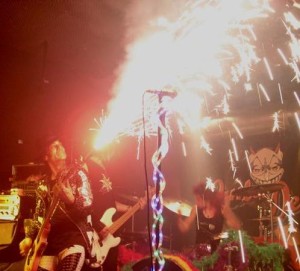 Ahoj! Ako sa máš? Ako pokračuje turné?
Adam Bomb: Čau! Skvele. Práve som skončil show v Španielsku a idem pokračovať v zábave na hotel.
Pamätáš si koncerty na Slovensku pred rokom?
Adam Bomb: Jasné! Boli to skvelé časy, koncerty a bolo úžasné navštíviť vašu krajinu. Som rád, že sa vrátim aspoň na ten jeden koncert v Bratislave v máji. Dúfam, že si stihnem Bratislavu užiť viac.
Aká je zostava Tvojej kapely pre tento rok?
Adam Bomb: Basák Maxx Nroll a bubeník  Bobby Reynolds. Starí spoluhráči museli z rôznych dôvodov opustiť kapelu.
Pred pár mesiacmi si vydal nový album. Ako si s ním spokojný?
Adam Bomb: Som veľmi spokojný, je to veľký kus roboty za mnou. Neobišlo sa to bez komplikácií, ale nakoniec to vyšlo výborne.
Kto hral na CD?
Adam Bomb: Stará zostava, Violet Cannibal a Paul Del Bello.
Prečo si nahral aj druhé CD s cover verziami k albumu?
Adam Bomb: So starou zostavou sme hrali naozaj dlhé koncerty, kde sme hrali aj viac cover verzií pre zábavu ako iba tradičné dva tri od KISS, alebo mojej bývalej kapely TKO. Vždy sme ich miešali do programu a tak sme vytvorili dokument všetkých čo sme kedy hrali. Bol na to čas.
Mám rada tvoju hudbu veľa rokov. Od doby, keď som ťa ako malá videla na MTV, ale tvoja hudba sa v Európe strašne ťažko zháňa na CD. Prečo?
Adam Bomb: Nemám momentálne v Európe žiadne zastúpenie, tak preto.
Ako dlho si nahrával album Rock On, Rock Hard, Rock Animal?
Adam Bomb: Asi mesiac. Väčšina bola nahratá už v decembri roku 2011.
Ako si spokojný s Tvojou novou kapelou?
Adam Bomb: Nie je úplne nová. S Bobbym hrávam už roky a s Maxxom idem druhé turné. Takže som.
Aký je život rockovej hviezdy na turné?
Adam Bomb: Ja som skôr ťažko pracujúci muzikant ako rocková hviezda. Celé je to o veľa šoférovaní, hádaní sa s fízlami, dávaní autogramov, fotení sa, hraní poriadne nahlas každú noc. Nie je to ale len zamestnanie ako to vyzerá.  🙂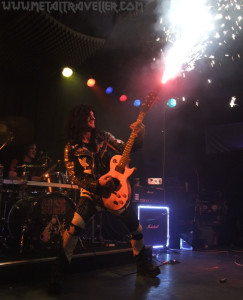 Máš nejaký koníček okrem hudby?
Adam Bomb: Rád hulím a pozerám filmy.
Aký je Tvoj rodinný život?
Adam Bomb: Som vdovec. Znova sa žením 4. Júla tento rok a mám 12 ročnú dcérku z minulého manželstva.
Máš nejaký odkaz pre Tvojich fanúšikov na Slovensku….?
Adam Bomb: Rock On Rock Hard Rock Animal treba počuť. Vidíme sa v klube. ROCK LIKE FUCK!
Oficiálny web: http://www.adambomb.com/