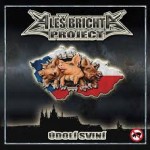 Aleš Brichta je pre mňa najväčší metalový hrdina v Čechách a na Slovensku. V osemdesiatych rokoch za hlbokého socializmu to bol jediný hovorca žánru. Všetci sa báli otvorene vystupovať na podporu heavy metalu a Aleš to praktikoval aj napriek postihom. Dnes všetci český muzikanti vyhlasujú ako bojovali proti "rudejm", ale realita bola iná.
Dodnes je Aleš jediný, čo postupuje proti politikom a vôbec nepláva s prúdom. Keď pred rokmi odišiel z Arakainu, bol to rovnako odvážny počin. Išiel do risku a dobrovoľne sa dostal do pozície, keď nevedel ako bude ďalej. Arakain aj napriek tomu, že išli do risku s novým hlasom mali názov a štyroch členov. On mal len svoje meno a talent.
Nebudem tu polemizovať či je Arakain lepší alebo horší, na to tu nie som. Ale mám pocit, že je to hodne vyrovnané a v prípade dvoch posledných albumov Aleša, a v prípade dvoch posledných albumov Arakainu, tak Aleš vychádza ako víťaz.
Od odchodu z veľkého Áčka je to už tretí názov kapely, čo nám pán Brichta ponúka. Zostavy sa mi už nepodarilo zrátať. Ale tá aktuálna je dosť zaujímavá. Na bicie si zahral pán Štěpán Smetáček, čo hral s Alešom v Arakaine na albume Schizofrenie a v projekte Zemětřesení. Hral aj v Lucie, Wanastowi Vjecy, Vitacit, Die El. Eleffant!?, Aneta Langerová či Anna K. Na gitaru Zbyněk Haase z Motorbandu. Druhú gitaru hrá David Vaněk a basgitaru Lukáš Varaja.
Pochybovať o kvalite zvuku asi nebude nikto a skutočne moderný metalový zvuk, Vás zatlačí do pohovky.
Prvá pieseň Pan K. Lousek patrí medzi najtvrdšie a najrýchlejšie piesne albumu. Text je pekne ostrý a z melódie refrénu vás až mrazí. Fantastická otváračka. Druhá Jahodový pole je skvelá melodická pecka trochu v štýle AC/DC. Nasleduje prvý singel z albumu Lásky jedný plavovlásky. Krásna baladická skladba s výborným klipom.
Štvrtá v poradí I.N.R.I začína dosť alternatívne, ale po chvíli sa premení v peknú tvrďárnu a jednu z najlepších skladieb albumu. Vlastne prvá štvorica pesničiek je špičková. Potom však nasleduje najslabší článok albumu. Nevýrazná Slzy mořských panen sa, ale nejak pretrpí a prichádza opäť brutálna Hořím, kde k Panterovským slohám kontrujú až folkové refrény.
Vypaľovačka Jen počkej zajíci uháňa stredne rýchlym tempom a potom sa nám otvára záverečná trojica skladieb, ktoré patria znovu medzi vrcholy albumu. Epická Řekni mi pravdu je neskutočne textovo a melodicky silná pieseň. Za ňou nasleduje Sny a přání a tá vás doslova zvalcuje svojim trošku Black Sabbathovským zvukom.
Záver patrí najväčšej hitovke celého albumu a to je skladba Fénix. Vedela by som si ju predstaviť ako ďalší klip.
Pán Brichta a jeho kapela stvorili dielo, ktoré predčí väčšinu českej produkcie a dovolím si tvrdiť, že s výnimkou novinky od Dymytry ma u našich západných susedov za posledný rok nič tak nezaujalo. Aleš Brichta je naspäť a má skvelý nový album Údolí sviní.
Lineup:
Aleš Brichta – spev
David Vaněk – gitara
Zbyněk Haase – gitara
Lukáš Varaja – basa
Štepán Smetáček – bicie
Tracklist:
Pan K.Lousek
Jahodový pole
Lásky jedný plavovlásky
I.N.R.I.
Slzy mořských panen
Hořím
Jen počkej zajíci
Řekni mi pravdu
Sny a přání
Fénix
Vydavateľstvo: Popron music
Rok vydania: 2013
Youtube ukážka:
Linky:
https://www.brichta.cz/
Hodnotenie: 5,5/6