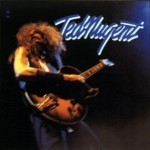 Ted Nugent patrí medzi najznámejších muzikantov, ktorí sa preslávili v 70tych rokoch na rockovej scéne. Jeho začiatky sú spojené s kapelou Amoboy Dukes, s ktorou hrával psychadelický rock. Časom mu dané zoskupenie začalo byť tesné. Preto si k názvu najprv pripísali jeho meno (Ted Nugent and The Amboy Dukes) a neskôr v roku 1975 vydáva pod vlastným menom svoj prvý sólo album.
Z predchádzajúceho pôsobiska s ním ostal iba basák Rob Grange. Ďalšími členmi jeho party boli bubeník Clif Davies a Derek St. Holmes, ktorý okrem gitár si zobral na starosť aj spev. Z toho som bol trochu prekvapený, keďže som si myslel, že Ted je zároveň aj spevákom. Nahrávky, kde spieval on prídu však trochu neskôr.
Na tomto diele Ted Nugent upiekol svoj štýl, ktorým sa vyznačovali jeho albumy z konca 70tych rokov. Ingrediencie, ktoré naň použil spočívali v citlivom namiešaní prísad, ktorými boli vyvážený pomer južanského bluesu a typického hutného hard rocku a všetko mierne okorenené istou dávkou psychadelie. Krásne to vidno hneď u prvej skladby Strangehold, alebo v trojke Hey Baby. V Motor City Madhouse zas Derek požičia mikrofón samotnému Tedovi, ktorý naplno ukáže aký talent sa v ňom skrýva. Takto si predstavujem kvalitný hard rockový spev.  Nájdeme tu aj baladu You Make Me Feel Right at Home, kde si Clif vymení mikrofón s Derekom. Bohužiaľ táto pieseň, hlavne kvôli svojej nevýraznosti, mi príde ako najslabší článok albumu. Napravia to však záverečnou Queen of the forest, skvelou energickou hard rockovou jazdou na záver.
Tento album je dôkazom, že koniec 70tych rokov bol pre rockovú muziku zlatým obdobím. Taktiež si myslím, že aj v dnešných časoch dokáže zaujať ľudí z rock/metal scény. Preto ho ohodnotím 5,5.
Lineup:
Derek St. Holmes – Hlavný spev, rytmické gitary, aranže
Ted Nugent – Hlavné a rytmické gitary, doprovodné vokály, basgitara, perkusie, aranže, hlavný spev na 6tke
Rob Grange – basa
Cliff Davies – bicie, vibrafón, doprovodné vokály, hlavný spev na 8
Tracklist:
Stranglehold
Stormtroopin
Hey Baby
Just What the Doctor Ordered
Snakeskin Cowboys
Motor City Madhouse
Where Have You Been All My Life
You Make Me Feel Right at Home
Queen of the Forest
Bonusy na CD edícii z roku 1999:
Stormtroopin (Live)
Just What the Doctor Ordered (Live)
Motor City Madhouse (Live)
Magic Party (Studio outtake)
Rok vydania: 1975
Vydavateľstvo: Epic Records
Hodnotenie: 5,5