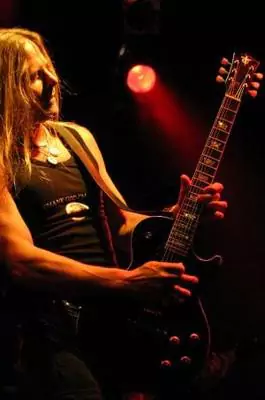 German happy mentalists Freedom Call have new, very positive album – Beyond. They also have new members – drummer Ramy Ali and old-new bassist Ilker Ersin. More info you can read in this interview:
Hello Chris, how are you?
Chris Bay: Hey, thank you, I'm doing great!! Excited about the upcoming release of our new album 🙂
Your new album "Beyond" will be released soon. Could you us tell something about it?
Chris Bay: In my opinion is "Beyond" definitively a new milestone for Freedom Call! An accomplished combination of traditional and typical songs of our early days and some new pathes which are spreading our horizon of creativity.
You've told something about concept of this album in the one of the first interviews. What is this concept about?
Chris Bay: The main topic of "Beyond" is our positive attitude to all life in words and tunes… It's a invitation to everyone to join us at it. We wanna send out our life affirming way of life, maybe just to enjoy or to be part of this open minded way of living…
Album contains
Song Coming Home is celebration of metal genre (words like ,,Bang your head or Die").. I hope, that we don´t have to be afraid, that Freedom Call will became second Manowar? 🙂
Chris Bay: Don't worry!! 🙂 All lyrics in this childish style are meant with a blink in the eye. We take our music and our performance very serious, but we don't take ourselves too serious. I'm  sure, the people know to handle words like this and they will love it!! 🙂
Next question is about song "Dance with the Devil".  It sounds exotically and you sing something about Africa, Devil… What is the meaning of its lyrics?
Chris Bay: The meaning of the lyrics are fitting perfectly into the concept of "Beyond". This songs is telling about the spirit of life, the Voodoo and a dance against the devil.
These are just belongings to get a better life, a positive attitude and open minded being. To beware of the evil and let your spirit free.That are contents of our "Beyond".
Last song on CD is "Beyond Eternity". I like it for its positive sound. Will you play it on your gigs?
Chris Bay: Oh yeah, I'm loving this song. Makes me feel better than before!! Of course, sometimes we will put this song in our set list, but I can't guarantee it'll will be part of our upcoming tour.
Video clip
You will present video-clip to song Union of the Strong soon. Why did you chose this song?
Chris Bay: The song "Union of the Strong" is a typical and traditional Freedom Call Song. It contains our trademarks like fast drums, high tuned vocals, catchy chorus line… That's the base music of Freedom Call, worth enough to film a video of this song. 🙂
After the previous video clips of "Hero on video" and "Rockin radio – Killerbilly". We returned to an epic heavy metal inspired video clip. You will see people jump, banging heads, flying hair and torches and flames and a huge drum set, very epic !!:)
We also invited a horde of metal heads to the filming, that was a great fun for everybody!! The video clip will be released mid of February and will be broad casted by several TV stations and, of course, available on YouTube.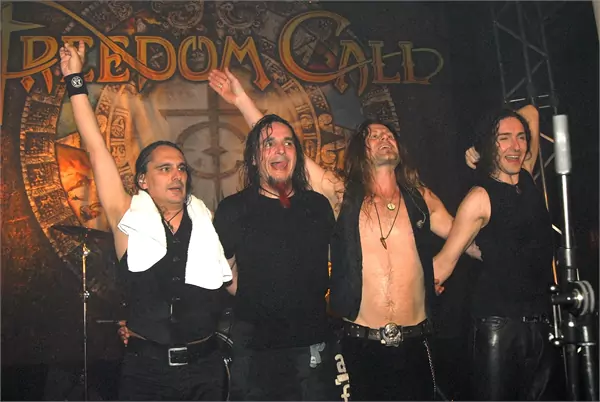 Upcoming gigs
Could you tell something to "Beyond tour"?
Chris Bay: Our tour "Light over the Beyond" will start early in March and will endure til the end of the year. At first we're travelling around Europe and hopefully we also can go to South America or Asia.
Do you plan some concerts in countries, where you have never played?
Chris Bay: We've never toured outside Europe. But the this year we participate on "70000 tons of metal" cruise in the Caribbean sea. But there are already plans to expand it to an "world tour".
And what about our country Slovakia? Do you plan some events here?
Chris Bay: We always made fantastic experiences while playing in Slovakia!!  Great crowd and very enthusiastic people. We hope to come to Slovakia in fall 2014.
New members
Now back to return of Ilker who have replaced Sammy (because Sammy  became Father). Did you think about someone another or was Ilker clear choice?
Chris Bay: Ilker is definitively the right guy on the bass guitar for Freedom Call. He is a co-former of the band and we're happy that he's back!!
And the next change in your lineup was on drummer's position. Why Klaus Sperling haven't stayed with you but you have taken Rammy Alli?
Chris Bay: Same reason like the change of the bass player. Our previous drummer Klaus has a fix 9 to 5 job, end of the year his holidays were used up and we always needed a stand-in drummer.
The guy, and very good friend of mine, Ramy Ali, was helping out and now we are happy to welcome him in the fix and probably best line up of Freedom Call ever…
Did you think about Dan Zimmerman?
Chris Bay: Dan is still a good friend of mine. He's doing great and that's the most important thing in life. He's out of discussion, we already have an new amazing drummer…
Personal life
Our lost interview was made 2 years ago.  Did some changes happen in your personal life since then?
Chris Bay: Life is spinning around, always and everywhere. Of course, some things happened, but I'm a person who is believing in the future, cause I can lead myself. The past is gone, it is how it is. But there is nothing I regret.
Now let's talk little about philosophies Freedom Call are known of their happy metal and positive songs. How you can give so much positivism, when there are happening so much bad thinks in our world nowadays?
Chris Bay: Music is art, art is a very emotional capture of senses. You cannot choice your style of music like shopping in a supermarket… The music you are writing, performing and living out is made by passion and feeling.
Our characters contain a very positive attitude to life and we feel happy about our kind of living. That's what we try to place to everyone. The music is a mirror of our attitude. It doesn't mean that we don't have some bad times or disappointing moments in our life, but we'll always see the light in the distance and the next will be a better day…
Ok, that´s all. Thank you very much for interview and I would like to ask you for some message for visitors of my web.
Chris Bay: I thank you for your efforts and the interesting questions!! Was fun to reply 🙂
All the best – Chris Bay
Thanks for the cooperation to Lesný Troll 🙂
Photo Chris (ilustration): https://lnk.sk/dit4
Youtube teaser:

Links:
http://www.freedom-call.net/
https://www.facebook.com/FreedomCallOfficial/?fref=ts
https://www.instagram.com/freedomcallofficial/
https://www.youtube.com/channel/UC8Un9pLdux03pya-p—Urw/