One of the most worldwide melodic heavy metal band Freedom Call from Germany released after two years new album, which's called Master of Light. This new CD is as usually full of optimism and happy metal melodies. We talked to frontman Chris Bay about it.
Hello Chris. Let's get straight into it. Your 9th album Master of Light was released after few days. Could you introduce the album to our readers in few words?

Chris Bay: Hi Tomáš… The new album Master of Light is definitely a logical continuation of "Beyond"…
The topic of living a life with positive and optimistic basis is still a leading line of our music and lyrics.
Musically we kept the traditional and typical style of the early days of Freedom Call. So, for all people they're longing for happy times…you're welcome 😉
Except traditional elements of your music I heard something new on it. I am talking about some guitar solos. On some songs (like Metal is For Everyone) they sound a little unusual. Was it intentional?
Chris Bay: No, nothing is really intentional on our albums. We're always feeling free to let out our inspiration and creativity without limits. On our new album I really had fun to write the songs in a way, I never did before. Against my usual kind of straight arrangements
I learnt to love to expand instrumental and solo parts, so I felt a bit "dream theater inside" ;), almost progressive for Freedom Call.
New album contains
In our last interview (from 11. February 2014) you told, that the concept of the album "Beyond" was: ,,These are just belongings to get a better life, a positive attitude and open minded being. To beware of the evil and let your spirit free". What concept do you have for Master of Light?
Chris Bay: "Master of Light" is continuing the story of our "Beyond". In our story of "Beyond", the life as itself, the love and more elements were born. But the human mankind was not able to handle all these elements by themselves…so, they need a support to survive their living and being on earth. The Gods of creation are sending out an angel, a savior to lead the mankind to the promised land, the Master of Light.
Don't get me wrong, but some songs from Master of Light recall me your older songs (for example Rock The Nation recalls your hymn Power and the Glory). Won't that be an issue while creating concert setlists?
Chris Bay: Of course you'll find some connection in between our albums, songs or parts of the songs, because it's the same band, the same producer and the same song writer. I will call this "trademark". I don't think that we will get any problems while creating the setlist…;)
Upcoming shows
As for the gigs. It was a busy year for you so far. How did you manage both – touring and recording?
Chris Bay: I like the situation, coming back from tour and recording new tracks for the album on the next day. I can forward the energy from stage directly "to tape"  in the studio. For me it is better to keep the speed and excitement which I'm getting on tour for the production.
There is nothing more boring than powerless studio productions…;)
On your Facebook page you have already announced gigs for Latin America, Germany, Czech Republic, Slovakia. Is there more to come, some other plans?
Chris Bay: Our tour of "Master of Light" will lasting the entire year 2017. It's growing week for week and it's expanding to a World Tour. The stage is the home of Freedom Call and we try to realize to play for as many fans in as many countries as possible.
Are you planning some changes in your concert setlist, in terms of including some old songs maybe? Or to play some song, which you have never played before (Call of Fame for example)?
Chris Bay: Of course, we're always working on our setlist to improve the show and entertainment parts. We will not only put new songs of the new album into the setlist. We also will bury out some old songs from early albums like "Stairway to Faiyland" or "Crystal Empire". Hmmm, "Call of Fame", maybe a good idea, thanks Tomáš 🙂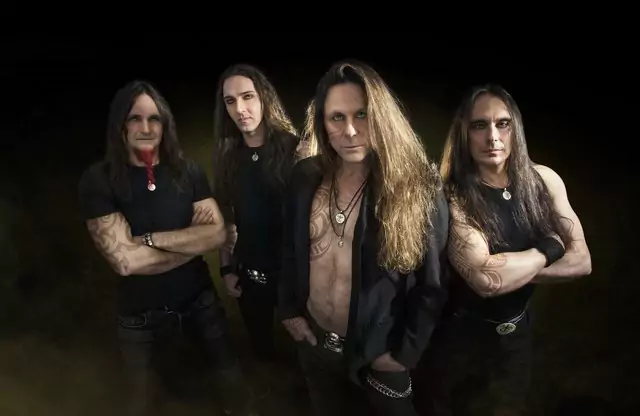 Civil life
Could you describe your ordinary day when you are not touring or recording?
Chris Bay: Actually almost boring…I always have lots of office stuff and paper works left…it's one of my worst and negativest characteristics 😉
I try to do sports 3 to 4 times a week and I found out that gardening is a very relaxing and creative work. But music is not only my job, it's my passion and love. So I'm always working in my studio to write songs or playing piano or guitar.
When you play gig with Freedom Call you look like big friends. Are you guys used to spending time together also in your free time?
Chris Bay: O yeah, we're also spending much time together in our "free time". This summer we had glorious barbecues 😉
Balancing
Are you still in touch with some ex-members of the band (Sascha Gerstner, Nils Neumann)?
Chris Bay: I'm meeting Sascha time to time on festivals around Europe, when he's on tour with Helloween. To Nils I lost the contact, I just know that he settled down, founded a family and stopped making music so far…
You have been playing with Freedom Call for 17 years yet and you are one of the greatest and the most respected bands on melody metal scene. Do you have some special goals, which you would like to achieve in your professional life?

Chris Bay: I could imagine to write the story of "Beyond" as musical actors, singers and an orchestra. That would be a great work after retirement 😉
Ok, that's it! Thanks a lot for your time and at the very end let me ask you for a short message for your Slovakian fans!

Chris Bay: I thank you, Tomáš for the great questions and your efforts From the beginning on we played  several shows in Slovakia and we're always amazed about the warm and enthusiastic welcome of the Slovakian metal heads. Just this year we played at the "More//Than//Fest" Festival again and enjoyed our time very much.
I honestly can tell you that the Slovakian fans are one of the truest metal heads in Europe! We are already looking forward to come to Kosice next year and bring the Master of Light to Slovakia.
Thanks for Alena Krákorová for cooperation on this article 🙂
Youtube sample:

Links:
http://www.freedom-call.net/
https://www.facebook.com/FreedomCallOfficial/?fref=ts
https://www.instagram.com/freedomcallofficial/
https://open.spotify.com/artist/55RDuy7cQW2Dqrcz3Jjl6F