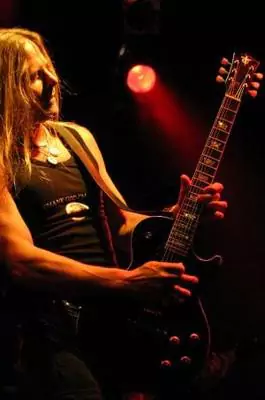 German happy metalits Freedom Call prepared new album Land of the Crimson Down. Do you know something about its recording process, when the band will perform and more interesting info? Let's read interview with frontman Chris Bay.
Hi, how are you?
Chris Bay: Hello Metal Maniacs, we are fine and satisfied after a long period of songwriting and producing…it feels good!
How it looks with recording successor of Legend of the Shadowking album? Could you tell something about this album.
Chris Bay: It's always a challenge to write and produce a new album. But I never try to compare the new work with the success of the previous album.
We toured with Legends for two years and played more than 80 shows, so it's a good time for new songs in our live program.
For the mainsongwriter and producer it's hard to score the new work. But I think we could express the happiness and energy, which Freedom Call contains, directly on tape. The sound and arrangement of the new album are mirrored from stage.
Which studio is recording process in and who is at the head of this album?
Chris Bay: We recorded and produced "Land of the Crimson Dawn" in several studios in our hometown Nürnberg.
There is a pool of very talented technicians and producers, which are highly motivated to do the best they can.
Conception album?
Will it be a conception album like the last time?
Chris Bay: It's like a concept, but I don't like this word…It means that the lyrical concept has more worth than the music. The maintopic of "Land of the Crimson Dawn" is the virtual world, a dimension in between bits and bytes.
People try to escape from reality hidden in the Cyberworld, like Warcraft or Guild communities. There are a lot of different digital zones you can move to …close to reality…find it out by yourself!
Who is a creator of these lyrics and how did lodge the songs?
Chris Bay: The most of the songs are written by myself, but there are also songs of all members of Freedom Call. We arranged the songs together in the practise room, like the same situation we have on stage…with the same energy 🙂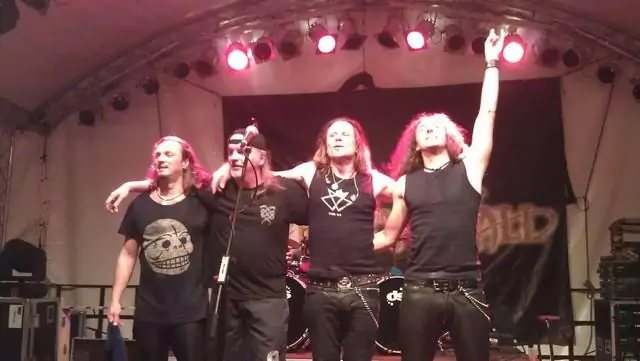 Upcoming shows
Do you have some concrete plans of your tour? (Lands, supports)
Chris Bay: The tour "Journey of the Crimson Dawn" will begin early March, one week after the release of the album! During the year 2012 we will tour everywhere in Europe and hopefully we can come soon to Slovakia!!
Through that here was some problem between you and our non-named agency, is a chance here we will see you at Slovakia again? (your last concert at Prešov  was great)
Chris Bay: It was attempt to come to Slovakia as headliner, but the circumstances didn't work for us…
New DVD
Last year you released your first DVD Live in Helvetia. Are you satisfied with it?
Chris Bay: We are very happy with the result and we are convinced that the DVD is the right way to prove the people that a Freedom Call show is the Happy Metal pure!! Don't miss it… 🙂
Who was the main person of the final form of this DVD?
Chris Bay: We produced the final product in our hometown Nürnberg…there is no main person, it's a product made by teamwork!
Some bands record some samples in studio on their DVDs. What do you think about it?
Chris Bay: For me it's important to show the people a real live show. When the recordings are running technically well during the concert, there shouln't be anything to hide!! To many samples are destroying the live atmosphere and sounding synthetically…
Changes in band
How did Klaus Sperling, your new drummer, naturalise in the band?
Chris Bay: Beside that he's an awesome drummer, he also is a very nice guy…always ready to joke and bring good mood into the band.
How did you find him?
Chris Bay: I met Klaus the first time when he was drumming for another German band which supported Freedom Call in 2005. He is one of less drummers in Germany who can play very fast beats without loosing the human groove, so he was the perfect successor after Dan Zimmermann.
We know, that some great musicians like Ilker Ersin, Cede Dupont a Nils Neuman left Freedom Call. Why?
Chris Bay: Interests are changing as time passed…but I'm still in contact with Cede and Ilker, so there is nothing against, that we will have some stage session in the future… 🙂
Personal questions
What do you think about German power metal? Some people say that this style is exhausted and it said everything what it could.
Chris Bay: I don't feel that Freedom Calls music is typical power metal. In the last 10 years we could build up our own trademark. I don't think that people's longing for fun and good heavy metal party is exhausted!!
How does look a typical day of member of band Freedom Call?
Chris Bay: We are happy to live in this fortunate circumstance, that our life hasn't any "typical days" 🙂
You make show all around the world. According to you in which country are fans the best for you?
Chris Bay: Our tour territory is still limited inEurope but we are very thankful that all countries fans are really kickin' ass!!
If you appeared  at the desert Island and you could have only five albums. Which albums it would be?
Chris Bay:
1. George Winston – Summer
2. Deep Purple – Perfect Strangers
3. George Winston – Autumn
4. AC/DC – Back in Black
5. Freedom Call – Land of the Crimson Dawn
Future
Have you ever thought about to release album with orchestra? I think it would be great idea, not only for me but also for all fans.
Chris Bay: I would love it, but the finances say NO:)) But, to record albums with orchestra is not a new idea and I prefer to spend my time to write new, innovated songs with my band.
According to you, how will the world metal scene and Freedom Call look like in ten years?

Chris Bay: All things in life are experiencing ups and downs… Also in ten years there will be a lot of heavy metal fans and metal bands existing, definitely Freedom Call as well! So let's see optimistically into the future and let's enjoy the good times of Rock'n Roll
Ok, thanks a lot for the interview. Good luck to you and all members of Freedom call. I´m looking forward to listen to your new CD. And  I would like to ask you for some message for visitors of my web.
Chris Bay: I thank you for your support and your interesting questions!
Hello to all "Callers" and happy metal maniacs in Slovakia!! We can't wait to come to introduce our new album "Land of the Crimson Dawn"!! After playing fantastic show in the past years inSlovakia, it's time to come back…Cheerz
Youtube teaser:
Linky:
http://www.freedom-call.net/
https://www.facebook.com/FreedomCallOfficial/?fref=ts
https://www.instagram.com/freedomcallofficial/
https://open.spotify.com/artist/55RDuy7cQW2Dqrcz3Jjl6F
Photo Chris: https://lnk.sk/dit4, Foto kapela: Andreas Hofmann, CC BY-SA 3.0, Wikimedia
Thank you to the following people for your help with the article: Lesný troll (one of the last few trolls alive 🙂 ), Kissacka and Danka Boselova 🙂