Krátko pred medzinárodným dňom detí sa na námestí v Snine uskutočnil koncert slovenskej kapely Metalinda. Tento spolok v 90tych rokoch na Slovensku patril medzi najpopulárnejších interpretov, no ale po odchode viacerých členov (napr. speváka Paľa Drapáka alebo aj druhého gitaristu Miša Kovalčíka) svoje postavenie postupne stratili.
Priznám sa, že pre mierne povedané  hlúposti akými bol duet s raperom Biológia alebo nie príliš podarený song Veget, som mal na nich jemne povedané ťažké srdce. No známi od našich západných susedov mi neraz spomínali, že ich vystúpenia aspoň na tamojších festivaloch stále stoja zato. Preto som sa rozhodol, že toto podujatie podporím.
Prvé dojmy
Po príchode na miesto ma privítala nie príliš dobrá účasť, t. j. starší ľudia v zadu a pod pódiom pomerne málo ľudí. Aj keď to bolo len v úvodzovkách "podujatie na námestí" čakal som, že ľudí bude o niečo viac. Prvou skladbou, ktorú na nás chlapci spustili bola legendárna hymna z ich debutového albumu o Kovový kráľ.
Priznám sa, že po zhliadnutí niekoľkých videí som mal isté pochybnosti o ich aktuálnom spevákovi Jarovi Mojžišovi. No pri spomínanej skladbe som sa jednoznačne presvedčil, že je to človek na správnom mieste a nebojím sa povedať, jeden z najlepších spevákov, akí kedy pôsobili v danej kapele.
Na gitaristovi a leaderoviv jednej osobe Petrovi Sámelovi bolo vidieť, že rozhodne nepatrí do starého železa (hlavne počas gitarových sól). Menším problémom bol však zvuk jeho nástroja, ktorý sa občas (hlavne keď spieval doprovodné vokály) strácal.
Problémy
Druhou vecou, ktorú by som vytkol bolo zaradenie hitu English is how Now. Kedže ho hrali iba s jednou gitarou a bez kláves, tak to bolo pomerne suché. Podobný problém bol aj s legendárnou hitovkou, o ich kamarátke, ktorá zomrela na predávkovanie drog – Angie. Ta druhá gitara mi tam dosť chýbala.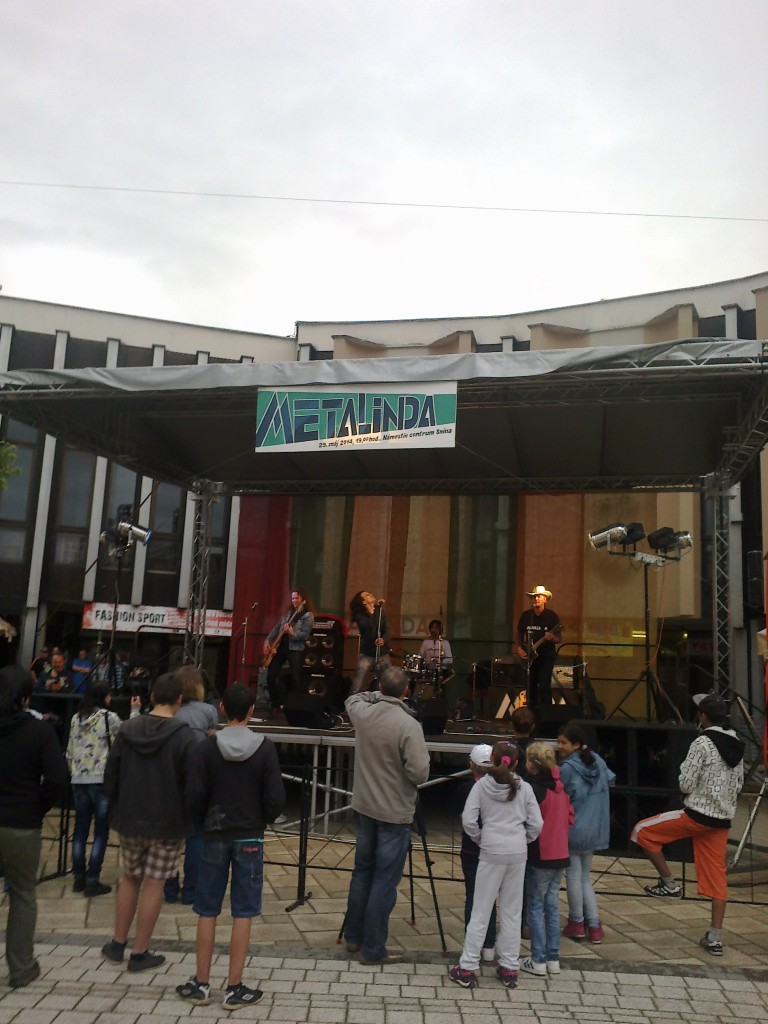 Zlepšenie
No pri Jánovi Ámosovi Džinovom sa to zlepšilo. Akosi sa im podarilo do zvuku pridať viac šťavy a tak tomu bolo až do konca. Zrejme vďaka tomu ich popovejšie veci, ktoré ja veľmi neobľubujem (Sila je Nás), zneli ešte lepšie ako na albumoch.
Po spomínanej Sile ohlásili koniec, no ľuďom pod pódiom sa podarilo ich privolať späť. Prvou vecou v prídavku bola opäť jedna z ich najväčších hitoviek, Slnko stoj a na záver sa opäť vrátili k debutovému albumu a zahrali ako povedal spevák Jaro "taký odzemok"  – Jágo, ktorý znel výborne.
Koniec
Po tom sa väčšina muzikantov odobrala preč, no gitarista so spevákom si prichystali ešte pomyselnú "čerešničku na záver" – Otčenáš.
Podujatie hodnotím ako vydarené. Myslím, že keď si v Metalinde odpustia vyššie spomínane veci ako Biológia, Veget a začnú nám prinášať opäť poctivú rockovú muziku (a poprípade aspoň pár skladieb v metalovom duchu ako na prvých dvoch albumoch (smajlík) ), tak by z nich ešte mohlo niečo byť.
Taktiež by mohli pribrať aj nejakého ďalšieho gitaristu, ktorý by zaplnil "dieru" po Mišovi Kovalčíkovi (viem, že sa to ľahko hovorí, no ale keď sa podaril výborný spevák tak by sa mohlo podariť aj to 🙂 ).
A na úplný záver by som rád poďakoval sninskému kultúrnemu stredisku za pekný večer 🙂