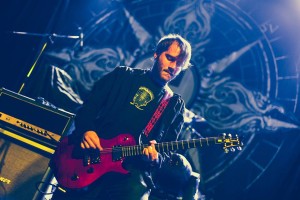 Začiatkom roka sa s novým, debutovým EP albumom Bez Zábran, prihlásilo bratislavské zoskupenie Asenth, ktorých ste mohli už vidieť napríklad na dvoch koncertoch ako hostí The Paranoid, na ich turné Anjeli Spia. Viac už gitarista Ivoš Paška v rozhovore.
Čauko Ivoš, začiatkom roka uzrela svetlo sveta Vaša prvotina – Ep Bez Zábran. Predstav ho prosím čitateľom webu Metalmania-Magazín.
Ivoš Paška: Ahoj Tomáš, naše EPčko sme krstili 9.1.2015 v Randáli a prvý song sme vypustili na YT 4.11.2014. Podľa môjho názoru je EP rôznorodé, o čo sme sa snažili hneď od začiatku pri jeho tvorbe. EP má 5 songov. Názor by som nechal na čitateľov 😉
Mne utkveli v pamäti hlavne ta záverečná inštrumentálka a trojka V nás. Najprv by som sa spýtal na tú inštrumentálku. Ako vznikla, resp. čo predstavuje?
Ivoš Paška: Inštrumentálka predstavuje takú voľnosť a myslím si, že aj spleť štýlov, kde na začiatku je použitá elektronika, mení sa tam myslím 5 krát tempo. Poriadne sme sa s ňou vyhrali.
Dúfam, že nevyzniem nejak zle, ale v úvodných tónoch ako keby bola nejaká chyba počas jej nahrávania. Je to pravda alebo je to len môj pocit.
Ivoš Paška: Nemýliš sa, je tam naozaj chyba. A my sme ju tam chceli 🙂
A čo sa týka tej V nás, skrýva sa za jej textom nejaký konkrétny príbeh?
Ivoš Paška: Áno skrýva, každého z nás.
Kedy bude mať to EP aj nejaké pokračovanie v podobe ďalšieho EP alebo nejakého full albumu?
Ivoš Paška: Nechceme polemizovať s dátumom ani s tým či to bude full album alebo EP, ale už teraz pracujeme na nových songoch, takže sa máte na čo tešiť 🙂
Z koncertov máte na svojich stránkach máte aktuvedený len jeden termín a to 25. apríla, v rámci turné kapely Paranoid. Prečo len ten, nebolo možne ich dohodnúť viac?
Ivoš Paška: Sme radi, že nám chalani z TP umožnili s nimi hrať na ich turné a sme radi aj za tie dva koncerty, t.j. ten, na ktorý sa pýtaš a 21.3. v Nitre.
Chystá sa aj niečo okrem toho?
Ivoš Paška: Zatiaľ veľmi nie.  Pracujeme hlavne na novej tvorbe, lebo sme tu krátko a chceme ponúknuť, čo najviac 😉 Max. tak niektoré festivaly, ale čakáme na zverejnenie zo strany organizátorov.
Porozprávaj niečo o mimohudobnom živote členov Asenth.
Ivoš Paška: Náš bubeníček navštevuje strednú školu, konkrétne konz. Jaroslava Ježka v Prahe. Ostatní sme zaheslovaní pred počítačmi.
V domovskej Bratislave máte veľa klubov a rôzne kapely. Ako to ale vyzerá s podobou muzikou ako hráte vy? Je aj tam populárna?
Ivoš Paška: Kapely sú stále kvalitnejšie, čo ma veľmi teší. Či je populárna je otázne. Treba ísť pozrieť v piatok do clubu, kde sa hrá reprodukovaná hudba a do clubu, kde sa hrá živá hudba a porovnať, kde je viac ľudí. Ja osobne neviem, ja som tam kde je koncert.
V čom ty vidíš najväčšie problémy kapiel podobného razenia ako vy?
Ivoš Paška: Ťažko povedať. Neviem, aký problém máš na mysli. Ale pokiaľ ide o fungovanie, tak sú to bohužiaľ peniaze, ktoré treba investovať do kapely (aparatúra, nahrávanie, koncertovanie, atď..)
Ako vznikla kapela Asenth?
Ivoš Paška: Kapela Asenth vznikla tak, že môj brat bubeník mi stále dokolečka hovoril, že chce mať so mnou kapelu. Tak sme založili kapelu. Najprv sa k nám pridal basák Tibi, neskôr gitarista Mark a nakoniec super spevák Tomáš, ktorý pôsobí aj v kapele Rust2Dust.
No ok, to už je koniec. Tak ďakujem veľmi pekne za rozhovor a ako tradične poprosím o nejaký ten odkaz pre čitateľov.
Ivoš Paška: Ďakujem za rozhovor.
Odkaz pre čitateľov je jednoznačný. Chodievajte na koncerty, podporíte tým kapelu 😉
Youtube ukážka:

Linky:
Facebook: https://www.facebook.com/asenth
Bandzone: http://bandzone.cz/asenth
Bandcamp: https://asenthband.bandcamp.com/releases