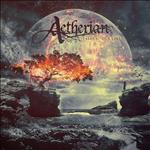 Aetherian je mladá, dvojčlenná kapela z Grécka, hrajúca melodický death metal. Na scéne sú od roku 2013. Ako správni Aténčania, dali do ich nového debutového albumu  "Tales of our Times" ukážkovo načasovanú silu a odvahu.
Daný nosič obsahuje 5 skladieb. Pri úvodnom intre som sa začal obávať, že CD bude pomerne nudné. Mal som pocit, že sa bude niesť v znamení melancholických tónov a rytmov.
Príjemné prekvapenie prišlo, ale v prvej skladbe "As seasons pass". Po úvodnej vybrnkávačke nastal hneď prvý rýchly zvrat. Príjemné harmonické tóny, ktoré ma miestami dostali až do apatie, ukážkovo vystriedali zmeny plné radosti a energie. Zaujímavý chrapľavý hlas tomu dodával čaro. Myslím si, že chalani presne vedeli, čo chceli týmto sympatickým melodic death metalovým albumom dosiahnuť. Ale samozrejme, nepredbiehajme.
Dvojka For Those About to Fall na ňu plynulo nadviazala, obsahovala však väčšiu porciu agresie. Nasledujúca For those about fall mňa osobne až tak za srdce nechytila.
O predposlednom, titulnom songu Tales of out times, som si myslel, že ma ničím neprekvapí. No už pri prvých tónoch som zistil, že som sa mýlil. Celá pieseň má zopár neuveriteľných atmosférických zmien. Nechýbajú taktiež rýchle bicie a výborné riffy. Je to ten typ piesne, po ktorej si určite zamilujete túto kapelu.
K poslednej veci  "Dreary voices" treba povedať, že všetko má svoj koniec a tam, kde niečo končí niečo nové začína. Zaujímavé je, že chalani si príjemne zachovali rovnaké tempo melódií, skoro počas celého albumu. Preto sa teším, čo ponúkne Aetherian v najbližšej budúcnosti a kam ich kroky budú smerovať.
Lineup:
Panos – spev, basgitara
Aggelos – gitary, programovanie
Tracklist:
Whispers in the Wind
As Seasons Pass
For Those About to Fall
Tales of Our Times
Dreary Voices
Rok vydania: 2015
Vydavateľstvo: Samovydanie
Yotube ukážka:

Linky:
Facebook: https://www.facebook.com/Aetherianband
Bandcamp: https://aetherianband.bandcamp.com/
Hodnotenie: 5