Ako občan východného Slovenska som často počúval o koncertoch v skvelom Park Pube v Strážskom. Musím sa ale priznať, že nikdy sa mi nepodarilo žiaden navštíviť, tak som sa to rozhodol napraviť. 13.6. agentúra Mass Production ohlásila veľkolepé turné ruských kapiel, power metalistov Estate a o niečo progresívnejšie zameraných kolegov Overwind. Strážske bolo prvou zastávkou na ich šnúre.
Na akciu sme dorazili pár minút pred avizovaným začiatkom, ktorý sa ale pre organizačné problémy posunul. To si odniesla aj jedna zo supportujúcich bánd – progresívno metaloví Amatea Adea z Košíc. Tí nakoniec ani nevystúpili.
Podujatie nakoniec začali domáci death metalisti Famma. Podobnému žánru síce veľmi neholdujem, ale ich koncert zaujal aj mňa. Mal som síce obavy ohľadom svetelnej show. Tá však taktiež ako celé hudobné teleso bola na výbornú. Oceňujem aj to, že sa na pódiu snažili, aj o aký-taký pohyb. Ak budú hrať niekde blízko, ich vystúpenie určite navštívim.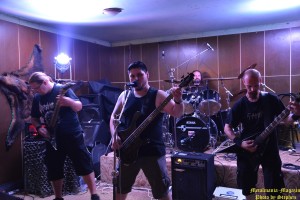 Potom na rad prišla prvá z hlavných band – Estate. Pri vypočutí na youtube som im akosi neprišiel na chuť, no čo sa týka koncertu tak boli výborný. Úvodná vec ich setlistu bola I'd Rather Die  a potom pokračovali songami ako Hero, Yana, Tarantella… Všetci si vystúpenie nesmierne užívali a taktiež nechýbala ani pohybová show… Z hráčov vynikal hlavne gitarista Andrey Krylov. Dovolím si povedať, že je to jeden z naj gitaristov, ktorých som v poslednom čase videl a počul. Pochvalu si zaslúži aj spevák Dmitriy Mauzer. Ten okrem spevu zvládal obsluhovať aj klávesy.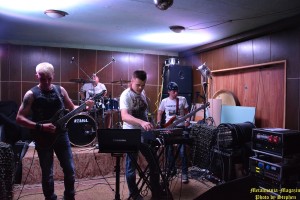 Nesklamali ani poslední vystupujúci Overwind. Tí sa na nás na úvod vyrútili so skladbou Giant Leap a potom pokračovali ďalšími vecami z debutu ako My Self, Illustrator, Daily War, Broken Spell a záver sa niesol v podobe Justice For Sell. Napriek tomu, že už bola neskorá večerná hodina pod pódiom rozprúdili peknú zábavu. Aj tu nechýbali pekné výkony, no za seba musím povedať, že spevák mi sadol o čosi viac.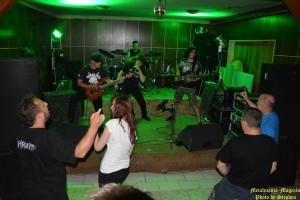 Záverečný verdikt: Napriek zmieneným problémom s akciou som spokojný. Čakanie vynahradili výborné výkony interpretov, príjemná atmosféra, dobré pivo a podobne. Ak bude niekedy podobná akcia v Park Pube, určite si to zopakujeme 🙂
Za foto ďakujem kamošovi Stephenovi 🙂
Galéria:
Famma:

Estate:

Overwind:

Ostatné:

Spoločné: