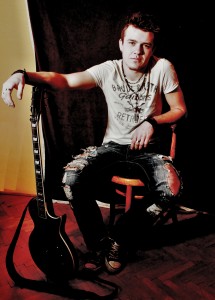 Po skvelom minuloročnom albume Experiment nás Volume nedávno potešili jeho nasledovníkom – Neviem čo chcem. Napriek tomu, že je o niečo tvrdší ako predošlý, stále sú to tí istí štyria chlapci z Trenčína plní nesmiernej energie. O CD, pripravovaných akciách a ďalších veciach porozprával spevák, gitarista a textár Majo Krátky:
Čauko Majo. Minulý týždeň ste vydali už druhý album Neviem čo chcem. Môžeš ho popísať vlastnými slovami?
Majo Krátky: Album sme sa snažili spraviť čo najlepšie ako sme vedeli. Snažili sme sa troška posunúť zvukovo, o niečo ďalej. Chceli sme spraviť album, na ktorom nebudú takmer vôbec žiadne korekcie, aby každý počul aký naozaj sme. Oproti EXPERIMENTU sme trošička pritvrdili.
Má jeho názov nejaký špeciálny význam?
Majo Krátky: Keď som skladal nové songy, tak som prechádzal troška zložitým obdobím. Chcel som troška ukázať aj na túto dobu. Ak si si všimol, tak na obale je bludisko, z ktorého nie je cesta von. Je to vlastne taká moja spoveď 🙂
Mohol by si k tomu obdobiu povedať niečo viac? Akého bolo charakteru?
Majo Krátky: Potreboval som sa posunúť niekam ďalej. Nevedel som, ale akým smerom takmer vo všetkom. Žral ma stereotyp bežného života, tak som hľadal východisko. Vtedy som ale pochopil, že ten kolobeh nemá konca.
Už na úvod si spomenul, že ste pritvrdili ako počuť aj v úvodnej piesni – titulnej Neviem čo chcem… Prečo ste sa tak rozhodli?
Majo Krátky: Pri skladaní songov sme nad tým nepremýšľali. Išlo to samo. Žiadne nejaké veľké porady popri skladaní. Padol nápad, bol fajn, tak sme sa do toho pustili. Nepremýšľam nad tým, keď skladám nový song či je tvrdší, mäkší. Proste všetko má voľný priebeh.
Oproti predchádzajúcemu albáču je tu o niečo menej anglických kúskov (dva, ak sa nemýlim). Máš nejaký špeciálny kľúč, podľa čoho určíš či bude skladba v angličtine alebo slovenčine?
Majo Krátky: Ani nie. Už keď píšem demo, tak dopredu premýšľam nad textom. Niekde sa mi hodí viac taký text a niekde skôr taký. Ale zasa je pravda, že v slovenčine textom ľudia viac porozumejú.
Mňa napríklad zaujala aj balada Dážď, ktorá naplno ukáže potenciál tvojho hlasu. Napriek tomu, že je zaradená v kolónke bonus je šanca, že zaznie na niektorom z vašich koncertov?
Majo Krátky: Tento song sme s Phillom napísali a nahrali asi za 30 minút. Chcel som nejakú vsuvku medzi všetky tie gitarovky a vznikol tento song. Vylúčené to nie je 😀 Uvidíme, ako ľudia budú vnímať celý album. Skôr, ale na nejakom unplugged koncerte.
Od vydania CD prešiel síce krátky čas, ale je tam niečo, čo by si rád zmenil keby to bolo možné?
Majo Krátky: Ak by to bolo možné, určite by som nanovo naspieval Carry me. Neviem prečo pri nahrávaní sa mi to zdalo fajn, ale teraz ma z toho krúti 😀 Ale zasa to nemusí byť na škodu. Podľa mňa hudba nemá byť dokonalá. Vtedy sa stráca jej čaro. Ale beriem to tak, že všetko je tak ako má byť.
Nadviažem na tvoju odpoveď. S tým súvisí aj to, čo si mi raz spomínal, že odmietaš zariadenia ako intonátory a podobne?
Majo Krátky:  Určite áno. Ja milujem štýl nahrávania ako sa nahrávalo kedysi. Teraz znie každá kapela rovnako. Rovnaký zvuk, milión korekcií a tak. My chceme znieť trochu odlišne. Hudba by mala plynúť sama zo srdca a nie podľa nejakej kopírky. Ja sa osobne radšej s tým potrápim sám, ako by to mal za mňa spraviť nejaký trápny program. Mám z toho potom lepší pocit 😉
Na podujatí Trenchtown Rock, ktoré bude spojené aj s krstom spomínaného CD, vystúpi zaujímavá zostava kapiel. Ako sa vám ju podarilo dať dokopy?
Majo Krátky: Pell Mell 59 sú naši dlhoročný priatelia. My sme mali tú možnosť hrať na ich krste, tak som chcel túto možnosť oplatiť. ASENTH doniesol náš basáčisko Janči, ktorí súhlasili s týmto koncertom a The intellectuals sú fakt šikovný. Dúfam, že to všetko dobre dopadne a ľudia si to užijú naplno, tak ako my všetci 😉
Chystáte aj nejaké ďalšie koncerty, poprípade objavíte sa na nejakých letných festivaloch?
Majo Krátky: Určite áno. Najviac nás totiž bavia koncerty. Riešime aj letné festivaly, ale nemáme ešte všetko potvrdené, tak nechcem zavádzať 🙂 Ale tento rok chceme byť úplne všade 🙂
A celé open air turné plánujeme zakončiť piatimi koncertami po sebe vo vypredanom Wembley, takže tá šnúra bude trvať asi 250 rokov 😀
Super, teším sa… 🙂 Čo sa zmenilo v tvojom osobnom živote od nášho posledného rozhovoru?
Majo Krátky: Poviem to tak jednoducho a asi najviac výstižne. Všetko a nič 🙂
Ako si spokojný s vašou domovskou scénou, čo sa týka koncertov, kapiel, klubov a podobne?
Majo Krátky: Veľmi ma mrzí, že je tu naokolo toho pomenej. Či už kapiel, s ktorými by sa dalo spolupracovať na dobrej úrovni (nehádžem zasa všetkých do jedného vreca) a takisto kluby. Tých je málinko, ale nájdu sa super kluby a nájdu sa kluby, no ehm… Ako to opísať 🙂
Nám to ale nevadí, my si ideme svojou cestou za svojím snom. Vždy sa nájdu ľudia, ktorí ti budú hádzať polená pod nohy. Vždy sa niečo posere, niečo sa ti úplne dojebe, ale presne o tomto je napríklad skladba Bojovník.
Ok, no… Každopádne to už je záver rozhovoru. Tak ako zvyčajne poďakujem a poprosím o nejaký ten odkaz pre čitateľov
Majo Krátky: Ďakujem veľmi pekne za možnosť spraviť tento rozhovor 🙂 Všetkým čitateľom chcem odkázať, aby podporovali všetky mladé kapely a formácie 🙂 Pre všetkých, ktorí sa chcú dozvedieť viac, tak navštívte náš fas book alebo bandzone 🙂
ROCK ON _!!!!
Youtube ukážka:

Link na stiahnutie ich debutového albumu Experiment (zverejnený so súhlasom kapely): http://uloz.to/xg3tgWny/volume-experiment-rar
Linky:
http://www.volumeband.sk/index.php
https://www.facebook.com/volumetn/
http://bandzone.cz/volumetn
https://www.instagram.com/volumeslovakia/