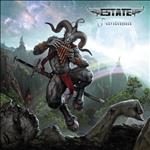 Po dlhšom čase, ktorý uplynul od turné ruských kapiel Overwind a Estate sa pozrieme na debut druhej spomínanej. Pripomeňme si najprv zopár faktov o nich.
Pochádzajú z Krasnodaru a dokopy sa dali v roku 2012 a približne dva roky na to im vyšiel album Fantasia. Zaujímavosťou je, že spevák Alexander Chumakov v dobe jeho nahrávania ešte nebol právoplatným členom tejto formácie.
K nemu musím ešte povedať, že ohľadom jeho anglickej výslovnosti som mal určite obavy, no už prvá vec nasledujúca po intre Hero, moje obavy rozptýlila.  Čo sa týka hudobnej zložky, tak títo Rusi nám ponúkajú vynikajúcu porciu power metal tradičného európskeho strihu.  Ukážkou ich majstrovstva sú napríklad trojka Tarantella, kde sa naplno ukáže talent gitaristu Alexeya Seleznea alebo aj  skladby na pozíciách šesť (You Are Not Alone) a sedem (Absolutely True!), kde svoj žáner prepojili s funky. Táto kombinácia sa fakt vydarila a zaujala aj mňa, čo vec ako funky rozhodne neobľubujem 😉
Pochváliť treba aj vydarenú baladičku World Without You a hlavne pieseň nasledujúcu po spomínaných funky experimentoch – Holy Land (Fantasia).  Obsahuje všetko, čo by mala obsahovať pieseň tohto typu chytľavú melódiu, rýchle tempo a dobrý text.
Záver CD sa nesie v podobe trojice The War, The Night of Asura, I'd Rather Die. Remeselne sú celkom zvládnuté, no chýba v nich nejaký výraznejší prvok.
Ak máte chuť spoznať niečo nové, neokukané – toto dielo je tou správnou voľbou. Verím, že aj táto moja recenzia prispeje k tomu, aby sa  Estate dostali do širšej pozornosti a neboli známi len z facebook stránok typu Unknown Power Metal.
Lineup:
Alexey Seleznev – gitary
Vadim Lalayan – basgitara
Dmitriy "Mauzer" Efimov – klávesy
Nikolay "Nicke Pix-R" Pikhurov – bicie
Hosť:
Alexander Chumakov – spev
Tracklist:
Intro
Hero
Tarantella
Silent Dream
World Without You
You Are Not Alone
Absolutely True!
Holy Land (Fantasia)
The War
The Night of Asura
I'd Rather Die
Rok vydania: 2014
Vydavateľstvo: Mighty Music
Youtube ukážka:

Linky:
Web: http://estate-band.com/
Facebook: https://www.facebook.com/Estateofficial
Hodnotenie: 5