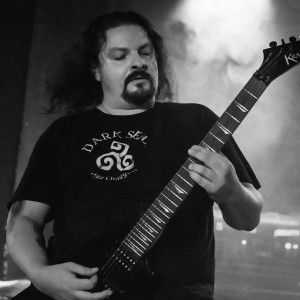 Členovia brnenských pagan metalistov kapely Dark Seal sa rozhodne nenudia. Začiatkom októbra vydali pokračovanie svojho debutu z roku 2012 a okrem toho chystajú aj viacero zaujímavých koncertov (napr. s kapelou Welicoruss). Viac už ale gitarista a doprovodný vokalista Dušan Kolářík:
Zdravím Dušan. Začiatkom októbra vyšiel nástupca vášho debutu Pagan Thoughts vol. 1 – Pagan Thoughts vol.2. Mohol by si ho na úvod trochu predstaviť?
Dušan Kolařík: Skladby na vol. 2 začaly vznikat v podstatě záhy, po vydání vol. 1 a plán byl vydat CD již v roce 2014.
Komplikace nastala odchodem bubeníka Satana, čímž se proces skládání a tvorby songů protáhl, protože jsme vše museli dávat znovu dohromady s novým bubeníkem Honzou. Takže důsledkem toho bylo vydání CD až v tomto roce. Skladatelsky jsme to sestavili se zpěvákem a kytaristou Crudelisem. Texty jsou převážně moje a kamaráda Vládi Bukáčka, který mi poskytl krásné keltské básně, na aktuální desce např. Imbolc.
Nadväzuje tento album nejakým špeciálnym spôsobom na vaše prvé CD alebo jeho názov je len náhoda?
Dušan Kolařík: Název desky je záměr, měli jsme to tak v plánu již od prvního CD. Jsme skupina, která hraje  pagan metal s prvky black metalu, tedy ten název vystihuje naší tvorbu. Pohanské a temné myšlenky, jsou míněny asi tak, že v textech se objevují přírodní, ale i protináboženské motivy a náměty.
Čo by si povedal k jeho textom, aké motívy tam poprípade nájde váš fanúšik?
Dušan Kolařík: Jak již bylo naznačeno, věnujeme se převážně přírodě, Keltské a pohanské tématice a též problematice církve. Nechceme nikoho ničit či zabíjet, jak je tomu u mnoha ortodoxních blackových kapel. Vkládám do textů to, co se nám na církvi či křesťanské víře nelíbí. Bylo tomu tak na prvním CD a bude tomu tak i nadále. Nové texty, které mám již připravené na pokračování vol. 3 jsou vytvořeny ve stejném duchu. Určitě do hudby nepatří politika a podobné věci, těmto tématům se nikdy věnovat nechceme a nebudeme.
Jednou z najväčších akcií, ktoré najbližšie chystáte bude vystúpenie na koncerte pri príležitosti 10. výročia kapely Welicoruss. Ako sa vám to podarilo vybaviť?
Dušan Kolařík: Tato akce nám byla nabídnuta přímo kapelou Welicoruss, se kterou máme přátelské vztahy a myslím i podobné hudební zaměření. Velmi rádi jsme tuto nabídku přijali 🙂
Aké ďalšie akcie ešte chystáte?
Dušan Kolařík: Máme již předjednány na rok 2016 nějaké letní akce jako např. Rockové Chrlení, Folk Metal Fest atp. a potom standardní klubové akce. Dále pravidelně děláme každý rok v Brně náš minifest Pagan Black Night, na který zveme různé kapely z ČR i SR. O zajímavých akcích vás budeme jako dosud aktuálně informovat.
Plánujete vyraziť aj k nám na Slovensko?
Dušan Kolařík: Určitě ano a rádi, v tomto roce jsme hráli 2 x v Žilině a byli jsme velmi spokojeni, tamní publikum bylo neuvěřitelné 😉 Na příští rok jednáme o miniturné se zastávkami na Slovensku, Maďarsku v Praze a Brně, je to nyní ve fázi jednání.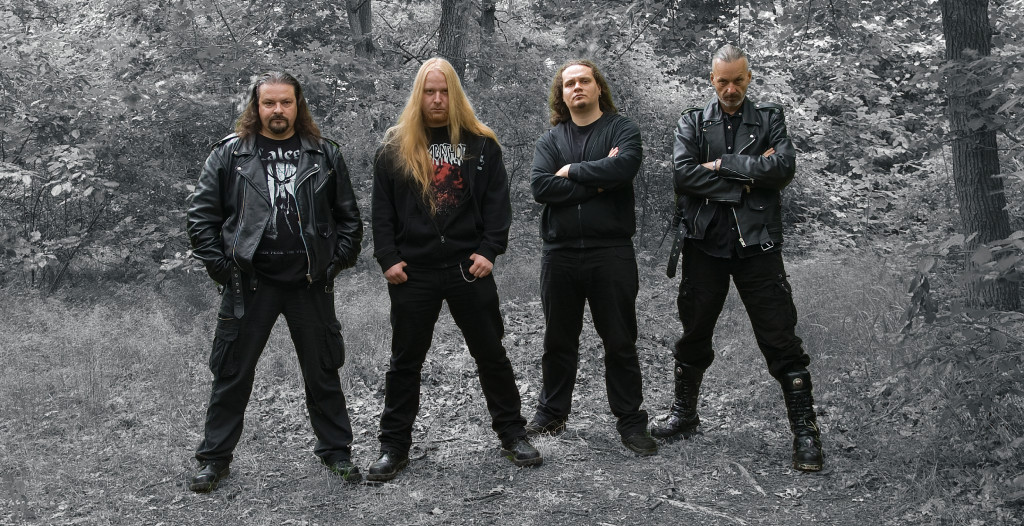 Porozprávaj niečo o civilnom živote členov kapely?
Dušan Kolařík: Já (Dušan) – kytara a doprovodné vokály –  pracuji jako technický pracovník u menší soukromé firmy, dodáváme a montujeme okna a dveře. Moje firma mi v mé činnosti pomáhá, i kolegové chodí na naše akce, je to skvělá podpora.
Kytarista a zpěvák Crudelis pracuje ve skladu, bubeník Honza na stavbě a basák Dimi jako administrativní pracovník. Občas zajdeme na pivko a na nějaký ten koncert či festival. Já jsem ženatý a mám téměř dospělou dceru, kluci žijí se svými přítelkyněmi. V dnešní uspěchané době je někdy velmi těžké se vůbec mimo záležitosti kolem muziky potkat, vzhledem k tomu, že se pohybujeme i v jiných hudebních projektech.
Na vašom bandzone profile som si všimol, že vznik Dark Seal bol trochu komplikovaný proces. Chcel by som sa ale spýtať na tvoje hudobné začiatky. Kedy si začal s hudbou a aké kapely alebo projekty si mal ešte pred Von Kollage, z ktorého vlastne vznikli Dark Seal.
Dušan Kolařík: Ano, bylo těžké rozjet kapelu úplně od nuly a byly i nějaké personální změny, ale tomu se asi nevyhne žádná kapela. Já jsem před Dark Seal nedělal dlouhá léta aktivně nic, měl jsem dítě, rodinu a nebyl na hudbu čas. Myšlenku mi vnuknul jeden kamarád v roce 2009. V té době jsem hodně poslouchal a v podstatě poslouchám dodnes kapely jako Enslaved, Borknagar a další, které jsou zaměřeny v podobném stylu, a na základě toho jsem začal tvořit, ale myslím, že v naší hudbě se najde i mnoho dalších vlivů. No a s rockem a metalem jsem začal někdy ve 12 ti letech s bratrem a kamarádem z domu. A náklonnost k tvrdším odnožím metalu mě drží dodnes 🙂
Čo pre teba osobne znamená pohanstvo?
Dušan Kolařík: Pohanství je moje životní filosofie a v rámci možností se snažím žít a přemýšlet v souladu s přírodou. Nejsem věřící ve smyslu křesťanství atp. Věřím v sílu přírody a celého vesmíru kolem nás, to je pro mě "Bůh".
To bola posledná otázka. Nesmierne ďakujem za poskytnutý rozhovor a poprosím ťa o nejaký ten odkaz pre čitateľov webu Metalmania-Magazín 🙂
Dušan Kolařík: Velmi děkujeme za zájem o naši bandu Dark Seal a doufáme, že se brzy potkáme na nějakém vydařeném koncert či festu, SLAVA !!
Youtube ukážka:

Linky:
https://www.facebook.com/DARK-SEAL-185582914831281/
http://bandzone.cz/darkpaganthoughts