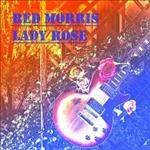 Poslednou tohtoročnou recenziou zalovíme v blues rockových vodách – pozrieme sa bližšie na debut talianskeho gitaristu Maurizia Parisiho, ktorý si hovorí Red Morris – Lady Rose.
Daný hudobník pochádza z Brescie a narodil sa v roku 1966. Od malička ho fascinovali umelci ako Santana, Pink Floyd, Led Zepelin a pod. Po hraní v mnohých cover bandách sa tento rok rozhodol vydať svoj debut s originálnymi piesňami.
Na Lady Rose ich umiestnil presne 9. Všetko sú to blues/rockové inštrumentálky s jemne progresívnou príchuťou, v ktorých naplno predvedie svoj talent – hlavne melodické cítenie (úvodná Golden Angel napríklad) a aj prácu s atmosférou (Lady Rose). Treba spomenúť aj trojku Mystery, ozdobenú slovom hosťa – Loua Longoniniho, kde okrem iného nájdete aj jazz prvky. Ďalej bude nasledovať trojica, taktiež kvalitných vecí Independence, Black's Eyes, Celtica (asi naj z celej trojice ) a pomyselné vyvrcholenie príde v predposlednej piesni – My Life Blues (Go Go). V nej sa naplno ukáže talent aj ostatných muzikantov, ktorí nahrávali tento album (hlavne rytmickej sekcie).
Na záver nahrávky si užijeme pomalšiu My Sea's Echoes. Nie je to vyslovene zlá vec, no svojou kvalitou oproti ostatným mierne zaostáva.
Lady Rose od Reda Morrisa je skvelou voľbou pre všetkých, čo sa obzerajú po novej, neobkukanej muzike.
Lineup:
Red Morris – guitar
Renato Mombelli – bass
Beppe Premi – keyboards
Claudio Amadori – drums
Hostia:
Alberto Parisi – doprovodná gitara v My Life Blues (Go Go)
Lou Longoni – hovorené slovo v Mystery
Tracklist:
Golden Angel
Lady Rose
Mystery
Independence
Black's Eyes
Celtica
My Life Blues (Go Go)
My Sea's Echoes
Rok vydania: 2015
Vydavateľstvo: Samovydanie
Youtube link:

Linky:
http://redmorris.jimdo.com/
https://www.facebook.com/red.morris.musician/?fref=ts
Hodnotenie: 5,5