Rhapsody of Fire – new singer
11.12.2016
Italy symphonics Rhapsody of Fire today announced new singer, who replaced Fabio Lione. He is Giacomo Voli, known from Italy competition The Voice (2014)
Band statement (quoted from their facebook page):
,,We are extremely proud to announce that Giacomo Voli is the new singer of Rhapsody Of Fire. As you can imagine, we are very enthusiastic to have Giacomo in the band and we can promise you that, beside his beautiful voice, he has brought new energy that we are looking forward to unleashing. Stay tuned! More news and footage coming really soon!"
On their facebook page you can find video with him, where he sing ROF song Into the Legend.
Links:
http://www.rhapsodyoffire.com/
https://www.facebook.com/rhapsodyoffire/?fref=ts
Source of Information: https://www.facebook.com/rhapsodyoffire/
ASCALON To Release Debut Album On No Remorse Records
9. November 2016
Ascalon, the Heavy Metal vigilantes from the UK, present their first album release entitled "Reflections". The band debuted in 2012, with the song "Steel Nights" placed on the "Flash Of The Blade Vol. 1" vinyl split EP, which included songs from some of the most promising young Heavy Metal acts of the United Kingdom.
One year later Ascalon released first same titled 3 song demo. Within last few years the band played bunch of festival and club shows, and shared the stage with cult heroes such as Tytan, Diamond Head, Venom Inc, Fist and Satan.
On November 30, 2016, No Remorse Records will release Ascalon's debut album entitled "Reflections". Its CD version will also include 3 bonus tracks, taken from the mentioned 2013 demo.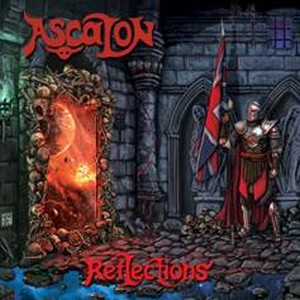 Tracklist:
Speed Daze
Reflections
Red Leather
Outlaw's Hymn
The Enforcer
Steel Nights
Ascalon
Vigilante
Listen to "Red Leather" https://soundcloud.com/noremorserecords/ascalon_redleather_official
More information: www.noremorse.gr
Visit the band: www.facebook.com/ascalonmetal
Soruce of Information: Bart Gabriel
A new single from the album Back to Life – A Tribute to Goodbye to Gravity was released
8. November 2016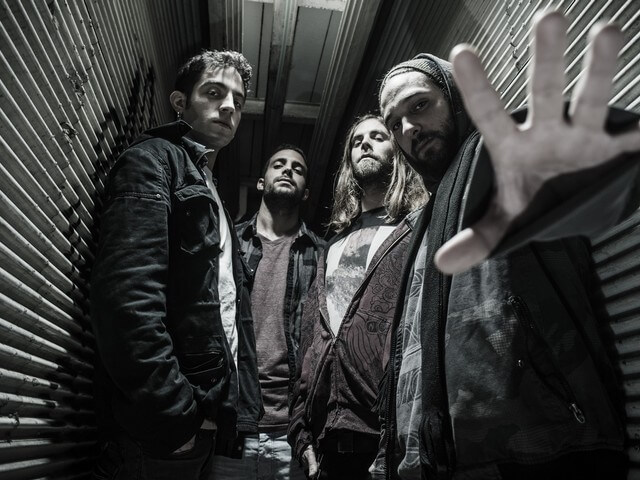 "Rise From The Fallen", recorded by Matricide from Israel, is a new single from the album Back to Life – A Tribute to Goodbye to Gravity, album that contains Goodbye to Gravity songs recorded by various international bands.
This is a charitable project as all the profits will be donated to the GTG members and families and to the victims from the Colectiv Club tragedy from Bucharest, Romania, happened on October 30th 2015 during the release show of the "Mantras of War" album, when an unexpected fire from the pyrotechnics caused 64 victims (including 4 out of the 5 GTG members) and hundreds of injured ones.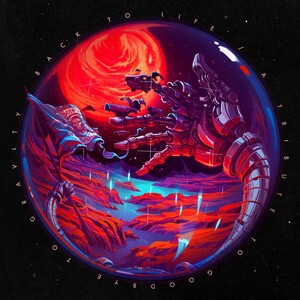 The single can be listened here: https://www.youtube.com/watch?v=QvvR_cUMAcc
Matricide declared:
"Our lead singer read a few song lyrics from the album and said he had a connection with this song above all others, and actually the intro of this song sounds quite similar to one of our new songs from our upcoming album. We haven't heard of the band GOODBYE TO GRAVITY before but after we did, we came to dig their music very much and appreciate and respect them deeply.
This story wasn't really covered in the Israeli press and media, we heard it through the major metal magazines online just about a day after the incident. This is such a tragedy which is so hard to acknowledge, we felt so sad that this thing could happen so quickly in probably one of the biggest days for the band – "Mantras Of War" album release concert.
We had the chance to play some concerts in Romania and we always felt like home there, we have a true connection with this country and the Romanian crowd. Our hearts goes to Romania and all the people who lost their lives and their families in this terrible tragedy. This is so heartbreaking, we want to pay our condolences to the band members family and friends and wish them that they would never see sorrow again, and may their souls rest in peace.
Love,
Matricide Family."
The song was recorded and mixed by Daniel Strosberg in Keoss Studios, Tel Aviv, Israel and mastered by Luculescu Alin Gabriel.
Ran Eliahou – vocals
Auria Sapir – guitar
Shahar Guy – bass
Ofir Zigi – drums
Tracklist:
Cruadalach (Czech Republic) – Waking Up
Outbreak (Romania) – Unusual Suspects
Changing Skins (Romania) – Vanishing Point
Nightshadows Lament (with members from My Dying Bride, Tristania, Apoptygma Berzerk, Mortiis, Hellbound Hearts and Green Carnation) – Horizons
Stonelight feat. Toni Dijmarescu (Romania) – I Won't Wait
Anna Murphy (ex-Eluveitie – Switzerland) – Through It All
Bruma (Romania) – Between the Tides
Bedårande Barn (Sweden) – Back to Life (acoustic)
Days of Confusion & Vița de Vie (Romania) – The Day We Die
News from Nowhere (Romania) – Shadow Puppets
Wind Rose (Italy) – Atonement
Sequence (Serbia) – Four Minutes of Rage
Matricide (Israel) – Rise From the Fallen
L.O.S.T. (Romania) – Heed the Call
Bucium (Romania) – What If
Mindcage Escape (Romania) – This Life Is Running Out
Spaceman (Goodbye To Gravity Version) – Babylon Zoo cover
About Matricide:
Bursting from the depths of the Middle East, Matricide is an eclectic band influenced by various elements within the heavy metal genre. Combining the speed and aggression of Death Metal, the attitude and aesthetics of Hardcore with the powerful groove and epic melodies you would hear within Nu-metal.
Lyrically speaking, the band's songs are comprised of profound and thought provoking philosophical and spiritual matters
Matricide has released an E.P titled " We Are Alive" And a full length album titled "When Random Turns to Fate" which led them to play extensively, sharing the stage in Israel with bands like Behemoth, Down and others. Matricide has also played throughout European festivals supporting bands like Orphaned Land, Cryptopsy, Disgorge, Jungle Rot, Klone and more.
The band raised the attention of Schecter guitars that extended an endorsement and support to the band and In 2016, Matricide sparked the attention of the well-known Extreme Management Group in New York. Matricide is currently working on new material and plans to maximize their growth in 2017 to further expand their reach to fans all around the world.
Source of Information: U Rock
INVISIBLE MIRROR SIGN WITH WORMHOLEDEATH
8. November 2016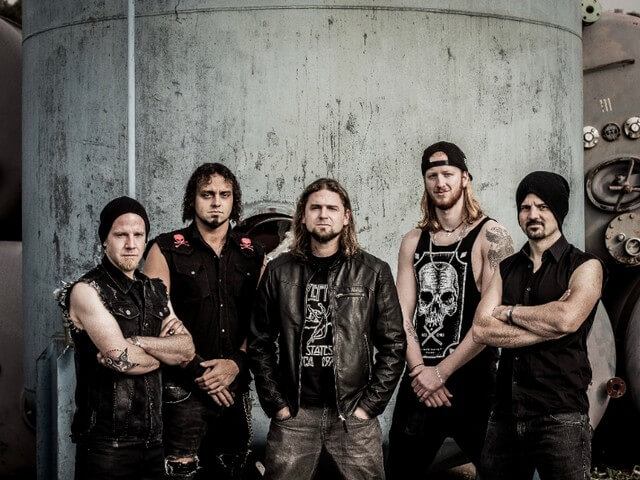 We are proud to announce that Invisible Mirror (Heavy Metal from Switzerland) have signed a deal with Wormholedeath for the worldwide release of their album "On the Edge of Tomorrow".

Ricky Bonazza statement:
"It's been a hell of a ride! We really took all the time necessary to work out every detail on the album, to make it sound just the way it's supposed to. It wasn't always easy but when I'm listening to it now, it's exactly how we have envisioned it and beyond.
We're really proud of the result. I think it's a very versatile album, very musical, almost like a journey because we combine so many different music elements. Our goal was to keep everything natural and organic, there's this rawness that makes the record breathe and that's also how it was mixed.
There are literately no drum samples, triggers or anything like that, all real sounds, all natural. The way we've recorded it makes it sound very dynamic and also adds a certain live feel to it. Kind of a modern/vintage record. Our motto in the studio was "feeling and emotions". I think we have accomplished that."
"On the Edge of Tomorrow" was produced by Connie Andreska (former Mystic Prophecy) and Dani Löble (Helloween).
"On the Edge of Tomorrow"
Frozen River
Strike Back
Different Ways
Believe
Conspiracy of Minds
Life of a Stranger
Hungry for Love
On the Edge of Tomorrow
Beyond the Sky
The loner
Digital release date: 20th January 2017 (Wormholedeath/The Orchard)
U.S.A: 17th February 2017 (Wormholedeath U.S.A)
Europe (Aural Music Group) and Japan (Wormholedeath Japan /Tower Records Japan) TBA.
https://www.youtube.com/watch?v=yRQVtKCgbEo
Links:
INVISIBLE MIRROR
www.facebook.com/invisiblemirrorband
www.youtube.com/InvisibleMirr0r
www.reverbnation.com/invisiblemirror1
www.soundcloud.com/invisible-mirror
WORMHOLEDEATH
https://www.facebook.com/WormHoleDeath
http://www.wormholedeath.com
Source of Information: WormHoledeath Press
AC Angry – Appetite For Erection
4. November 2016
New album of German rock band AC Angry – Appetite For Erection will release on 25. November via Steamhammer/SPV.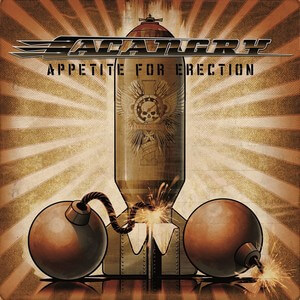 Tracklist:
CD Digi Pack Version
I Hate AC Angry
4TW
No Way To Go But Down
I Wanna Hurt Somebody
Appetite For Erection
Son Of A Motherfucker's Son
The Balls Are Back In Town
Take You Shake You Break You
Cry Idiot, Cry
Testosterone
Vinyl Version (1LP + CD)
Vinyl:
A
I Hate AC Angry 2:41
4TW 3:57
No Way To Go But Down 3:37
I Wanna Hurt Somebody 2:55
Appetite For Erection 4:38
B
Son Of A Motherfucker`s Son 4:57
The Balls Are Back In Town 4:23
Take You Shake You Break You 3:25
Cry Idiot, Cry 3:27
Testosterone 3:28
There are albums with titles that leave little doubt about their musical direction. Appetite For Erection sounds like … well? … you've got it: like pure rock 'n' roll with an ass-kicking attitude and an irrepressible sense of humour.
Classic rock music that's fun and goes directly into your leg and neck muscles, with provocative lyrics which fully live up to the inherent mission of this musical genre. The self-appointed ambassadors of uncompromising and diverse power rock call themselves AC Angry, hail from Saarbrücken and are ready to present their second album on Steamhammer/SPV.
Four musicians, one philosophy: kick ass! "We were absolutely happy with our debut Black Denim, but we knew we could do better and top it with our second release," vocalist/guitarist Alan Costa reckons, obviously proud of the band's latest achievement.
"You can tell that we toured a lot in the past three years and the energy and experience from countless concerts have influenced our songwriting."
Appetite For Erection is scheduled for release on 25 November 2016, without doubt a red-letter day for all aficionados of handmade rock'n'roll!…
Links:
www.facebook.com/acangry/
www.acangry.com
Source of Information: SPV GmbH
ABORT TO BE BORN – Misanformic
6.11.2016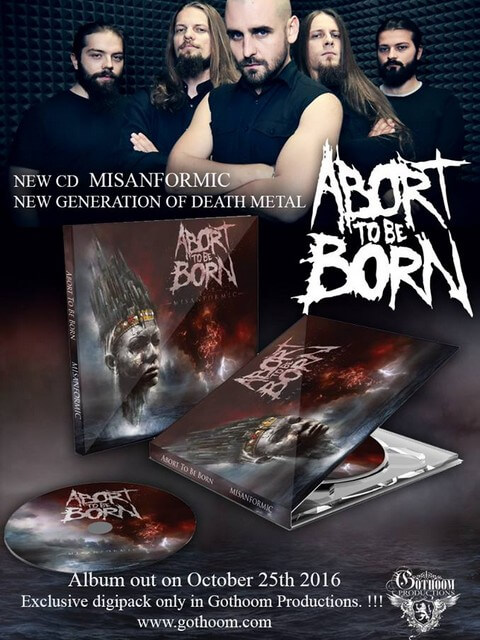 ABORT TO BE BORN is Slovak death metal band, who was formed in 2012 by guitarist Wonder (ex-Interface, ex-Doomed). Today they released new album – Misanformic via label Gothoom Productions.
Procreatio
Lairs Of The White Worms
Paltriest Creatures
Eleventh Testimony
Endless Lust And Greed
Character Dissection
White Gowned Lie
Misanformic
Youtube teaser:

Links:
http://www.aborttobeborn.com/
https://www.facebook.com/AbortToBeBorn
Source of Information: Gothoom Promotion