Poliaci Crystal Viper zverejnili nový videoklip
7.2.2017
Poľskí heavy metalisti CRYSTAL VIPER na čele so speváčkou Martou Gabriel zverejnili nový videoklip ku skladbe When The Sun Goes Down:
Crystal Viper sa vracajú po 4 rokoch absencie s novým koncepčným albumom nazvaným Queen Of The Witches, ktorý vyjde 17. februára 2017 prostredníctvom AFM Records. Produkoval ho Bart Gabriel (Cirith Ungol, hexx, Mythri). Cover vytvoril legendárny nemecký umelc Andreas Marschall (Running Wild, Blind Guardian, OBITUARY). Na novinke Queen Of The Witches sa taktiež objavia traja špeciálni hostia – spoluzakladateľ Manowar ROSS THE BOSS, nemenej legendárny gitarista Jeff Dunn aka Manstan z Venom/Venom INC, ktorý sa predvedie v dvoch skladbách s gitarovými sólami. Okrem toho, že v jednej z piesní fanúšikovia budú počuť aj duet Marty Gabriel a Steveho Bettneya (spevák kultových NWOBHM hrdinov SARACEN).
Queen Of The Witches bude k dispozícii na limitovanej LP platni, CD a bude sa dať aj stiahnuť. LP a CD verzie budú zahŕňať rôzne bonusové skladby: verzia CD bude obsahovať cover verziu kapely GRIM REAPER – See You In Hell, zatiaľ čo vinyl LP bude zahŕňať cover kapely EXCITER – Long Live The Loud.
Album Queen Of The Witches si môžete predobjednať tu:
http://bit.ly/CRYSTALVIPER_Queen_PREORDER
Linky:
http://www.crystalviper.com/
https://www.facebook.com/crystalviperofficial/?fref=ts
Zdroj: Bart Gabriel
Right To The Void – Nový bubeník
6.2.2017
Francúzski melodickí death metalisti Right To The Void rozšírili svoje rady o nového bubeníka – Alexa Dumasa.
https://www.youtube.com/watch?v=HDcDQd2gq5s
Linky:
www.righttothevoid.com
www.facebook.com/righttothevoid
twitter.com/righttothevoid
www.youtube.com/user/righttothevoid
soundcloud.com/right-to-the-void
Zdroj: WormHoledeath Press
Madness Of Sorrow – "N.W.O". – The Beginning
2.2.2017
Nový, už štvrtý album talianskych horor metalistov Madness Of Sorrow – "N.W.O". – The Beginning vyjde 1. marca. Bude to debut pre nového speváka Prophet (Aka Diego Carnazzola), ktorý sa predstavil minulý rok na koncertoch kapely. Album bude distribuovaný digitálne prostredníctvom W13Digital Distribution.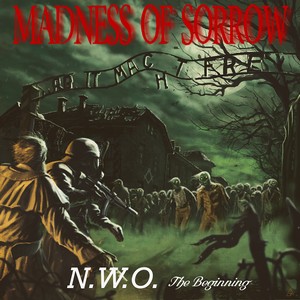 Linky:
http://www.madnessofsorrow.com
http://www.facebook.com/Madnessofsorrow
http://www.atomicstuff.com/madnessofsorrow.html
Zdroj: http://www.atomicstuff.com/
Eagleheart – chystaný album
6.2.2017
Českí melodici Eagleheart zverejnili na svojom fb profile info o chystanom treťom albume. Citát:
,,Po letech usilovné práce se konečně blížíme k dokončení naší třetí desky, kterou si můžete už teď předobjednat v rámci naší crowdfundingové akce na serveru hithit.com! Mrkněte na to, pořádně pročtěte, o čem celá tahle akce je a proč ji děláme a vyberte, co by vás zajímalo. Moc děkujeme za podporu, i kdyby mělo jít jen o SDÍLENÍ akce!!
goo.gl/0HkJT7"

Linky:
http://www.eagleheart.eu/
https://www.facebook.com/eagleheartband/?fref=ts
http://bandzone.cz/eagleheart
Midnight Scream – skladba z chystaného albumu
6.2.2017
Power/thrash metlaisti Midnight Scream z Veľkého Krtíša zverejnili ďalšiu ukážku z chystaného albumu, smršť z názvom Born In Bitterness:
Kapela sľubuje čoskoro odhaliť aj ďalšie prekvapenia.
Linky:
http://www.midnightscream.sk/
https://www.facebook.com/MidnightScreamSlovakia/?fref=ts
http://bandzone.cz/midnightscream
Zdroj: http://www.midnightscream.sk/