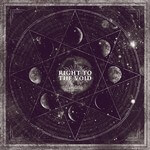 Right To The Void patria medzi kapely, ktoré čerpajú z mnohých žánrov. Vo svojej hudbe miešajú death a thrash. Popisujú ju to ako iniciatívny, moderný a melodický metal. Pozrime sa na ich aktuálne EP Lūnātĭo.
 Na ňom sa nachádzaj tri, mimoriadne tvrdé skladby. Nechýba v nich veľmi temná a depresívna atmosféra. Z hľadiska spevu prevažuje growling. Čistý spev bol vo všetkých troch pesničkách hlavne v refrénoch ako estetické pozadie growlu.
Úvodná Lines je pomerne nevýrazná, ďalšie dve pesničky sú na inej úrovni a o niečom inom. Nasledujúca 3.474 zaujme hlavne Romainovou basou. Tie vyhrávky a cit v ruke človek nemôže len tak prepočuť. Záverečná, agresívna Let The Ruins Fal  sa nesie skôr v avantgardnom duchu.
Celá nahrávka má pomerne prehustený zvuk. Basa je kráľovsky vytiahnutá hore, podladené gitary, bicie sú ploché, duté, činely nevýrazné, celkovo nevýrazný zvuk bicí. Čistý spev posunutý úplne dozadu, kde slúži len ako podklad ku dotvoreniu atmosféry. Obal je fantastický, trochu komplikovanejší – grafické prevedenie je výborné.
Za basu a obal majú odo mňa chalani veľké plus, ale inak EP neponúkne nič prevratné. Skúste vy, ja mám z tohto EP zmiešané pocity.
Lineup:
Guillaume – Spevy
Romain – Basa
Paul – Gitary
Alex – Bicie
Tracklist:
Lines
3.474
Let The Ruins Fal
Rok vydania:  2017
Vydavateľstvo: WormHoleDeath
Youtube ukážka:

Linky:
http://righttothevoid.com/
https://www.facebook.com/righttothevoid
Hodnotenie: 3,5/6