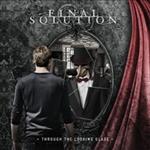 Ubehlo len pár dní od Vianoc, keď som dostal za úlohu pozrieť sa na debutové Cd skupiny z Apeninského polostrova Final Solution nesúce názov Through The Looking Glass. S hudbou z Talianska som už mal nejaké skúsenosti, a musím povedať že v drvivej väčšine prípadov len pozitívne, a tak som bol zvedavý (a určite som sa aj v hĺbke duše tešil) na tento debutový počin.
Na úvod krátko o kapele. Final Solution začínala ako kapela hrajúca covery švédskych melodeath skupín In Flames, Soilwork, At The Gates... avšak na tomto albume by ste hľadali stopy po tomto žánri len veľmi ťažko. Skôr sme sa dali na cestu power-heavy metalu. Ale pekne po poriadku.
Po dramatickom a takmer až filmovom intre Awakening nasleduje 7 plnohodnotných skladieb. Hneď prvá z nich, Sick Of You, svižná skôr heavy záležitosť ukazuje, akým smerom by sa mohla celá nahrávka uberať, pričom jej hlavnou devízou je práve silný cit pre melodickosť.
Avšak nasledujúca Demon Inside  všetko posúva do vyššej roviny, a prejavuje sa už aj power, konkrétne vysoké tóny v podaní speváka Maria, ktorý ich umne strieda s ,,nižšími" a v istých pasážach možno zachytiť aj jeho pritvrdenie. Práve táto vokálna rozmanitosť ma na piesni najviac zaujala. Inak je to opäť silne melodická skladba, či sa už jedná o sólo, refrény…
V podobnom duchu sa nesie aj Empty Walls, kde sa však už o dosť výraznejšie pritvrdí. Týmto štýlom pokračujeme aj v The Show Is On, až napokon dôjdeme k songu (R)evolution, teda konkrétne krátkej inštrumentálke postavenej na klavíri a klasickej hudbe.
Po tomto príjemnom spestrení pokračujeme s Dogs Of War, ktorý by som označil za najlepší kúsok albumu, zrejme taktiež najtvrdší, kde mi niektoré riffy dokonca evokovali Korn, a práve to je to, čo priam zbožňujem. A ak sa k tomu pridá melodický refrén, skvelý výsledok je na svete. A na koniec tu máme ešte song Grey, ktorý kráča v šľapajách svojich predchodcov.
Final Solution nám namiešali energetickú bombu. Kombinácia žánrov heavy a power sa v tomto prípade vydarila na jednotku, keď tvrdé pasáže striedajú tie viac melodické. Práve v silnom cite pre melodickosť by som videl silnú stránku tohto albumu.
A nezáleží na tom, či sa jedná o prepracované sóla, alebo melodický podtón v refrénoch a pod. V danom žánri považujem za častý kameň úrazu to, že sa často piesne zlievajú dokopy a sú ťažko rozlíšiteľné. V tomto prípade sa to však nestalo, a každý jeden song je jedinečný kúsok. Inštrumentálnej stránke je teda ťažko niečo vytknúť.
Ďalším pozitívom je spev, ktorý som už spomenul vyššie. V priložených materiáloch som sa o kapele dozvedel, že zmena žánru nastala práve s príchodom speváka Maria. A ten si svoju robotu odviedol na výbornú. Paradoxne sa mi však nepáčil najviac jeho vysoký spev, ale ten ,,obyčajný".
Takže suma sumárum. Pri počúvaní Through The Looking Glass ani nemáte pocit, že sa jedná o debut. Final Solution vytvorili kvalitný album sťa starí harcovníci, ktorý má potenciál potešiť nie len fanúšikov power metalu. Práve jeho vyvážená kombinácia s tvrdým heavy metalom dáva rezultát 5/6.
Lineup:
Mario Manenti – spev
Fabio Pedrali – gitary
Alessandro Martinelli – gitary
Gabriele Savoldi – basa
Gianluca Borlotti- bicie
Tracklist:
Awakening
Sick of You
Demon Inside
Empty Walls
The Show Is In
(R)evolution
Dogs of War
Rok vydania: 2016
Vydavateľstvo: logic(il)logic Records
Youtube ukážka:

Linky:
https://www.facebook.com/Final-Solution-148132151948354/?fref=ts
https://www.youtube.com/channel/UCLW2oKsXRKzAYzWfQNZTo0g
Hodnotenie: 4/6