ALESTORM – Premiere New Video
21. April 2017
Ahoy! The one and only heavy metal pirates of ALESTORM are back, and they've brought with them their 5th full length album 'No Grave But The Sea', which is set to be released on May 26th via Napalm Records. Time to put on your eyepatch and let the rum flow freely for the unstoppable international party machine!
The metal pirates lead by Captain Christopher Bowes have now unleashed a first and official video from their upcoming album 'No Grave But The Sea', and could not have chosen a better song title to celebrate a pirate's life and tunes than after the band name 'Alestorm'!
Says Chris Bowes:
"Oh wow! It's a new video! I hope you enjoy watching it as much as we enjoyed filming it. It features all the classic elements that people have come to associate with Alestorm: beating up little people, explosions, and the Serbian countryside. The song is pretty good too."
So raise up your tankard into the sky for a brand new and first appetizer of ALESTORM's new album, and watch the video right
"A pirate's life is simple: We drink, steal and kill!" Damn right. And no other band in the galaxy creates such epic modern symphonic folk metal anthems with endless hooks that will be stuck in your head until the heat death of the universe. Or in ALESTORM's own words…"Stupid songs about getting drunk and stealing treasure". Twisted together with blistering harmonized guitar & keyboard solos, thunderous power metal majesty, and unrelenting modern metal riffing, 'No Grave But The Sea' is nothing less than the perfect soundtrack to the most epic battle of your life.
Links:
https://www.alestorm.net
https://www.facebook.com/alestormband
https://www.napalmrecords.com
https://www.facebook.com/napalmrecords
Source of Information: Napalm Records Promotion Team
New Metal Church drummer
21. April 2017
Man, who replaced Jeff Plate in Metal Church is Stet Howland, ex member of W.A.S.P.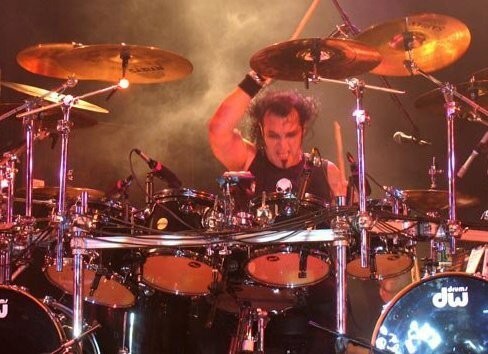 Links:
https://www.metalchurchofficial.com/
https://www.facebook.com/OfficialMetalChurch/?fref=ts
Source of Information: http://www.blabbermouth.net, photo: facebook.com
OMEN And BATTLEROAR To Release 7″ Split Single On Cruz Del Sur Music
21. April 2017
When it comes to Epic Metal, OMEN and BATTLEROAR are two names that do not need introduction. OMEN (USA) was formed by guitarist Kenny Powell in 1983, and since the release of the debut album entitled "Battle Cry" (on Metal Blade Records) have set the standards for the genre, while Greek BATTLEROAR, founded in 2000, are one of the most-valued and long-lasting active bands, and released 4 albums in 17 years of activity.
OMEN's "Up From The Deep" sounds as if it was taken directly from "Battle Cry" – war cries introduce the legendary OMEN sound, with Kenny Powell painting a majestic tapestry of guitar notes above which Kevin Goocher delivers a brazen complimentary vocal performance.
BATTLEROAR's "Stronghold" is in the same style as the fastest and heaviest songs on their last album "Blood Of Legends" (released on Cruz Del Sur in 2014). It shows a massive rhythmic session, great leads, and Gerrit's classic, epic and melodic vocals.
The single has been mastered by Bart Gabriel (CIRITH UNGOL, SATAN'S HOST, TITAN FORCE), and will have its official premiere at the Keep It True Festival on April 28, where OMEN will share the stage with acts such as MANILLA ROAD, CIRITH UNGOL, ATLANTEAN KODEX and others. The release will be available in only 500 copies on black vinyl, and can be pre-ordered at http://bit.ly/OMEN_BATTLEROAR_single
After the Keep It True festival OMEN will embark on an European tour with the following dates confirmed:
April 29 – Escape Club, Vienna, Austria
May 1 – Le Klub, Paris, France
May 3 – Cave 45, Oporto, Portugal
May 4 – RCA Club, Lisbon, Portugal
May 5 – Estudio 27, Burgos, Spain
May 6 – Rockfesthal, Hamme, Belgium
May 7 – Little Devil, Tilburg, Holland
May 11 – Turock, Essen, Germany
May 12 – Metalheadz Open Air, Oberndorf Am Lech, Germany
May 13 – 8 Ball, Thessaloniki, Greece
May 14 – An Club, Athens, Greece
May 18 – Jailbreak, Rome, Italy
May 19 – Blue Rose, Milan, Italy
May 20 – Circus, Florence, Italy
LINK TO ORDER: http://bit.ly/OMEN_BATTLEROAR_single
CRUZ DEL SUR ONLINE: www.cruzdelsurmusic.com
OMEN ONLINE: www.facebook.com/omenofficial
BATTLEROAR ONLINE: www.facebook.com/battleroar
ARTWORK 1 (OMEN SIDE)
http://68.media.tumblr.com/55bbdf82fc50b0ad6adadbacfd95a634/tumblr_oord1sGIfX1rxgn02o1_r1_1280.png
 ARTWORK 2 (BATTLEROAR SIDE)
http://68.media.tumblr.com/698b7b73a74c794403b8d76179d87565/tumblr_oord1sGIfX1rxgn02o2_r1_1280.png
BATTLEROAR PHOTO
http://68.media.tumblr.com/4c995cbbf35f07588a363b069b9b6285/tumblr_oord1sGIfX1rxgn02o4_r1_1280.jpg
OMEN PHOTO
http://68.media.tumblr.com/de2b57a7cdd74fbeee426f87d4536910/tumblr_oord1sGIfX1rxgn02o3_r1_1280.jpg
Source of Information: Bart Gabriel
Rainbow – upcoming album
17. April 2017
Legendary band Rainbow with new lineup (Roland Romero – vocals, Ritchie Blackmoore – guitar, Bob Nouveau – bass, Jens Johansson – keyboards, David Keith – drums) recently entered the studio to record band's first new music in more than two decades.
Links:
https://www.facebook.com/Rainbow-189246591087656/
Source of Information: http://www.blabbermouth.net/, photo: www.metal-archives.com