Alestorm – nový videoklip
21.4.2017
Dňa 26. mája uzrie svetlo sveta nový album metalových pirátov ALSTEROM. Jeho názov bude No Grave But The Sea.
Tento deň kapela zverejnila prvú ochutnávku z neho – videoklip k skladbe ALESTORM:
Linky:
https://www.alestorm.net
https://www.facebook.com/alestormband
https://www.napalmrecords.com
https://www.facebook.com/napalmrecords
Zdroj: Napalm Records Promotion Team
Nový bubeník Metal Church
21.4.2017
Náhradou za bubeníka Jeffa Platea sa stal Stet Howland, bývali člen W.A.S.P.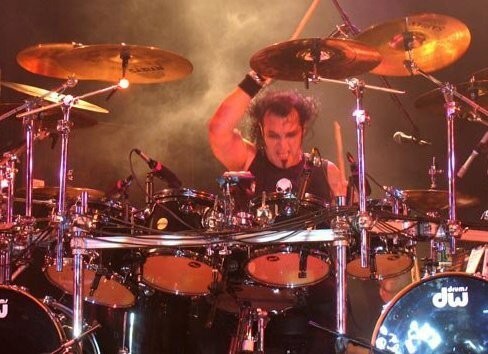 Linky:
https://www.metalchurchofficial.com/
https://www.facebook.com/OfficialMetalChurch/?fref=ts
Zdroj: http://www.blabbermouth.net, foto: facebook.com
Omen a Battleroar vydajú 7" split singel
21.4.2017
Ak sa jedná o epic metal, Omen a Battleroar určite netreba predstavovať. Omen (USA) založil gitarista Kenny Powel v r. 1983 a od vydania debutu Battle Cry (Metal Blade Records) nastavili štandardy pre tento žáner. Gréci Battleroar vznikli v roku 2000 a vydali 4 albumy.
Omen budú na danom singli zastúpení skladbou Up From The Deep z albumu Battle Cry a od Battleroar tam bude skladba Stronghold.
Singel mastroval Bart Gabriel (CIRITH UNGOL, SATAN'S HOST, TITAN FORCE) a premiéru bude mať na festivale Keep It True Festival (28. apríl) kde Omen zahrajú s kapelami ako MANILLA ROAD, CIRITH UNGOL, ATLANTEAN KODEX…
Vydaný bude v počte 500 ks a jeho formát bude čierny vinyl. Predobjednať si ho môžete na http://bit.ly/OMEN_BATTLEROAR_single. O samotné vydanie sa postará vydavateľstvo Cruz Del Sur Music.
LINK NA OBJEDNANIE: http://bit.ly/OMEN_BATTLEROAR_single
CRUZ DEL SUR ONLINE: www.cruzdelsurmusic.com
OMEN ONLINE: www.facebook.com/omenofficial
BATTLEROAR ONLINE: www.facebook.com/battleroar
ARTWORK 1 (OMEN SIDE)
http://68.media.tumblr.com/55bbdf82fc50b0ad6adadbacfd95a634/tumblr_oord1sGIfX1rxgn02o1_r1_1280.png
 ARTWORK 2 (BATTLEROAR SIDE)
http://68.media.tumblr.com/698b7b73a74c794403b8d76179d87565/tumblr_oord1sGIfX1rxgn02o2_r1_1280.png
BATTLEROAR FOTO
http://68.media.tumblr.com/4c995cbbf35f07588a363b069b9b6285/tumblr_oord1sGIfX1rxgn02o4_r1_1280.jpg
OMEN FOTO
http://68.media.tumblr.com/de2b57a7cdd74fbeee426f87d4536910/tumblr_oord1sGIfX1rxgn02o3_r1_1280.jpg
Zdroj: Bart Gabriel
Rainbow – nový album
17.4.2017
Nová zostava kapely Rainbow (Roland Romero – spev, Ritchie Blackmoore – gitara, Bob Nouveau – basa, Jens Johansson – klávesy, David Keith – bicie) vstúpila do štúdia aby po dvoch desaťročiach nahrala novú muziku.
Linky:
https://www.facebook.com/Rainbow-189246591087656/
Zdroj: http://www.blabbermouth.net/, foto: www.metal-archives.com