DAWN OF DISEASE UNVEIL FIRST DETAILS ABOUT BRAND NEW ALBUM! 'Ascension Gate' Coming in August 2017!
11. May 2017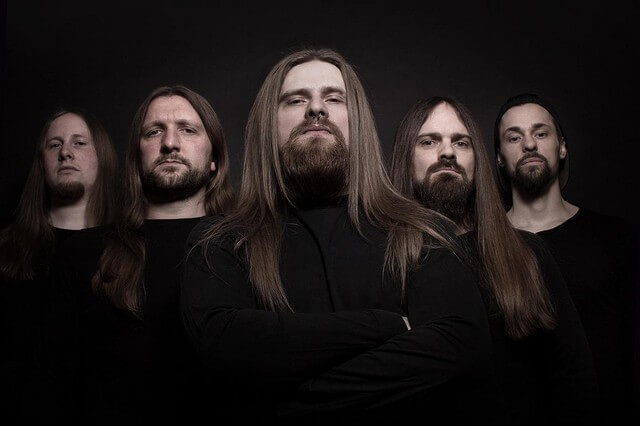 Since 2003 DAWN OF DISEASE have rumbled their way to the top as heavy weights of Germany's Death Metal scene. Hailing from Osnabrück, DAWN OF DISEASE indulge some old school Swedish groove and raspy riffs: Bloodbath and At The Gates provide modern inspiration for aural inclinations of the band.
However, their newest production won't enjoy the well-tried manginess of long forgotten Death Metal days: The brand new album titled 'Ascension Gate' goes a different way with enthralling guitar work, enchanting management of melodies and brilliant tone. A hurricane of blastbeat drumming and the gigantic voice of Tomasz Wisniewski spark a fire that forges their spirit.
Now DAWN OF DISEASE unveil first and hotly anticipated details about their upcoming and fourth studio album 'Ascension Gate', which is set to be released on August 11st 2017 with Napalm Records!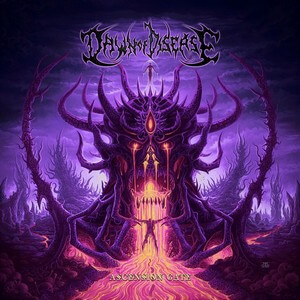 Artwork by: Mark Coope
Says the band:
"'Ascension Gate' was created and given birth within a comparatively short lapse of time. Thus it embodies pure energy and raw intensity. In comparison to our former releases our fourth full-length album is different in many ways as it modifies and expanses the musical elements we used to employ before. Besides the typical Dawn of Disease trademarks you will find more elaborate melodies that carry the listener through an atmospheric journey. Inspired by gloomy autumn days and the sheer endless darkness of winter 'Ascension Gate' adds more depth and catchiness to our sound than ever before without neglecting a huge portion of blastbeating brutality. Regardless of this dark and melancholic leitmotif we can promise you one thing: 'Ascension Gate' will bring you a very hot summer!"
The tracklist of 'Ascension Gate' will read as follows:
Tracklist:
Passage
Perimortal
Leprous Thoughts
Beneath The Waters
Ascension Gate
Akephalos
Fleshless Journey
The Growing Emptiness
Lucid
Mundus Inversus
After monstrous records such as 'Legends Of Brutality' , 'Crypts Of The Unrotten' and most recently their epic 'Worship The Grave' released just last year, DAWN OF DISEASE set a new standard for the expanding Swedish Death Metal scene with 'Ascension Gate' – their fourth hail of bombs full of volatile riff power. This is the new era of modern Death Metal!
Coming August 11st 2017 on Napalm Records as CD, LP Gatefold and Digital Download, 'Ascension Gate' will be available to pre-order soon!
In support of their upcoming album, DAWN OF DISEASE will appear on several festival stages this summer! Make sure to catch them live on the following dates:
08.07.17 DE – Ballenstedt / Rockharz Open Air
03.08.17 DE – Wacken / Wacken Open Air
10.08.17 DE – Schlotheim / Party.San Open Air
12.08.17 AT – Graz / Metal on the Hill
16.-19.08.17 DE – Dinkelsbuehl / Summer Breeze
01.-02.09.17 DE – Katzenbach / Metallergrillen Open Air
DAWN OF DISEASE are:
Tomasz Wisniewski – Vocals
Lukas Kerk – Guitars
Oliver Kirchner – Guitars
Christian Wösten – Bass
Mathias Blässe – Drums
Links:
https://www.facebook.com/DawnOfDisease
https://www.dawnofdisease.com
https://www.napalmrecords.com
https://www.facebook.com/napalmrecords
Source of Information: Napalm Records Promotion Team
Arbor Inversa (Russia) sign with Wormholedeath!
8. May 2017
We are proud to announce that Arbor Inversa (death metal from Russia) have signed a distribution deal with Wormholedeath for the worldwide release of their album "Anticipatterns". The full lenght was recorded at Infernal Fields studio through sessions from February to July, 2016.
"Anticipatterns" will be available on 16th June 2017 worldwide via Wormholedeath/The Orchard.
Teaser:
www.youtube.com/watch?v=cMZvjADXruQ&feature=youtu.be
Links:
https://www.facebook.com/arborinversa
https://vk.com/inversaband
https://soundcloud.com/inversaband
Source of Information: WormHoledeath Press
Sabina Ludányiová – new videoclip
11. May 2017
Czech singer Sabina Ludányiová published new videoclip for song Inkoust:
LINKS AND CONTACTS:
FACEBOOK – www.facebook.com/sabinaludanyiova
WEB  – www.sabinaludanyiova.cz
Source of Information: Václav Votruba
The Last Days of Jesus released new album
10. May 2017
Slovak gothic rock band The Last Days of Jesus, who performed in whole Europe and also USA released new album – The Last Circus.
Teaser:

Links:
favebook.com/thelastdaysofjesus
thelastdaysofjesus.bandcamp.com
Source of Information: Nora Krchnakova | propagandahouse.sk