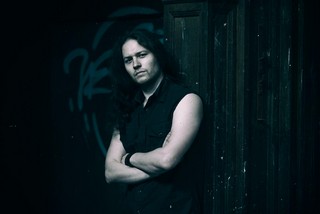 Actual metal scene brings a lot of music groups, which can surprise us with rare concept of their music. One of them is Skaza from Wroclaw., whcich has released their debut album last year. More informations in interview with Maciej:
Hi Maciej! How are you? Could you introduce yourself?

Maciej Marcinko: Hi 🙂 I am fine, thanks. We have just finished our rehearsal with SKAZA that is why I am still on adrenaline 😉 To introduce myself I am main vocalist and rhythm guitarist of SKAZA.
Could you tell us something about Skaza?
Maciej Marcinko: Of course.  SKAZA was formed in 2010 in Wroclaw (Poland). We are a group of guys who is trying hard to bring our music to the people. We consider our music as multi-subgenre metal – mostly melodic. We combine clean and growl vocals and also add some symphonic orchestrations.

You have released debut album Art Declined in 2016, could you tell us something about process of creation of it?

Maciej Marcinko: Sure. In December 2016 we released "Art Declined". Whole recording process took about a year. We recorded on our own and we really appreciate the independency coming from it because we could organize our time by ourselves and we really enjoyed this artistic freedom and possibility to change anything, at any time.
Marcin (our lead guitarist & orchestrator) was responsible for the production.  He is developing himself in this direction since long time. The recording process itself was probably a bit different than how it looks in commercial studios because we decided to record each track separately from the beginning to the end. That let us to focus more on each song individually.
So we have recorded all instruments and vocals in our home studios.
Mix and mastering was done by Marcin.
Who is the main author of music and lyrics?

Maciej Marcinko: We compose all the songs together. It usually starts from a small idea like a separate riff, portion of chorus or verse which one of us brings on. Than we work together on arrangements and composition as a whole with additional ideas that result from mutual inspiration. Parts like vocals, solos, bass tracks usually comes from the person more responsible for them in the band but we do the final touches together even if there is not much to work on.
Together we also work on ideas for the lyrics. First version of particular lyric is usually done by a guy who is the most inspired at the moment but final touches are also done together.

What can fans await from Art Declined?
Maciej Marcinko: Good question.  For me personally the best way of starting listening to any record is to have no expectations. Let the music flow from the speakers and let yourself be surprised.
But in general on "Art Declined" you will find: heavy riffs and deep bass, clean and growl vocals, many guitar solos, orchestrations and intensive drums. Sometimes something even explodes 😉
If you could go back in time, will you change something about it?
Maciej Marcinko: I think it is natural for every musician that you would change some things after releasing the record. Even during the recording process there were moments where we had to tell each other to stop and to move forward because otherwise we would spend eternity on developing tracks. We have achieved our goal to release our debut album and now it is time for the next steps.
For now the record is gathering really good reviews and we are satisfied of what we have done on it. New ideas will come with the next records.
Skaza was formed in 2010, what are the main differences between Skaza from 2010 and Skaza in 2017?
Maciej Marcinko: Good questions. First thing which comes to my mind is that across all those years we have found our way of playing metal. We are better at what we are doing now (both musically and technically) and we are ready for more to come.
Fun thing about our beginnings is that we started from playing a lot of covers, like many band do when they start. I remember the first concerts where set lists where like 50/50 covers to our own songs.
Now during our concert we will be focusing on our own compositions.

Your music is combination of more genres, and it is really great! What are your favorite music bands, and where do you take inspirations?

Maciej Marcinko: Thank you for your kind words. I am happy that you like that combination 🙂 In general each of us is inspired by many metal bands. We listen to all metal sub-genres and we also are interested in some music genres outside the metal world: pop, folk, rock, classical music and so on. I guess that mix of all of those inspirations and our decision not to force ourselves to stick to some specific subgenre had strongly influenced the current SKAZA's style and sound. I think that we also share this common thought that artist, musician should always be looking for a new source of inspiration to visualize his vision. No boundaries 😉
And what about concerts?

Maciej Marcinko: We got the new drummer on a board and we are very intensively preparing ourselves to play our music live. Our plans are to play as much as possible and wherever it will be possible.
What do you think about polish metal scene?

Maciej Marcinko: Polish metal scene is now stronger than ever. We have a lot of bands, especially those extreme, which are now famous and recognizable all over the world. But still number of those bands is not as big as in Germany, Sweden not to mention US. So there is still a place for a band like SKAZA and we are trying hard to reach this one day.
Could you tell us something about members of the band, about your and their personal lives?

Maciej Marcinko: In general,  we all have our individual everyday jobs. I am UX designer, Marcin works in online marketing, Wojciech is an Quantitative Risk Analyst and Krzysiek is studying computer science.
Each of us tries to spend as much time as possible to develop our band.  Beside we go to concerts, we have our other passions and family life. You know, just the ordinary life of the metalheads 😉
What was your musician beginnings?

Maciej Marcinko: Each of us started differently. My first music experience which I remember was a vocal performance during my primary school festival. I was singing some silly song about the cowboys 🙂 But my first metal music memory is when I heard "Whiskey on the Jar" (cover by Metallica) played on the radio. That experience have caused that I decided that one day I want to create and play metal music. Couple years later I bought my first electric guitar.
I have to ask…. are you fan of football? Because this summer will be  European Under- 21 Championship, and Poland is in group with Slovakia….. 🙂

Maciej Marcinko: I am afraid none of us is interested in football. I am interested only when regular Polish team plays during some more important events but that would be all. Otherwise, good to know that our Under-21 are in group with Slovakia and I hope the better team wins, which one it is 😉
Ok, that was the last question. Thank you for the interview Maciej, and if you want to bequeath something to our fans so you have the opportunity 🙂
Maciej Marcinko: I wish everything best to all readers of metalmania-magazin.eu.  Stay heavy, support and listen to your favorite bands and come see us live someday!  See you under the stage!
Youtube teaser:

Links:
http://www.skazaofficial.com/
https://www.facebook.com/skazawroclaw/?fref=ts
https://www.youtube.com/channel/UC0jrr5PtOrzfMSK16wb7J4Q