Amberian Dawn – Premiere Official Music Video For Track "I'm The One"!
17. October 2017
AMBERIAN DAWN are never at a loss for Symphonic Metal that moves your deepest soul. Lyrically these Finns drift with captivating fantasy stories. Check out a brand new track off of their forthcoming album Darkness of Eternity!
Overwhelming and adventurous, more than music: See the worldwide music video premiere for "I'm The One":
AMBERIAN DAWN mastermind Tuomas Seppälä gives a deeper insight to "I'm The One":
"I'M THE ONE was one of the latest compositions for new album. After writing a couple of softer songs in fall 2016 I got a new "heavy wave" and probably 3 latest songs I wrote were quite heavy. The song is very hectic and pushes forward like a train. There's no solo part on this song (a solo would have been quite obvious call) Instead of that I wrote an instrumental part and an extra vocal part. Last vocal part's melody and chord pattern supporting it consists of just one really long phrase… this kind of long phrasing was typical in many classical compositions. I still haven't got rid of my roots in classical music :)"
While Capri explains the story:
"I'M THE ONE This is a story about very charismatic and socially intelligent people who speak with the finest words to make other people do what they want in their quest for their own pleasure. They do not care about the consequences or how to violate the feelings of others. They only think of themselves. Unfortunately the pressure in the group is generally enormous and all its members are behind the strongest individual hoping to be "the chosen one"."   
With the ear-piercing dramaturgy of incredible songstress Capri, their eighth record Darkness of Eternityis studded with stupendous fanfares. Their latest track "Maybe" can be seen HERE as well.
To get your copy of Darkness of Eternity, follow this LINK.
OUT ON November 10th via Napalm Records!
Links:
https://www.amberiandawn.com
https://www.facebook.com/amberiandawn
Source of Information: Napalm Records Promotion Team
Gamma Ray – future
17. October 2017
Gamma Ray published on their facebook statement, talking about their future:
,,News from The Rays
As the Pumpkins United Tour will continue until summer next year (2018), the Rays will start working on the next album directly after. Until then everybody is collecting ideas and starting to compose some new excellent power metal songs.. Henjo and Michael just finished their successful tour with "The Unity" supporting Edguy. Frank just released his 2nd album with "Red Raven".
So everybody (except Kai) has, besides composing, plenty of time now to collaborate in any project where some experienced musicians are needed. Feel free to contact us anytime.
Links:
http://www.gammaray.org/
https://www.facebook.com/gammarayofficial/
Source of Information https://www.facebook.com/gammarayofficial/
ARKONA UNVEIL ALBUM DETAILS! – New Album 'Khram' Coming In Early 2018!
16.10.2017
Khram, is the Russian word for temple – and the upcoming title of ARKONA's hotly anticipated, eighth studio album, set to be released on January 19th 2018 via Napalm Records!
A Khram is a temple shrouded in natural mysticism slumbering behind nocturnal treetops, yet open to everyone. The sincerity and depth that binds all five band members together resonates in the sumptuously dark cover artwork and leading lady Masha`s lyrics that are written in her own blood (which is also part of the artwork)! ARKONA may have used sound samples in their early days, but nowadays cellos, brass parts, wind instruments and throat singing are recorded live meticulously and flow naturally into the band's harsh metal tunes.
Now Russia's leading pagan metal band has unveiled the stunning album artwork for Khram: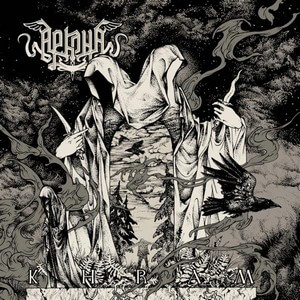 Tracklist:
Mantra (Intro)
Shtorm
Tseluya zhizn'
Rebionok bez imeni
Khram
V pogonie za beloj ten'yu
V ladonyah bogov
Volchitsa
Mantra (Outro)
King-sized songs effortlessly shift from blackened pagan metal masterpieces to epic tracks with crystal-clear melodies and piano infusions. Mark your calendars for January 19th 2018, as ARKONA's Khram is an exuberant and demanding affair that defies genre boundaries with untamable spirit!
Links:
https://www.arkona-russia.com
https://www.facebook.com/pg/arkonarussia
https://www.napalmrecords.com
https://www.facebook.com/napalmrecords
Source of Information: Napalm Records Promotion Team
THE BREW – sign with Napalm Records worldwide!  
16.10.2017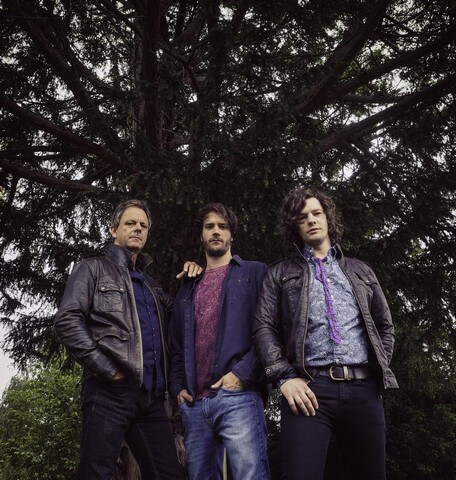 Hailing from the North Eastern fishing town of Grimsby, UK, THE BREW have gained a reputation as being one of the most exciting live rock acts in Europe today. To date they have released five chart topping albums to their credit, in their unchanged, original lineup, featuring, Tim Smith on bass, Kurtis Smith on drums and Jason Barwick on guitar and vocals.
Eclipsed, one of Germany's leading rock magazines, voted, THE BREW as being one of the top three live bands in Europe, The guitarist, Jason Barwick, being voted as one of the top three guitarists in Europe and the drummer, Kurtis Smith, voted in the top 3 in Europe.
The breakthrough for the band came in 2009 when they appeared on the world famous RockPalast TV show, and following the successful album releases of "A Million Dead Stars" and "The Third Floor", they again returned the RockPalast show in 2012.
THE BREW have toured with the likes of ZZ Top, Lynryd Skynyrd, and shared the stage with Ozzy Osbourne, Jeff Beck, to name but a few.
Their current critically acclaimed album releases of "Control" (2014) and "Shake the Tree" (2016) have seen the band cement their status as one of the leading rock acts in Europe today.
THE BREW states about their new collaboration:
"It's with great pleasure we can now announce, The Brew have signed with Napalm records.  Sharing our vision with the talented and dedicated Napalm team, we couldn't be more excited. 2018 will see the release of new music from the band, for all our awesome fans!!!!" 
And we're more than happy to welcome them to the Napalm Records family! Keep a close eye on THE BREW and Napalm Records social media sites for updates on the new album!!
Discography:
The Brew (2006)
Fate and Time E.P. (2007)
The Joker (2008)
Live in Belgium (DVD – 2008)
A Million Dead Stars (2010)
Live at Luna Lunera (DVD – 2010)
The Third Floor (2011)
Live in Europe (2012)
Control (2014)
Shake The Tree (2016)
new album in 2018!!!
Links:
https://www.thebrewuk.com/
https://www.facebook.com/thebrewofficial
https://twitter.com/TheBrewUK
https://www.youtube.com/user/TheBrewUk
https://www.instagram.com/thebrewofficial
https://www.napalmrecords.com
Source of Information: Napalm Records Promotion Team