Part I.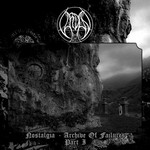 Jednočlenné projekty/ kapely sú ako dvojsečná zbraň – buď to má fanúšik rád, alebo nie. Známejšie zoskupenia poznáme, ako Putrid Pile, Indicious Decrepancy alebo Burzum. Talian Vardan pôsobí na scéne už 20 rokov a po prezretí jeho diskografie mi je trochu ľúto, že nie je viac známy, pretože niektoré jeho kúsky boli naozaj podarené. Nedávno prišiel na svet s trilógiou Archive of Failures. Sú to vlastne tri albumy, všetky obsahujú vlastne jednu skladbu rozdelenú na viacero častí. Ak ste fanúšikom Burzumu, niekto, kto má rád trochu tej filozofie v hudbe, tak vás tento počin určite osloví. 
V prvom diely tejto trilógie Vardan vsadil hlavne na budovanie atmosféry (z môjho pohľadu sa to podarilo prostredníctvom špinavého zvuku gitár a bicích). Nachádza sa na ňom hudobný materiál dlhý 40:56 minút (Nostalgia – part I,II,III), no vôbec sa nebudete nudiť. V partoch II. a IV. si naplno vychutnáte basu. Čo sa týka spevu, tak okrem klasického black metalového vokálu tu budete počuť aj čistý hlas. Obal je veľmi podarená vec. Fotografia neobsahuje nič zvláštne zaujímavé, no aj tak pôsobí mysticky. Zvláštne a zároveň umelecké.
Zhrnutie: Atmosféricky najbohatšia časť. Nostalgia pre black metalového fanúšika, ktorý si rád zaspomína na začiatky black metalu.
Tracklist:
Intro
Nostalgia p.1 I
Nostalgia p. 1 II
Nostalgia p. 1 III
Nostalgia p. 1 IV
Youtube ukážka:

Hodnotenie: 4/6
Part II.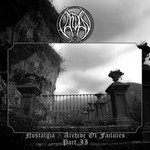 THE ARCHIVES OF FAILURES II. je kompozične najdlhšia časť z celej trilógie. Jemne mi to pripomenulo Morttisa ešte z čias, keď vydal svoje demo (The Song of a Long Forgotten Ghost).
Klávesové nástroje dostali väčší priestor, spevácky sa Vardan vykričal omnoho viac. Gitarová práca je nádherná (pri masteringu sa zdvojili gitary) a trocha pocítite aj vplyv Katatonie. Klávesovo to dosť pripomína Burzum.  Záhadou je to, že úplne jednoduché súvetia (ako príklad uvediem- refrén), dokázal rozdeliť a natiahnuť na neskutočne dlhú dobu. Šťastím je, že to nenudí. Chválim aj správne využitie efektov.
Zhrnutie:  Na posluch je najnáročnejšie… Vardan je úplne niekde inde ako mnoho ďalších black metalových kapiel.
Tracklist:
Nostalgia p.2 V
Nostalgia p. 2 VI
Youtube ukážka:

Hodnotenie: 4,5/6
Part III.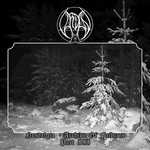 Poslednej časti trilógie som pôvodne dával najmenšie šance, ale  nakoniec sa z toho vykľula celkom slušne podarená vec.
VII. je nezvyčajne melodická, podporovaná jednoduchými bicími. Veľmi netradične pojatá pesnička, krásna práca s melodikou a dosť buráčsky krik, doplňovaný elektronikou. Zbesilé peklo, ktoré nemá konca! Posledný part skladby VIII., obsahuje ako keby hlbokú meditáciu (rozlúčka s fanúšikmi?).
NOSTALGIA-  THE ARCHIVES OF FAILURES II. a  NOSTALGIA-  THE ARCHIVES OF FAILURES III., sú albumy, ktoré majú masakrálny koniec. Takto si predstavujem, ako by malo vyzerať skutočné finále CD.
Tracklist:
Nostalgia p.3 VII
Nostalgia p. 3 VIIII
Youtube ukážka:

Hodnotenie: 3/6
Tak, aby som všetko zhrnul  THE ARCHIVES OF FAILURES I – atmosféricky najbohatšia,   THE ARCHIVES OF FAILURES II– kompozične najlepšia a  THE ARCHIVES OF FAILURES III–  vnútorným duchom  najlepšia. Takýchto hudobných bláznov ako Mortiis alebo Vardan treba viac.   Tieto tri počiny musí človek chápať, ako jeden veľký celok, kde veľmi dlhá stopáž pesničiek má svoj dôvod. Špinavý zvuk celej nahrávky dokazuje poctivosť  Vardana k tomuto žánru. 
P.S: Samotná trilógia vyšla najprv ako tri albumy po sebe, aj ako kompletný box set.
Lineup:
Vardan – spev, všetky nástroje
Vydavateľstvo: Moribund Records
Linky:
https://www.facebook.com/Vardan-291038054432026/
https://vardan.bandcamp.com/