Activist-Artist OTEP Aims to Incite Social Change with Upcoming Album,
Set to Release in Mid/Late 2018!
31. January 2018
Groundbreaking art-rock performer, author and spoken word artist OTEP is thrilled to divulge new, behind-the-scenes information about her upcoming, currently untitled, full-length album. The album – her eighth overall and second with Napalm Records – is scheduled to hit stores later this year. OTEP and her band are currently recording at The Lair in Los Angeles, completely utilizing the same equipment used on their first album, Sevas Tra (down to her original vocal microphone, a SHURE Beta 58), in order to create a sound reminiscent of their roots. The Lair is also where OTEP recorded Smash The Control Machine, the band's fourth release.
OTEP says this upcoming eighth album is undoubtedly the band's most authentic and honest. "I'm co-producing this album with my guitarist Aristotle, which has allowed us to create without limitations. The musicality is stellar and has been elevated to a whole new stratosphere of sound. With Aristotle on guitar, Justin Kier on drums and Drew Barnes on bass, each musician has a powerful voice on this album."
As for her lyrics, OTEP says, "No one is safe, no one escapes. It's powerful, poetic, patriotic protest music. One could say it's an activist album hoping to incite social change and support those who are at the barricades, who are marching in the streets for justice, who are demanding our government protect our great nation from enemies foreign and domestic – this includes the bloated colostomy bag disgracing the White House, Traitor Trump, and his loafer licking cronies… but I digress."
This new album will follow OTEP's previous full-length, Generation Doom, released via Napalm Recordsin 2016. The critically acclaimed album debuted at #10 on the Independent Chart, #7 on the Rock Chart, #4 on the Hard Rock Chart and #109 on the Top 200 Albums Chart, according to Nielsen SoundScan. OTEP expects this next album to transcend all previous achievements, and feels spiritually strong about the number eight.
"Writing our eighth album is not only a blessing for which we are forever grateful but the number itself is said to have magical properties," says OTEP. "In Norse mythology, the horse of the god Odin has eight legs. The Pythagoreans considered the number eight the "little holy number". The eighth day of the Chinese New Year is the annual gathering of all the gods in Heaven. In the Tarot, eight is the card for Justice which seems appropriate considering the current political climate we are suffering through. The mathematical symbol for infinity is an eight on its side. There are eight festivals observed in the Wicca Wheel of the Year. There were eight gates surrounding the ancient city of Babylon. The eighth gate was named the Gate of Ishtar. Ishtar is the goddess of love and war, the Queen of the Earth and Heaven. She is the morning and evening star. Qualities I certainly relate to. And finally, I'm a Scorpio and Scorpio is the eighth astrological sign in the Zodiac. 
A 33rd Degree Freemason and Master Rosicrucian, Manly P. Hall once said, 'The rites of the Scorpion are the Mysteries of the Apocalypse and the ceremonies of Dionysus.' Expect the unexpected. Expect to have your brain pushed back."
Links:
https://www.facebook.com/otepofficial
https://twitter.com/otepofficial
https://instagram.com/otepofficial
merch: http://otepsaves.me/
Source of Information: Napalm Records Promotion Team
PRIPJAT – release cover, album title & release date
29. January 2018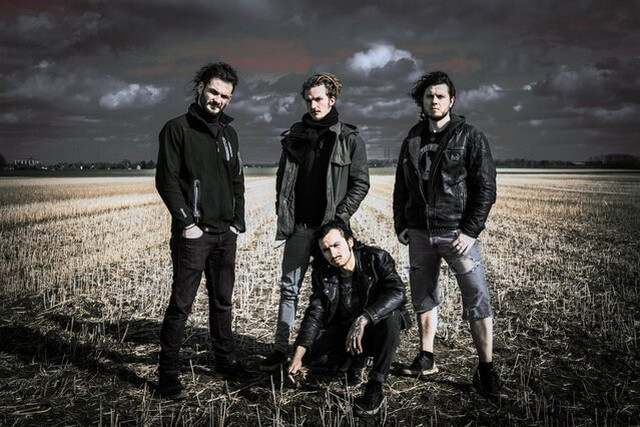 The German Thrash-Metal-Maniacs, PRIPJAT, have just released more details of their upcoming second studio album. The follow up of the successfull debut album  "SONS OF TSCHERNOBYL" is titeld "CHAIN REACTION"and will be unleashed on April 27th, 2018 via NoiseArt Records.
The stunning cover artwork of "Chain Reaction" was done by Russian artist Timur Khabirov.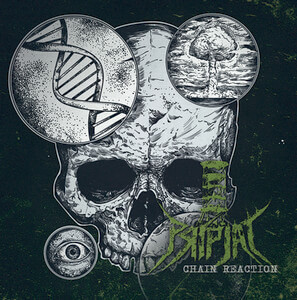 The band states:
"We tried out a couple of things for the "Chain Reaction"-Artwork. In the end, the motif of Timur Khabirov left us no choice but to take it. It is an interesting coincidence, that he also comes from the Eastern-Europe. The layout for cover and booklet was made by our friend Leonardo Bardelle, who is the drummer of the fantastic "Grim Van Doom" and "Morast". As you can see – this chain is linked!"
Three years have passed since PRIPJAT released their debut SONS OF TSCHERNOBYL. The record came out of nothing, delighting thrash-fans and the press all over the world. Songs like 'Born To Hate', 'Toxic' or 'Acid Rain' became must-plays on the many shows the band have played since the release, convincing fan by fan, riff by riff. After over a year of recording PRIPJAT have finished their second Album.
"Chain Reaction" will be released via NoiseArt Records April 27th, 2018.
Stay tuned for more information!
Links:
https://pripjat-thrash.de
https://facebook.com/pripjatThrash
https://www.noiseart.eu
Source of Information: NoiseArt Records
SEBASTIEN – the second single feat. Apollo Papathanasio (ex-FIREWIND)
30. January 2018
Czech power metalists Sebastien published new videoclip for song Die In Me, the second single form their upcoming album Act of Creation (release date: 23 February). In this it you can also her Apollo Papathanasio, ex Firewind singer.
Links:
Source of Information: 
Jiří Rain
KAAR – "Svatej holokaust" CD-DIGIPACK
30. January 2018
Czech thrash metalists Kaar will release new album Svatej holokaust like digipack and vinyl.
01. 1095 n.l.
02. Svatej holokaust
03. Thrash & koks
04. Skleněnej hrob
05. Cirkus, smích & sebevražda
06. Tančíme s démony
07. Město hříchů
08. Zrozen zemřít
09. Odraz zničené mysli
Hudba: Kaar
Texty: Kaar
Recorded in studio Davos, Vyškov
Mix & Mastering: Otyn
Art: Jan Amos Erben
Photo: Agience Photography
KAAR:
Kouďák – vocals, bass
Tomas – lead guitar, vocals
Ozz – drums
Honza – rythm guitar, vocals
https://www.facebook.com/KAARthrash/
http://bandzone.cz/kaar
https://kaarthrash.bandcamp.com/
Order on:
http://www.supug.cz
Source of Information: Support Underground
Páčil sa ti tento článok?