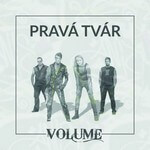 Do bohatej albumovej úrody na našej domácej scéne v týchto mesiacoch prispeli aj trenčianski rockeri Volume svojím v poradí už tretím full albumom Pravá tvár. Podobne ako oni aj ich albumy prešli určitým vývojom.
Narozdiel od ich prvotín (Experiment, Neviem čo chcem) došlo k určitým zmenám – vďaka kvalitnému štúdiu sa zlepšil celkový sound, na CD nájdeme výlučne slovenské texty, no najvýraznejšou zmenou je pritvrdenie.
Podľa slov frontmana Maja to nebol zámer, ale tak tvrdo a tak podladene ako na tomto CD ešte nehrali. Chlapci si ale dali záležať aj na jeho pestrosti, a tak okrem tvrdých kúskov tu nájdeme aj melodickejšie veci – napr. už druhú To čo už dávno viem, alebo Na Dosah.
Pieseň Na Dosah ma podľa mňa väčší hitový potenciál ako titulná Pravá Tvár, mohla by dostať klipovú podobu. Nebudú chýbať ani balady, konkrétne dve – Navždy  a Prisahám.
Ďalšou zo zmien bolo väčšie využitie doprovodných vokálov (Zapredaná duša, Navždy). Využívali ich síce aj v minulosti, no tentokrát to dotiahli k dokonalosti. Podobne ako na predošlom EP Hriech aj tu nájdeme spevácky duet so ženou, konkrétne ide o skladbu Závislosť. Je to veľmi vydarený kúsok, snáď ho zahrajú aj na niektorom z koncertov.
Pravá tvár Trenčanov Volume je zatiaľ najsilnejší kúsok v ich diskografii, plný skvelej rock/metalovej muziky so silnými textami. Kapela na ňom zúročila nadobudnuté skúsenosti a spomínané zmeny skvelo zafungovali.
Lineup:
Majo Krátky – Spev, gitary
Phill Magala – gitary
Jony Omelka – Basa
Ľubo Bobák – Bicie
Hostia:
Hana Peceková – Spev
Monika Velacková – Klávesy
Tracklist:
Intro
Pravá Tvár
To Čo Už Dávno Viem
Zapredaná Duša
Závislý
Navždy
Ku Hviezdam
Tak Poď
Na Dosah
Prisahám
Plán
Rok vydania: 2018
Vydavateľstvo: Samovydanie
Youtube ukážka:

Linky:
http://www.volumeband.sk/index.php
https://www.facebook.com/volumetn/
http://bandzone.cz/volumetn
https://www.instagram.com/volumeslovakia/
Hodnotenie: 5,5/6