Azda nebudem preháňať, keď napíšem, že jednou z najvýznamnejších udalostí minulého roka na slovenskej rock/metal scéne bol návrat bývalého basáka a speváka Tublatanky Paľa Hrovátha na koncertné pódia. Ako vieme, pridali sa k nemu aj gitarista Peci Uherčík so známym bubeníkom Igorom ,,Teom" Skovayom (ex Prúdy, ex Fermáta) a celé to dostalo názov Živá Voda. Vďaka humenskému klubu Nostalgia ich 12. mája mohli vidieť aj fanúšikovia na ďalekom východe.
O samotný koncert bol celkom slušný záujem a medzi prítomnými boli aj ľudia z Prešova, zo Sniny, ale aj iných kútov Slovenska. Keďže členovia kapely boli prítomní dlhšiu dobu pred akciou, mnohí to využili na spoločné foto.
Na úvod sme tu mali jednu z najznámejších skladieb Tublatanky s Paľovým spevom – Stojím, padám. Asi najpríjemnejším prekvapením bol krásny zvuk – všetky nástroje, spevy bolo krásne počuť. Paľov hlas nestratil nič zo svojej príťažlivosti a spolu s Pecim, a Teom sú skutočne vo skvelej forme. Škoda, že nezačali o niečo skôr (napríklad hneď po rozpade pôvodnej zostavy Tublatanky). Snáď sa dočkáme aj nejakých nových piesní.
V setliste sa striedali veci od Tublatanky s  kúskami z albumu zoskupenia Magma (štúdiový projekt Paľa, Peciho a Feriho Grigláka z roku 1996), a ako spestrenie odzneli aj piesne Somedays (Fermáta), Ty a Ja (Temeraf), plus dva covery – Here I Go Again (Whitesnake), a Rock n´ Roll (Led Zeppelin). Na veľhit Prométeus si prišli zatancovať aj ženích s nevestou zo svadby vo vedľajšom podniku. Osobne ma najviac potešila pieseň Smrť je tvoj Pán, trochu mi však chýbal jeden z hitov Magmy Ideme k Vám.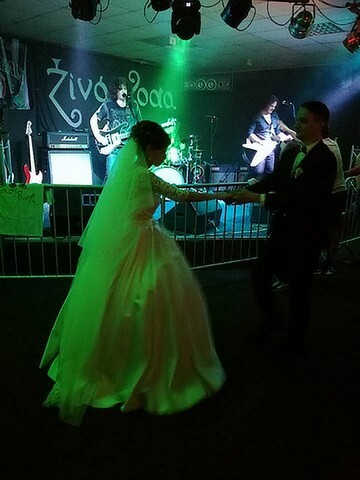 Atmosféra bola dobrá, po každej piesni nasledoval potlesk, no neodpustím si jednu výčitku. Väčšina publika skoro celý koncert strávila na stoličkách. Minimálne pre mňa osobne to je trochu nepochopiteľné. Veď zábava pod pódiom k podobným podujatiam patrí a určite nie je hanba zabávať sa aj vo vyššom veku.
Na záver musím len a len poďakovať celému klubu za skvelú akciu. Dovolím si povedať, že to bola jedna z najlepších za celý tento rok (minimálne, čo sa týka Nostalgie).
Setlist:
STOJÍM PADÁM
NA PRAHU BRIEŽDENIA
HRÁM O ŽIVOT
VIEM KAM ÍSŤ
TY A JA
MOŽNO VIEŠ
STVORENÝ PRE SRDCIA INÝCH
SOMEDAYS
PROMETEUS
SMRŤ JE TVOJ PÁN
SMRŤ A SLÁVA
HERE I GO AGAIN (Whitesnake cover)
LOĎ DO NEZNÁMA
Prídavok:
ROCK ´N´ROLL (Led Zeppelin cover)
Autori foto: Jana Uhrová, Martin Sarvaš