Tremonti – nový singel z chystaného albumu
1.6.2018
Tremonti, kapela okolo speváka a gitaristu Marka Tremontiho (Alter Bridge), zverejnila skladbu As The Silence Becomes Me – nový singel z chystaného albumu A Dying Machine, ktorý bude vydaný 8. júna.
Linky:
https://www.marktremonti.com
https://www.facebook.com/MarkTremonti/
Zdroj: Napalm Records Promotion Team
Rage of Light – zmluva s Napalm Records
30.5.2018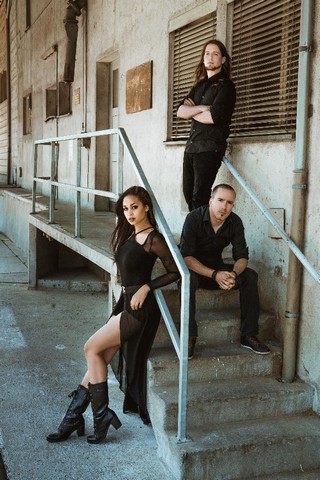 Švajčiarski melodic/death metalisti Rage of Light podpísali zmluvu s vydavateľstvom Napalm Records.  Momentálne pracujú na nových skladbách.
Čoskoro sa dozviete viac info
Linky:
https://www.facebook.com/rageoflight
https://www.rageoflight.bandcamp.com
Zdroj: Napalm Records Promotion Team
Tisková zpráva
Hrůzné noci na Žižkově třídě v Českých Budějovicích… Václav Votruba vydává duchařinu s názvem Insomnie
Spánková paralýza, znepokojivé zvuky, nezvaní hosté… Autor úspěšné Knihy kovu Václav Votruba představuje své nové dílo Insomnie, ve kterém se vydává na pole psychologického hororu, jenž by mohl potěšit čtenáře například H. P. Lovecrafta.
"Cílem není za každou cenu děsit, spíše vyvolávat nepříjemné pocity," říká Václav Votruba a dodává, že knihu sepsal na základě vlastních zkušeností. "Samozřejmě se jedná o fikci, avšak inspirovanou mými vlastními zážitky – především opakující se spánkovou paralýzou, která dokáže vyvolat skutečnou hrůzu. Bohaté zkušenosti mám ale i s nespavostí, s níž jsem došel tak daleko, že už jsem začínal ztrácet pojem o realitě."
Děj je soustředěn do Českých Budějovic, avšak velký prostor dostává také rodné městečko autora – Klenčí pod Čerchovem v západních Čechách. Dále jsou zmíněny lokality Českého Krumlova a Domažlic.
Knihu vydalo nakladatelství Nová forma, na druhou polovinu června je pak naplánované vydání e-knihy pod nakladatelstvím Eknihy jedou. K zakoupení je mimo jiné přímo u autora za 190 korun. E-mail je venca.votruba@seznam.cz, webové stránky www.vaclavvotruba.cz.
Partnery knihy jsou: Kontakt servis CZ, Penzion U Méďů, Alike, Avidity for…, Diagnoza Exitus a Drbna. O obálku se postaral grafik Radek Popel.
Českobudějovický spisovatel, novinář a muzikant Václav Votruba se narodil 10. února 1987 v Domažlicích. Jeho články vycházely několik let v Deníku, Budějcké Drbně a specializovaných hudebních časopisech. Dnes se věnuje především PR aktivitám a psaní knih. Na kontě má čtyři díla – Na pokraji, Šumavský Děs, Kniha kovu a Kniha kovu II. První Kniha kovu získala cenu Břitva za nejlepší tuzemskou rockovou knihu roku 2016.
Ukázka z knihy:
Vnímal jsem, že dýchám klidně, dokonce i srdce mi tlouklo v běžných mezích, ale uvnitř jsem hořel. Rozhodl jsem se, že budu křičet. Budu volat o pomoc… ale nevyšla ze mě ani hláska. Ani jediný hloupý vzdech.
Ono už jen to bylo samo o sobě děsivé, ale fakt, že jsem prostě věděl, že o kus dál, vlastně ani ne metr od postýlky, kde spal můj syn, stojí něco, co lidská mysl nejspíš nedokáže vstřebat, mě uváděl do absolutního šílenství.
Chvíli jsem bojoval, ale pochopil jsem, že to nemá smysl. Ležel jsem a čekal, až ten přízrak přijde a odvede si mě. Mohla to být samotná smrt? Převaděč? Tyto otázky mi proudily hlavou. Nevím, kolik uteklo času, než jsem pochopil, že jsem hýbl nohou. Paralýza byla pryč! Trhl jsem hlavou, abych se podíval ke skříni, ale nic jsem neviděl. Ani jsem to nečekal.
Petr Král