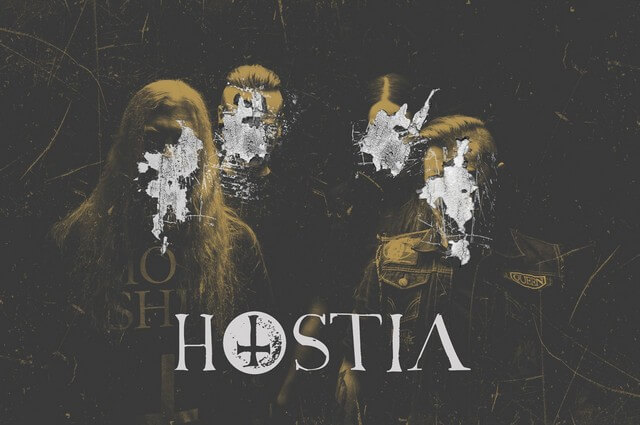 Koncom mája obohatila poľskú metalovú scénu o svoj debut aj kapela so zaujímavým názvom a zaujímavým image (štyria muzikanti so zakrytými tvárami) – Hostia. Ten je ako stvorený pre ľudí, ktorý milujú žánre ako grind, death, groove, hardcore. Zanietení kresťania by sa mu ale mali oblúkom vyhnúť. Viac sa dozviete z rozhovoru so spevákom – St. Sixtom. 
Ahoj, ako sa majú členovia kapely Hostia?
St Sixtus: Ahoj! Máme sa dobre, vďaka! Všetci v kapele sme plní elánu ohľadom nášho vychádzajúceho albumu. Momentálne pracujeme na našom merchandise a nejakých nových videách, čo je spojené s množstvom zábavy.
Hostia vydáva svoj debutový album. Aký bol proces jeho vzniku?
St Sixtus: Správne, náš ,,bastard" práve vychádza. Celý proces bol dosť spontánny a rýchly. Keď som prišiel do kapely, tak chalani mali už väčšinu materiálu a na mne ostalo dorobiť vokály. Začali sme s jamovaním, čo sa rýchlo zmenilo na regulárne skúšky. Samotné nahrávanie zabralo iba pár dní. Hudba bola hotová za 3 dni, vokály za dva, takže skutočne šlo všetko veľmi rýchlo. Mix potom trval trošku dlhšie, pretože sme chceli zachovať prirodzený a surový zvuk, čo sa nám nakoniec podľa mňa aj podarilo.
Mohol by si ho popísať pár slovami?
St Sixtus: Osobne nazývam našu hudbu ako groovy death/grind metal. Nahrali sme 13 nekompromisných songov stvorených pre headbanging a mosh! Všetky sú trochu kratšie, čo je však viac než typické pre grindcore. Taktiež je možné počuť nejaký vplyv hardcore a rock´n´roll. To je aj dôvod, prečo si myslím, že náš album nikomu nepríde nudný. Ale, aby ma niekto zle nepochopil, stále sa jedná o neskutočne brutálny album!
Kto je u vás hlavným autorom hudby? Ako vyzerá proces nahrávania?
St Sixtus: Všetky kompozície sú prácou člena s menom St Anacletus. To on má na starosť hudbu. Ja sa potom snažím pridať tam nejaké brutálne vokály. A samozrejme, finálny zvuk je prácou všetkých 4 členov hrajúcich spolu.
Zároveň musím pochváliť obal albumu. Mohol by si o ňom povedať viac?
St Sixtus: Ďakujem! Som rád, že sa ti páči. Náš kamarát – umelec Łukasz "Pachu" Pach mal na starosť všetko, čo sa týka vizuálnych aspektov kapely – čiže aj logo a aj obal albumu. V kapele považujeme tieto veci za rovnako dôležité ako hudbu. Výborne ju to doplňuje. Pravdepodobne sa ti bude páčiť aj náš nový merchandise, takže si priprav veľa peňazí! Koniec koncov, je to lepšie ako ich dať nejakej cirkvi no nie?
Ďalšou zaujímavou vecou je fotka kapely – všetci majú zakryté tváre…. Mohol by si o tom povedať viac?
St Sixtus: Všetci sme hrali vo viacerých poľských kapelách. Nechceli sme, aby ľudia kapelu Hostia hodnotili podľa toho, čo sme hrali predtým. Chceme našu hudbu ochrániť. A tak sme sa stali 4 chlapi ukrytí pod pápežskými maskami s prezývkami. Vokály St Sixtus, gitary St Anacletus, bicie St Evaristus a basa St Xyxtus. Všetko je to o hudbe!
Album vychádza pod značkou Via Nocturna. Ako začala táto spolupráca?
St Sixtus: Keď sme vydali prvý song Corroded Cross, tak sme dostali ponuky od viacerých labelov, vrátane Via Nocturna. Po niekoľkých rozhovoroch sme sa rozhodli práve pre nich. Vyzerali, že ich náš album skutočne zaujal, čo bolo pre nás veľmi dôležité. Nemali sme nereálne očakávania, nikto nečakal zmluvu na milión dolárov. Chceli sme pracovať s ľuďmi, ktorí veria tomu, čo robíme.
K piesni I Will Not Follow vznikol aj videoklip. Prečo práve táto skladba? Sú v pláne aj ďalšie videá?
St Sixtus: Vybrali sme tento song, pretože je ako pes odtrhnutý z reťaze. 🙂 Je rýchly, krátky a bez kompromisov. Riadny úder do tváre! A áno, v pláne sú aj ďalšie videá. Dúfame, že sa nám jeden podarí vydať blízko dátumu vydania albumu a potom ďalší.
A čo koncerty? Kde vás budú môcť ľudia vidieť?
St Sixtus: Milujeme hranie naživo, a tak, keď sa ľudia dostanú k našej hudbe a spoznajú piesne, tak sa všetci budú môcť tešiť na riadnu blasfémiu.
Je možné, že by ste navštívili aj Slovensko?
St Sixtus: Úprimne, boli by sme veľmi radi. Ak by si ľudia na Slovensku obľúbili našu hudbu a niekto by nás pozval, tak si môžeš byť istý, že by sme prišli.
Mohol by si niečo povedať o metalovej scéne v Poľsku?
St Sixtus: Máme veľmi silnú metalovú scénu. Predpokladám, že neexistuje metalista, ktorý by nepoznal kapely ako Behemoth, Vader, Decapitated…. Máme veľa skvelých kapiel a väčšina z nich sú milí a skvelí ľudia, takže medzi nimi máme aj kopu priateľov. Je smutné, že tieto kapely sú veľa krát známejšie mimo Poľska, pretože naša vláda nemôže podporovať tento druh umenia. Dimmu Borgir alebo Moonspell sú chránené ako národne poklady v ich rodných krajinách. Naša vláda podporuje konzervatívne zmýšľanie a náboženstvo a snažia sa zakazovať metalové koncerty, rovnako ako aj slobodu prejavu, čo je veľmi nebezpečné. Hostia je teda zároveň aj akýmsi manifestom oproti týmto primitívnym názorom ako je fašizmus alebo náboženský fanatizmus.
Mohol by si povedať niečo o životoch členov pomimo kapelu?
St Sixtus: Všetci sme veľmi zaneprázdnení, keďže všetci robíme okolo umenia, hudby alebo reklamy. Niektorí z nás trávia voľný čas streľbou, bojovými umeniami alebo hraním hier. Nič výnimočné.
Tak, to bola posledná otázka, ďakujem ti veľmi pekne za odpovede a zároveň by som ťa rád poprosil o odkaz pre našich čitateľov
St Sixtus: Veľmi pekne ti ďakujem za tvoj záujem, vážime si to. Dúfam, že ľudia na Slovensku si obľúbia náš album a hádam sa stretneme aj na nejakom našom koncerte. Pre viac informácií môžete navštíviť náš FB profil. Zdravíme z Poľska.
Youtube ukážka:

Linky:
https://www.facebook.com/hostiaband/
https://www.youtube.com/channel/UC7xlWDBjjfBNuDACp7fWpjw