MOONSPELL – Unveil Details Of Upcoming Live DVD/Blue Ray/3CD Lisboa Under The Spell!!
7. June 2018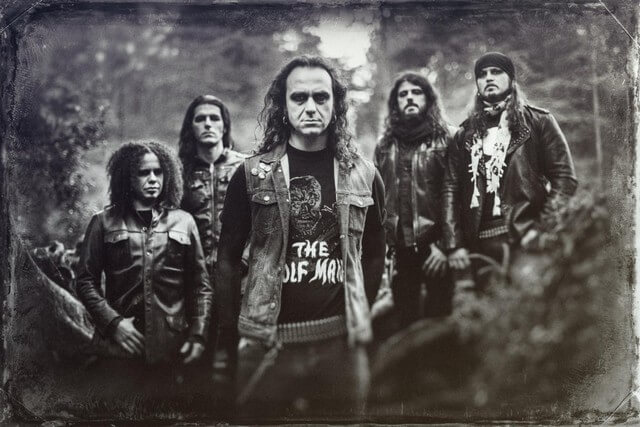 Photo: Paulo Mendes
A unique and solemn spell seems to shroud every spot as soon as Portuguese alchemists MOONSPELL enters the stage – and it was a very special evening indeed when the band played an exceptional show at the Campo Pequeno arena in their hometown Lissabon on February 4th, 2017. That inimitable bond between the gothic metal act and 4.000 of their fans in the sold-out venue is pure electricity, captured for all eternity on the massive Live DVD/Blue Ray/3CD package Lisboa Under The Spell which will be released on August 17th via Napalm Records.
The band on the new live epos:
"We are thrilled to announce the release of our brand new Live DVD/Blue Ray/3CD, Live album, entitledLisboa Under the Spell! It was recorded live on our breathtaking capitol city of Lisbon and it's nothing short of an epic trek of more than three action packed hours! We have played Wolfheart, Irreligiosuplus Extinct in full, invited a bunch of guests, summoned our biggest strength to be up to the task, and it feels awesome to unleash a long awaited live release from MOONSPELL. This edition will be full packed with amazing material, bonus CDs from the shows, a in depth documentary about the band, top sound, dramatic flair and a human picture of thousands of Portuguese witches and wolves under the spell. A great document of what we are on and off stage. Don't miss out and visit Lisbon through the eyes of MOONSPELL fans and the genius work of director Victor Castro."
It was definitely about time, since MOONSPELL aficionados have been thirsting for a new live release ever since Lusitanian Metal (2008)! Thus, Lisboa Under The Spell is not simply a visual testimony to the success of Portugal`s biggest metal band – it is a celebration of the unbound creativity and pure magic that is MOONSPELL.
Tracklist:
I  ROCKUMENTARY- band documentary by Victor Castro
II WOLFHEART SHOW – full album played live
Wolfshade (A Werewolf Masquerade)
Love Crimes
Of Dream And Drama
Lua D'inverno
Trebaruna
Ataegina
Vampiria
An Erotic Alchemy
Alma Mater
III IRRELIGIOUS SHOW – full album played live
Perverse Almost Religious
Opium
Awake!
For A Taste Of Eternity
Ruin & Misery
A Poisoned Gift
Raven Claws (Feat. Mariangela Demurtas)
Mephisto
Herr Spiegelmann
Fullmoon Madness
IV EXTINCT SHOW – full album played live
All Gone From The Wild (Intro)
Breathe (Until We Are No More)
Extinct (Feat. Carolina Torres)
Medusalem
Domina
The Last Of Us
Malignia
Funeral Bloom
A Dying Breed
The Future Is Dark
V  MAKING OF- show day VI GALLERY- live and backstage pics
Teaser:

Links:
https://www.moonspell.com
https://www.facebook.com/moonspellband
https://www.moonspell.rastilho.com
https://www.napalmrecords.com
Source of Information: Napalm Records Promotion Team
GRAVE DIGGER – Unveil Title And Release Date Of Upcoming Album!
5. June 2018
German heavy metal legend GRAVE DIGGER just unveiled the title of their upcoming studio album: It is entitled The Living Dead and will be released on September 14th via Napalm Records.
Since their founding back in 1980, GRAVE DIGGER have been leaders in the German heavy metal scene. They created their very own version of Teutonic heavy music – albums like Heavy Metal Breakdown, Witch Hunter or Tunes Of War became classics in the scene. Now the band will return with another face smashing album followed by a big run of shows throughout Europe!
Lineup:
Chris Boltendahl – Vocals
Axel Ritt – Guitar
Jens Becker – Bass
Stefan Arnold – Drums
Marcus Kniep – Keyboards
Links:
https://www.grave-digger-clan.de
https://www.facebook.com/gravediggerofficial
https://www.instagram.com/gravediggerband
https://www.twitter.com/GRAVEDIGGERclan
Source of Information: Napalm Records Promotion Team
Uriah Heep – upcoming album
5. June 2018
British hard rockers Uriah Heep released new album Living the Dream on 14. September.
This song you can find on it:

Links
http://www.uriah-heep.com/newa/index.php
https://www.facebook.com/uriahheepofficial/
Source of Information:  https://www.facebook.com/frontiersmusicsrl/
OPEN BURN (ex-LETHAL) – debut album out in June
4. June 2018
"Divine Intermission" is the debut full-length album of OPEN BURN, a new Progressive Power Metal band from the United States, featuring veteran musicians of the scene. OPEN BURN includes three members of the legendary US Progressive Power Metal band LETHAL (the classic "Programmed" era). OPEN BURN is Eric W. Johns (vocals), Dell Hull (guitars), Glen Cook (bass) and Jerry Hartman (drums).
Highly recommended for fans of LETHAL, QUEENSRYCHE, FATES WARNING and HEIR APPARENT, "Divine Intermission" is set for release on June 29, 2018, on No Remorse Records.
Listen: https://soundcloud.com/noremorserecords/open-burn-drawing-lines-official-stream
Links:
https://openburn.bandcamp.com/releases
https://www.facebook.com/openburn/?hc_ref=ARSUPE2PDQyyouHOALxPtOi88FSifSqCRq2maNwPmI0pW7P4ZkXmXxk-Iwu0zbL0F8E
Source of Information:   Bart Gabriel