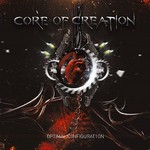 Symfonický metal je jasným dôkazom toho, že metal je hudba bez nejakých výrazných hraníc a je možné skombinovať ho s viacerými, naoko nesúvisiacimi žánrami. Zároveň sa však jedná o hudobný smer, ktorý si osvojila mladá kapela z Chorvátska Core of Creation. Ich debutové EP Optimal Configuration sa dostalo ku mne na recenziu.
Celá nahrávka začne aj skončí celkom symbolicky- symfonickým inštrumentálnym introm resp. outrom. A všetko ostatné medzi tým – konkrétne 3 kúsky, sa už nesú v znamení už spomínaného symfonického metalu.
Hneď prvá z nich The New Design zaujme výraznými symfonickými elementami – ktoré vo viacerých pasážach úplne dominujú. Rovnaké to je aj s klávesmi.  Ďalšou vecou, ktorú je nemožno opomenúť je krásny čistý vokál speváčky Ines.
Možno neťahá až také výšky ako je možné počuť v opere, avšak jej prejav je takmer bezchybný a skvelo pasuje do všetkých piesní na nahrávke.
V ďalších dvoch piesňach je potom doplnená growlom v podaní Petara, čím sa kapele podarilo vytvoriť umný kontrast na štýl kráska a zviera. Zároveň v týchto dvoch songoch kapela aj dostatočne pritvrdí, a tak si na svoje prídu aj tí ortodoxnejší fanúšikovia metalovej hudby.
Optimal Configuration je zaujímavý počin. Síce sa jedná o debut, ale kapele sa napriek tomu podarilo pre poslucháčov nachystať nahrávku plnú silných momentov, inteligentného a premysleného symfonického metalu s množstvom dominantných orchestrálnych pasáži.
Osobne by som potom vypichol výkony oboch vokalistov (ale najviac ma aj tak potešili growly 🙂 ). Príjemný a oddychový album, ktorý má určite čo ponúknuť. Rovnako ako aj kapela.
Lineup:
Ines Siuc – Spev
Matija Čić – Gitary
Josip Jaklin – Basa
Petar Škvorc – Klávesy, vokál
Tracklist:
Entropy of Life
The New Desgin
Sign of the Flesh
The Omega Point
Moving Data
Rok vydania: 2017
Vydavateľstvo: Independent
Youtube ukážka:

Linky:
https://www.facebook.com/CoreofCreation/
https://coreofcreation.bandcamp.com/
Hodnotenie 5/6