V našej krásnej krajine sme už zažili mnoho veľkých koncertov. No medzi nimi sa nájdu také, čo sa dajú označiť ako špeciálne. Jedným z takých bolo vystúpenie legendárnych Uriah Heep 17. februára v Košiciach. Tí sa do metropoly východného Slovenska vrátili približne po 12. rokoch.
Na samotnom mieste určenia, Spoločenskom Pavilóne, to približne pol hodinu pred avizovaným facebookovým začiatkom s účasťou vyzeralo pomerne slabo. Postupne sa to však zlepšovalo. Prekvapením, bolo zistenie že ,,Uriáši" budú mať aj predkapelu a druhé prekvapenie bolo keď sa ukázalo kto to bude. Okolo ôsmej prišli na pódium  považskobystrickí Tristana. Tí patria medzi stálice našej scény. Zo začiatku hrali power metal, neskôr prešli na moderný alternatíve groove metal.
Medzi publikom bolo veľa starších ročníkov (ktorí zrejme takejto muzike neholdujú), no podarilo sa im zaujať. Ako to už býva, zo začiatku boli problémy so zvukom, neskôr sa to upravilo. Hudobne to bolo viac menej ok – zaujímavá originálna muzika (podladené gitary, elektronika). Pomyselnou korunkou krásy bol spev Petra Wilsena (zaujímavé hlasové polohy).
Úvodnou piesňou ,,Uriášov" bolo Grazed By Heaven a hneď po nej nasledovala Return to Fantasy. To viac menej naznačilo, ako bude vyzerať setlist – čiže hojne boli zastúpene skladby z aktuálneho albumu Living the Dream  a nechýbali ani novšie kúsky (To Scared to Run).  Všetko to samozrejme dopĺňali klasiky ( Gypsy, Look at Yourself). Uriáši našťastie nepatria medzi kapely, ktorých setlisty tvoria takmer výlučne (alebo výlučne) len staré hity. To treba len a len oceniť.
Jednou z nevýhod koncertu bolo to, že veľký priestor haly bol zaplnený stoličkami. To sa ale vyriešilo hneď po druhom songu, keď v pokeci spevák Bernie vyzval ľudí aby išli k pódiu. Všetci členovia si koncert užívali spolu s publikom. Mnohí z nich nie sú najmladší, no ich energiu a výdrž by im mohli závidieť aj mladšie ročníky. Spestrením koncertu boli aj dymové efekty. Zo začiatku sa síce trochu potrápili zvukári, neskôr si s tým poradili. Problémom bol ale Bernieho mikrofón, ktorý neslúžil tak ako mal.
Vrcholom koncertu bola samozrejme najväčšia hitovka – Lady in Black. Na vyzvanie Bernieho sa všetci poctivo postavili a spolu sme si zaspievali refrén aaaa aaaa. Dokonca aj jedna dievčina vybehla na pódium, no po okamžitom zásahu usporiadateľov musela isť preč. Po nej kapela na chvíľu odišla, no žiadostiam o prídavok bolo vyhovené. V rámci neho zazneli dve skladby – klasiky Sunrise a energický megahit Easy Livin.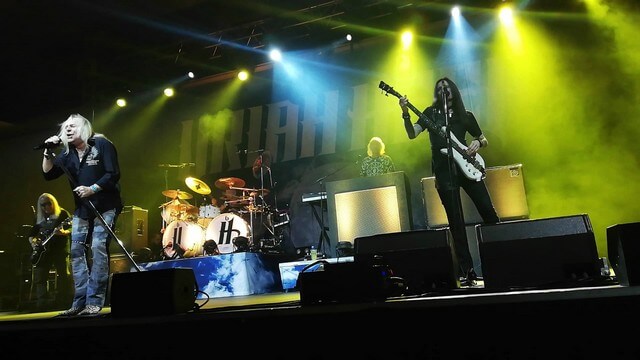 Záver: Jednoznačne úžasná akcia na začiatok roka. Pre melodikov a hard/rockerov jedna z najúžasnejších. Ako sa už viackrát stalo, počiatočné obavy o účasť sa našťastie nenaplnili. Snáď sa Uriáši čim skôr vrátia, napr. na niektorý z letných festivalov. Pánom usporiadateľom (club Collosseum a Double Head Live) patri veľké poďakovanie. 🙂
P.S.: V neposlednom rade ďakujem aj autorom foto – Evke Minárovej a Mirovi Maľcovskému 😉
Páčil sa ti tento článok?