CELLAR DARLING – unveil music video for fan-voted single 'Drown'!
8. March 2019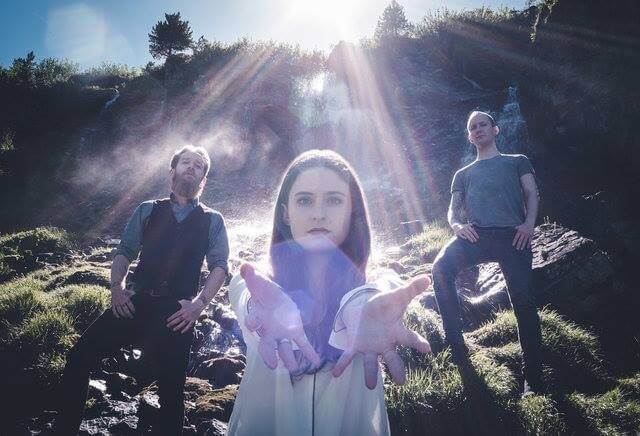 On. March 22nd, Switzerland's CELLAR DARLING will release their new concept masterpiece »The Spell«, which tells the story of a girl who falls in love with death and to get their loyal fans involved, the band had decided to let their online followers cast votes on which song from the tracklist they would like to see released as next single. The winner was the 7-minute long 'Drown' and today, you'll get to see the hauntingly beautiful music video that was once again animated by Costin Chioreanu.
"For this single, we wanted to do something different", the band states. "And we felt that our striking one-word tracklist is perfect for a fan vote. To let people decide which song they want to hear next based on only the title and length of the song, and to take us out of the decision process for once. To our surprise — and joy — the song that is probably the least "commercial" of all of them was chosen and we think that is kind of cool… we are proud of every chapter of this concept album, so let's go ahead and release a non-single single, for once. We hope you enjoy it!"
Links:
http://www.cellardarling.com/
https://www.facebook.com/cellardarlingofficial/
Source of Information: NUCLEAR BLAST, photo: Merlin Sutter
FLESHGOD APOCALYPSE – returns with 5th album, "Veleno", on May 24th; releases video for brand new single, 'Sugar'!
8. March 2019
Italian orchestral-death metal and renaissance revivalists FLESHGOD APOCALYPSE will make their triumphant return this year with the release of their 5th studio album, »Veleno«, on May 24th with Nuclear Blast Records. Today, the band has unveiled the record's debut single, 'Sugar,' via a music video, the album artwork and track listing.
Tracklist:
CD
Fury
Carnivorous Lamb
Sugar
The Praying Mantis' Strategy
Monnalisa
Worship and Forget
Absinthe
Pissing On The Score
The Day We'll Be Gone
Embrace The Oblivion
Veleno
Bonus Tracks (DIGI, DIGITAL & DIGITAL DELUXE)
Reise, Reise (RAMMSTEIN Cover)
The Forsaking (Nocturnal Version)
»An Evening in Perugia« (Bonus-Blu-ray) – Tracklist:
Marche Royale
In Aeternum
Healing Through War
Cold As Perfection
Minotaur (The Wrath Of Poseidon)
Gravity
The Violation
Prologue
Epilogue
The Fool
The Egoism
Syphilis
The Forsaking
Francesco Paoli on working with director Giovanni Bucci: "I met Giovanni Bucci a couple of years ago, while collaborating on his own band ODDKO. We soon became good friends, so we started talking about having him as director for FLESHGOD's new videos. He is a true visionary, with amazing directing and production skills. He's been making music videos for bands like KORN, and he also has a shining career in the movie industry. We all agreed that he would've been the key to a huge step forward for us, visually and artistically, especially on a video like this, which was also extremely complex to produce and shoot. The result is on your screen now, and it's better than any description. Just hit the play button and enjoy."
Italian for 'venom', »Veleno« marks FLESHGOD APOCALYPSE's first record in 3 years, since the release of their critically acclaimed record »King« (2016). The 'metal part' of »Veleno« was recorded in Rome, Italy at Bloom Recording Studio and Kick Studio with long-standing collaborator Marco Mastrobuono, while the 'orchestral part' – the ensembles – were tracked at Musica Teclas Studio in Perugia. FLESHGOD APOCALYPSE then took the effort over to Grammy-nominated Jacob Hansen (VOLBEAT, THE BLACK DAHLIA MURDER, EPICA) at Hansen Studios in Denmark for mixing and mastering. The entire production of »Veleno« took, according to Paoli, about three months. Artwork for the album was created by Travis Smith (AVENGED SEVENFOLD, OPETH, KATATONIA).
Francesco Paoli on »Veleno«: "Today is the day. A first taste of our new album, »Veleno«, is finally available for you all. No words can describe how excited we are and how long we waited for this moment. What you see is the harvest of three years of sweat, revolutions, intense emotions and extreme challenges. We proved ourselves to be stronger than ever, despising compromises, setting the bar higher no matter what. The album is massive to say the least. Every song is a unique piece, literally alive and breathing. Can't wait for you guys to hear the rest…"
Watch the video for 'Sugar':
Links:
http://www.fleshgodapocalypse.com/
https://www.facebook.com/fleshgodapocalypse/
Source of Information: Nuclear Blast
None Dare Call It Conspiracy Present The Official Video "The Shaming"!
6. March 2019
Finnish modern metallers None Dare Call It Conspiracy are proud to present their official video for the track "The Shaming", taken from their album "Pawns And Kings" out via Wormholedeath/Aural Music Group/Disk Union Distribution
Links:
https://wwww.facebook.com/NDCICBAND
Source of Information: WormHoledeath Press
SCARS of the Insane – new videoclip
7. March 2019
Czech alternative metalists SCARS of the Insane published videoclip for song Surrender from their debut album D.H.A.R.M.A. from last year.
Links:
https://www.facebook.com/SCARS-of-the-Insane-311608375804/?fref=ts
https://www.bandzone.cz/insane
https://www.paratmagazine.com
Source of Information: Mayky Olson