Dámy a páni nitrianski symfonici Symfobia sa rozhodli svoj aktuálny album Smog of Tommorow podporiť masívnym slovenským turné, na ktorom im robila spoločnosť nová formácia známeho Jimmyho Cimbalu NoControl, a nejaký ten miestny support . Tak masívnym, že predposledný marcový deň vystúpili aj v jednom z najvýchodnejších klubov na Slovensku – humenskom History Art & Music Clube.
Supportom na danom koncerte bola sninská formácia The Now. Ich muzikou je pomerne melodickejšia podoba metalcoru. Tunajšiemu publiku sú známi hlavne z Rocku pod Kameňom, no pomaly ich spoznávajú aj v ďalších mestách. Minulý rok absolvovali niekoľko koncertov, ako support The Paranoid. Navyše majú za sebou aj spoluprácu s už spomenutým Jimim Cimbalom a bývalým frontmanom The Paranoid – Igorom Belajom.
Ich set začal titulnou piesňou z ich posledného albumu V predstavách. Jeho produkciu mal na starosti práve zmienený gitarista. Z hľadiska predvedených inštrumentálno-speváckych výkonov nemám výhradu. Trochu som sa obával o ozvučenie. To našťastie bolo zvládnuté vcelku obstojne. Zreteľne bolo počuť hlavný spev, nástroje aj doprovodné vokály. Očakával som však väčšiu účasť.
Ďalší NoControl produkovali štýlovo podobnú muziku, avšak o niečo agresívnejšiu. Vynikali hlavne masívnou svetelnou show a dôraz dávali aj na pohyb (v rámci možností samozrejme). Spevák Elo si nesmierne pochvaľoval (postupne pribúdajúce) publikum. Kapela ako taká ma určite veľkú  budúcnosť na našej scéne. Odzneli skladby ako Všetko sa ti vráti, Emily, Rany na Duši, Noc.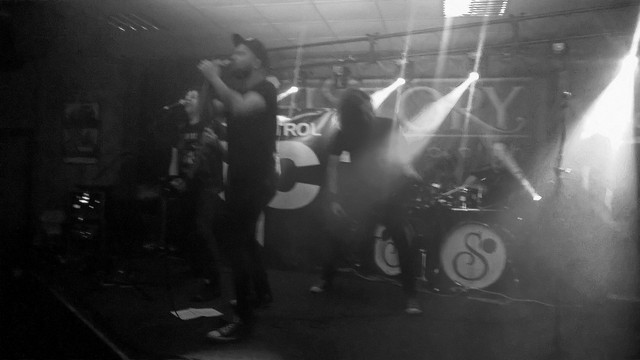 Zo Symfobie sa pomaly stal fenomén na našej scéne. Kombinácia príjemného symfonického metalu a dvoch šarmantných speváčok s pekným hlasom, jednoducho funguje. No pán zvukár sa trochu potrápil, kým to uspokojujúco nazvučil. Ani tu nechýbala masívna svetelná show a treba spomenúť, že sa postupne nazbieralo aj publikum. Pochopiteľne, priestor mal hlavne aktuálny album Smog of tomorrow (Hunger, Burry It, Atlantis…).
Z predošlého Way of the Queen (momentálne takmer vypredaného), zahrali iba dve – Bloody wings a Dragon ako prídavok. Nová speváčka Simona skvelo nahradila svoju predchodkyňu Petru a koncert nezastavila ani prasknutá struna gitaristu Peter Varga. Členovia si koncert veľmi užívali a aj speváčky si veľmi pochvaľovali tunajších ľudí. Snáď sa čím skôr do našich končín vrátia. Po skončení koncertu samozrejme mnoho ľudí malo záujem o fotky s Erikou a Simonou. Obe záujemcom ochotne vyhoveli.
Preto určite nie som jediný, kto dúfa v skorý návrat oboch kapiel do našich končín. Ako tradične by som chcel srdečne poďakovať klubu za túto akciu.