Pamätáte ešte na album nemeckých Axxis – Monster Hero, ktorý vyšiel koncom minulého roka? Ako to už býva, bol k nemu nachystaný rozhovor. Bohužiaľ kvôli menším problémom spevák Berhnard odpovedal až v apríli. Dozviete sa niečo o podrobnostiach textov, či sa Axxis objavia tento rok aj na Slovensku, ale aj zaujímavé detaily z minulosti.
Zdravím Bernhard… Na úvod skús porovnať Váš stále aktuálny album Monster Hero s jeho predchodcom.
Bernhard Weiss: Zdravím. Monster Hero je akýmsi satus quo toho, čo sa deje na našej Zemi. Pretože máme veľa politikov, ako napr. Trump ktorí prichádzajú ako hrdinovia, ale jedného dňa sa zmenia na druh monštier, ktoré menia svet veľmi zlým smerom.
Sme spoločnosťou, kde každý žije veľmi slobodne (napr. v Nemecku sme bohatí v porovnaní s inými časťami sveta), ale na druhom konci sveta hlasujú za radikálnych pravičiarov. A je to naozaj zvláštna situácia. To sme sa snažili popísať v titulnej skladbe.
Revolution sa zaoberá starými vecami, pretože generácia mladších ľudí má rada ,,vintage" kostoly, ,,vintage" hudbu a rôzne staré veci. Je to istý druh revolty.
Nemôžeme porovnávať Monster Hero s Revolution. Iba po stránke zvuku, pretože to nahrala rovnaká kapela s rovnakými nástrojmi. Pri nahrávaní Revolution sme pracovali s tak trochu retro vybavením, na Monster Hero sme použili digitálne nástroje.
Skladby na ňom sú celkom vydarené, no osobne moju pozornosť vzbudila posledná – The Tragedy of Mr. Smith. Mohol by si povedať o nej niečo viac?
Bernhard Weiss: Áno, je to skutočný príbeh. V Amerike bol človek, ktorý mal problém keď počítač zamenil jeho číslo sociálneho poistenia. A tak sa to začalo.
Stratil prácu, manželku, stratil všetko. Jeho meno nie je Mr. Smith, ale chceme povedať že každý sa môže ocitnúť v tejto situácii. Pretože v tomto storočí každý dôveruje číslám na obrazovke.
Monster hero, Revolution sú viac menej hard/heavy albumy. No  niektoré vaše predošle CD sú skôr radené do power metalu. Môže sa niekedy v budúcnosti stať, že vydáte opäť nejaký power metalový album?
Bernhard Weiss: Možno. 🙂 Pri skladaní piesní nerozmýšľame, že to musí znieť ako power, alebo ako heavy metal, alebo čokoľvek iné.
Skladáme piesne, niekedy viac power metalové, niekedy čo znejú viac hard 'n' heavy Nepoužívame power metal ako prvok, ktorý nutne musí byť súčasťou našich skladieb. Toto je náš spôsob skladania. 😉
Je v pláne zopakovať si koncert na Slovensku (vystúpenie na Rock pod Kameňom v Snine v 2017 bolo viac než výborné).
Bernhard Weiss: Jasne, bol to nádherný koncert. Bolo horúco.
O môj bože bolo tak horúco, že dodnes nato pamätám. 🙂 Odozva divákov bola úžasná. Dúfam, že sa čoskoro vrátime. Idem pozrieť na web, či budeme hrať tento rok na Slovensku. Hmm Sofia, to je Bulharsko.
Na Slovensku tento rok nebudeme sory. 🙁 Možno na budúci rok. Čakáme na pozvánku od promotérov. Ak nás pozvú, žiaden problém. 😉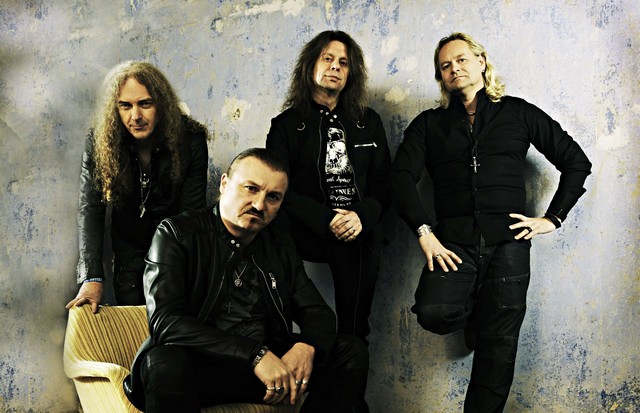 Aké sú mimohudobné záujmy a záľuby členov Axxis?
Bernhard Weiss: Oh, je toho veľa. 😉 Napr. Harry (klávesak) je veľký fanúšik Perryho Rhodana. Zbožňuje jeho malé knihy. Ja rád vo voľnom čase jazdím na motorke a venujem sa potápaniu. Harry (basák) taktiež ma rád aj kino a Rob zbožňuje syr a koláče. Veľmi rád jedáva. Sme súčasťou kapely, ktorej členovia majú radi zábavu. 🙂
Porozprávaj svoj hudobný príbeh, ako si začal s muzikou a ako si sa dopracoval k Axxis?
Bernhard Weiss: Ohh, to je dlhý príbeh. Začalo to pred mnohými miliónmi rokov. 🙂 19. január 1989 – to je náš začiatok. Hovorievame, že to bol začiatok kapely Axxis s dvoma x. Desať rokov predtým sme začali ako Bode's law, potom sme zmenili názov na Anvil a potom sme sa začali písať ako Axis s jedným x.
V 1989-tom sme pridali ešte jedno x a to bol oficiálny štart našej histórie. Bolo to nádherné. Nikdy sme nečakali taký veľký úspech. Ako Axxis sme dostali veľkú nahrávaciu zmluvu a jedného dňa sme s nahrávkou Kingdom of the Night zožali veľký úspech v Nemecku a potom na celom svete.
Jedného prišiel kľúčový okamžik, pretože sme sa rozhodli zanechať naše predošle zamestnania a sústrediť na sa iba na kapelu. Nebolo to ľahké. Ale neskôr sme sa začali živiť muzikou a bolo to najlepšia vec, akú sme kedy spravili. 😉
Zvyknete sa stretávať aj keď nie ste na turné alebo v štúdiu?
Bernhard Weiss: Pred desiatimi rokmi sme spolu robili veľa veci, no teraz je to iné pretože každý hráme v rôznych kapelách. Hlavným jadrom sme ja a Harry. Vo voľnom čase spolu robíme veľa veci. Každý deň telefonujeme, do kina chodíme atď.
Rob žije teraz na juhu Nemecka, preto spolu nemôžeme tráviť toľko času. A taktiež všetci majú aj rodiny. Takže sme naozaj šťastní, keď sa vidíme počas našich tour 24 hodín denne a to je tak akurát.
Od kedy si začal robiť na koncertoch ten kúsok s ,,typical heavy metal instrumentom" pri We Touch the Rainbow?
Bernhard Weiss: To je dobrá otázka. 🙂 Ak mám byť úprimný ani presne neviem. Najprv sme pracovali s héliom na pódiu, kde sa ľudia toho nadýchli a spievali vysoké tóny vtipným spôsobom. A potom sme sa rozhodli, že to zmeníme za tamburínu, pretože je to jednoduché aj pre ľudí bez rytmického cítenia.
Niektorí ľudia to majú radi, niektorí nie pretože vždy to robíme pri Touch the Rainbow. Snažili sme sa niečo podobné spraviť aj pri iných skladbách, ale nefungovalo to. Preto je už evergreenom v našich setlistoch. 🙂
Čo považuješ za tu dobu čo si aktívny na scéne za svoj najväčší úspech
Bernhard Weiss: To, že som stále nažive, robím hudbu s ktorou som úspešný. Zažili sme už mnoho svetlých momentov akými boli Rock am Ring, Wacken, 7000 tons of metal. Máme mnoho skúsenosti, ktoré sme nikdy predtým neočakávali. To je nádherné. Podľa môjho názoru bolo najväčším úspechom podpísanie nahrávacej zmluvy v roku 1989 aby to mohlo všetko začať.
Foto Bernhard: Jochen Hinz WAZ
Youtube ukážka:

Linky:
https://www.axxis.de/
https://www.facebook.com/axxis/