DESTRUCTION – cover artwork for »Born To Perish« released!
15. May 2019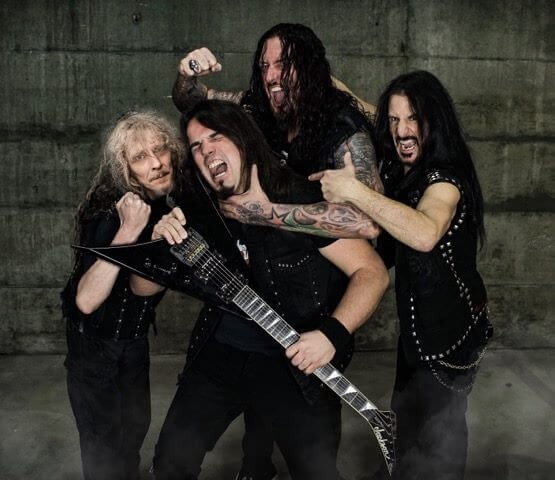 Legendary German thrashers, DESTRUCTION, have revealed the cover artwork to their upcoming 17th studio album, »Born To Perish«. This stunning visualization was created by acclaimed artist Gyula from Hungary, who has also created artwork for ANNIHILATOR, GRAVE DIGGER, STRATOVARIUS, TANKARD and many more.

The album will be released on August 9th, 2019 via Nuclear Blast.
Gyula states
"Schmier wanted to get a simple and different image than my previous DESTRUCTION covers. When we discussed the new concept, I was happy with this approach because I had the chance to use a different tool, no painting but ink-drawing style.
When the band mentioned the album title, I got the idea of a crest composition without the typical brave lion or eagle but vultures with two heads and we filled the image with several symbols. I love this DESTRUCTION cover – maybe my fave I did for them so far!"
Mastermind Schmier adds:
"We wanted something basic this time. I had something like an emblem in mind, a stamp, a DESTRUCTION coat of arms.
We had so many great colorful graphical covers in the past, this dark album title needed something different. This record marks the debut of the four piece DESTRUCTION again, I am very happy with the result and that the great Gyula understood right away what direction we wanna go – the album is vicious, dark and hard hitting, the cover-art is the perfect prelude for that!"
»Born To Perish« was recorded in January & February 2019 with VO Pulver (PRO-PAIN, BURNING WITCHES, NERVOSA etc.) at Little Creek Studios in Switzerland and is the first DESTRUCTION album featuring Randy Black on the drums and new 2nd guitar shredder Damir Eskic!
Links:
http://www.destruction.de/
https://www.facebook.com/destruction/
Source of Information: https://www.facebook.com/nuclearblasteurope/
CRYSTAL VIPER Announces New Album, "Tales Of Fire And Ice"
15. May 2019
Polish heavy metal powerhouse CRYSTAL VIPER started to work on a new studio album, scheduled for the release in Autumn this year. The seventh full length effort of Marta Gabriel and her crew will be entitled "Tales Of Fire And Ice", and will be released by AFM Records as CD, limited edition vinyl LP and digital download.  "We just finalized pre-production process, and I think that a lot of our fans will be very surprised" says CRYSTAL VIPER front woman, Marta Gabriel. "The new songs still sound like CRYSTAL VIPER, but the energy and the vibe are way, way different" she adds.
CRYSTAL VIPER's latest album, "Queen Of The Witches", was released in February 2017 via AFM, and in the Summer of 2018 CRYSTAL VIPER released special limited edition 10″ vinyl EP entitled "At The Edge Of Time"
Links:
http://www.crystalviper.com/
https://www.facebook.com/crystalviperofficial/?fref=ts
Source of Information: Bart Gabriel
MOTANKA – Release Lyric Video For "Oy ty moya Zemle"! Debut Album Motanka Out On June 7th!
15. May 2019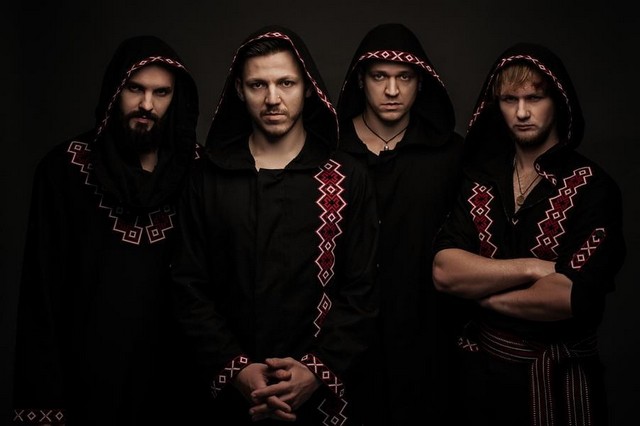 The soundtrack to your post-sludge vision quest"
– Loudwire –
"Heavy and melodic, intoxicating and infectious, MOTANKA's unique hybrid of metal and folk music is guaranteed to be one of 2019's most memorable debuts."
– Metal Sucks –
Ukrainian Wacken Metal Battle 2018 winners MOTANKA release a new video for the second single "Oy ty moya Zemle" (Ukrainian for "Here you are my land") from their upcoming self-titled debut album.
MOTANKA will release their debut album Motanka on June 7th via Napalm Records. Influenced by traditional Ukrainian folk music, metal tunes and modern electronica, the band creates a very unique mix that the band refers to as Mystic Metal. MOTANKA managed to capture the trance-like magic of their live shows on their debut, which leaves each and every stereotype behind and hypnotizes with heavy ethno soundscapes.
MOTANKA on "Oy ty moya Zemle":
"This is a song about Motherland, about boundless Sky, native Land, joyful Sun and dear Mom. Wherever you are, you will be a part of the land on which you were born and grew up. And it will stay forever, this is the power of mother Earth which cherishes us on her hands."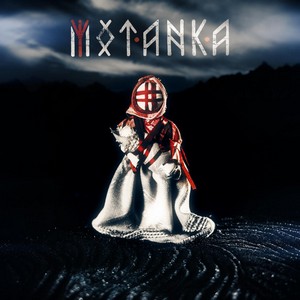 Tracklist:
Alatyr
Fire Burns
Air
Des' u horakh
Oy ty moya zemle
Bosymy nizhkamy
Voroh
Berehynya
Horizon
Pace of the space
Khreshchennya
What are you living for?
Verba
Kroda
Watch the new video HERE:
Links:
https://www.facebook.com/motankaband/
Source of Information: Napalm Records Promotion Team, Foto: Viktor Golikov, Artwork: Artwork: Josh Graham, Suspended in Light
Cruadalach – animated videoclip
16. May 2019
Czech folkcorists Cruadalach published animated videoclip for song Eyes Wide Open from their last album Raised by Wolves. Author of graphic is Roman Kelbich.
Links:
http://cruadalach.com/
https://www.facebook.com/cruadalach
http://bandzone.cz/cruadalach
https://cruadalach.bandcamp.com/
Source of Information: Cruadalach