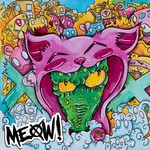 Punk-rock bol žáner, na ktorom som frčal niekde na prelome základnej a strednej školy. A hoci som sa odvtedy posunul omnoho viac metalovým smerom, stále si rád vypočujem kvalitnú nahrávku aj s týmto označením. No a jednou z takýchto je aj debut českej kapely Meow!, ktorá tento rok vydala rovnomenný album.
Album začne bez akéhokoľvek varovania, intra alebo čohokoľvek nespútanou a rýchlou Dangerous Habits, ktorá zároveň naznačí, čo môžeme po zbytok nahrávky očakávať. Jednak je to už spomínaná nespútanosť, chytľavosť a energickosť, ktorá rozhýbe každú bunku vášho tela. Ďalším atribútom je bezpochyby kvalita. Bez ohľadu na to, že sa jedná o piesne s priamym ťahom na bránu, bez nejakých krkolomných kompozícií, tak sa autorom podarilo vyhnúť prvoplánovosti a každá jedna sekunda znie premyslene, a sebavedome. S poslednou vetou súvisí aj rôznorodosť v songách, ktorá sa však prejaví až postupom skrz CD. Občas máme možnosť počuť rýchle pasáže, inokedy zase melodický refrén, aby potom kapela pridala scream.
Rozmenené na drobné, máme možnosť počuť 9 skladieb plných kvalitnej hudby, bez nejakých výrazných výchyliek od nastoleného trendu. Všetky piesne sú však stále jedinečné, ľahko odlíšiteľné a stále rovnako kvalitné. Ak by som mal nájsť ekvivalent medzi známejšími skupinami, tak by som povedal Billy Talent. A trúfam si povedať, že Meow!, dosahujú kvality tejto kanadskej legendy.
Ich debut je bez akýchkoľvek pochýb kvalitným, sebavedomým, inteligentným albumom, ktorý má potenciál zaujať aj mimo punk-rockovo zameraných fanúšikov. Čo dodať? Len viac takýchto albumov.
Lineup:
Ondřej Pavlů – vokály
Tomáš Cibor – gitara
Tomáš Kašpar – basa
Lukáš Vincour – bicie
Tracklist:
Dangerous Habit
Grand Theft Identiy
Taking Over
#lovesong 666
Otherside
Light up the Torches
Dead Heroes
Break i tup
Lullaby
Rok vydania: 2019
Vydavateľstvo:  Samovydanie
Youtube ukážka:

Linky:
https://www.meowprague.com/
https://www.facebook.com/meowprague/
https://bandzone.cz/meowprague/
https://www.youtube.com/channel/UC5X48OYKF1DH8TG3fXbn8Yg
Hodnotenie: 5.5/6
Páčil sa ti tento článok?